Eggless Hot Milk Cake
This eggless hot milk cake is buttery rich, delicious and so flavorful you cannot stop on one slice. The goodness of flavors strikes you right when you take in the first bite and it melts in your mouth.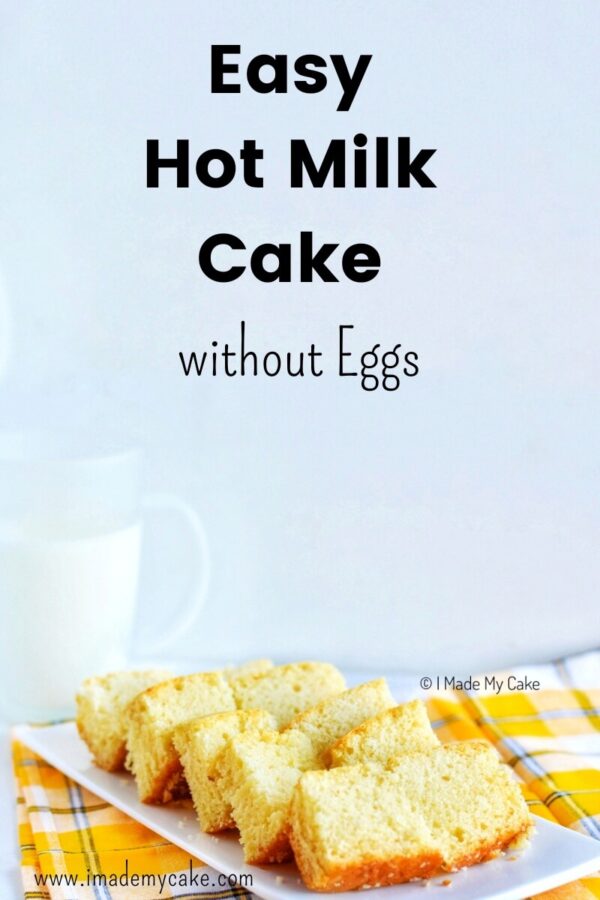 Easy Hot Milk Cake
I love making cakes that are easy and use one bowl. Less mess in the kitchen and you get it done quickly. And less dishes!
This cake is so easy to make that you get done with it in one hour. Yes. One. Hour. Done & Dusted.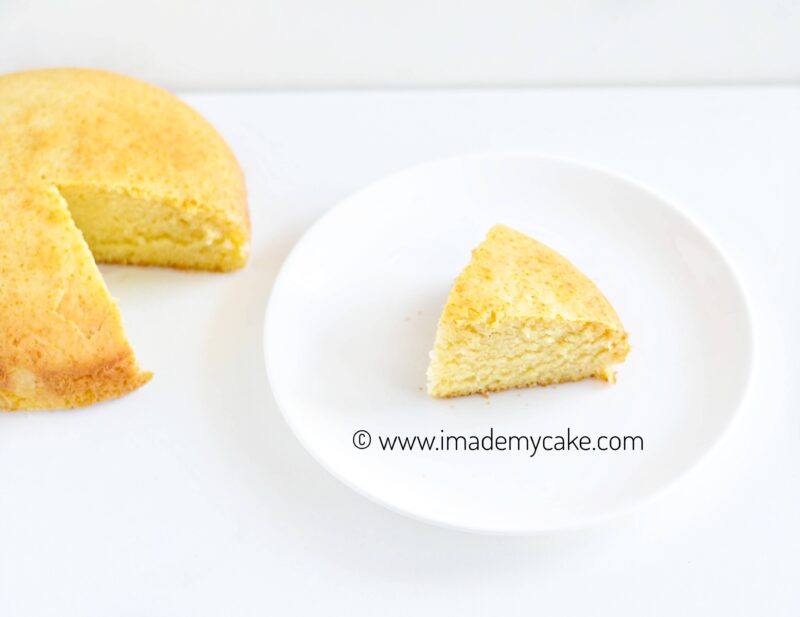 Ingredients for the Cake
This cake uses very few ingredients and so it is perfect for lockdown period when we cannot procure fancy ingredients for making a cake.
It's main ingredients are:
Flour: I have used All-Purpose Flour for this recipe. You can use a mix of All-purpose and Whole-wheat flour to make it healthier. In that case, add a tablespoon extra of milk to the recipe.
Sugar: This cake uses regular white sugar. You may try this cake with a variation of brown sugar or jaggery powder but the taste will not be the same.
Hot Milk: Hot Milk plays a major role in giving this cake it's flavor and richness. Do not let the milk cool down before adding it to the dry ingredients. If you do not want milk in your cake, you can check this Vanilla Cake recipe without the milk.
Butter: You can substitute butter with oil. But you will lose the buttery melt-in-the-mouth flavor and texture for which this cake is known for.
Leavening Agents: This cake uses both Baking Powder and Baking Soda for giving the cake its rise.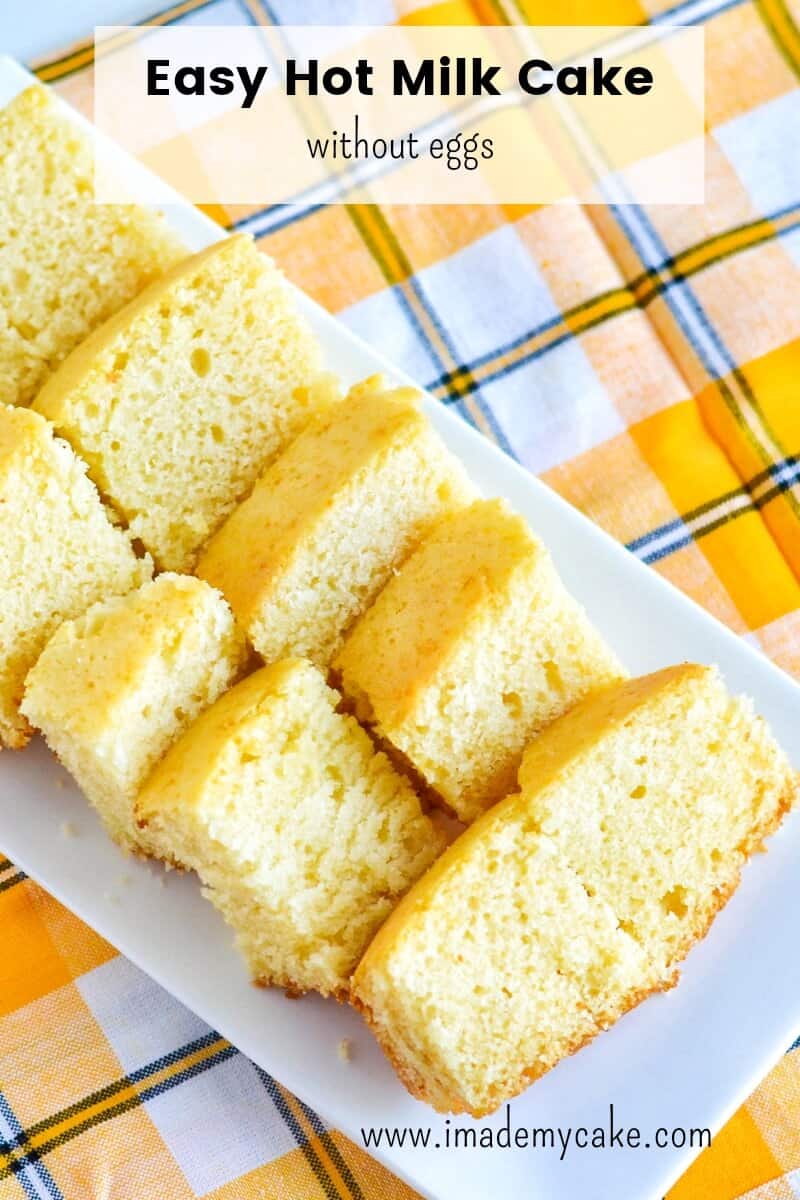 Instructions for making Hot Milk Cake
Making this is very easy and so this cake recipe is best suitable for beginners or if you are looking for a quick and simple cake. This cake gets ready within an hour so its perfect for satisfying that quick cake craving and it also does not have any complex steps. Just mix n' bake!
First, you will need to sift all dry ingredients together.
Then measure all the wet ingredients, 3 precisely in a heat safe bowl and heat them on low.
Keep stirring continuously so that they do not burn; and if they do, discard that mixture and start anew. You do not want the burnt smell in your cake. So keep an eye on the butter-sugar-vanilla mixture to avoid wasting costly ingredients. Also, you can add the vanilla at the end.
As soon as this mixture becomes hot and is on the verge on boiling (but not boiling), turn off the heat and pour directly in the bowl of dry ingredients.
Quickly mix everything but gently. You do not want the gluten to start developing.
And you are done! Bake and relish this deliciousness to your heart's content. This will definitely get over in a jiffy as it is so tasty. I had to make this cake again as me, my daughter and my hubs all liked it so much it was over on the same day.
Here is a step by step video of this recipe.
Flavor Variations
This cake can be used as a base for making trifles or having it with vanilla ice-cream.
You can make a lot of flavor variations by using this as base recipe.
Few variations can be like these,
Throw in few banana slices and 2 tbsp banana puree  in the batter and make it a Banana Milk Cake.
Throw in few fresh or frozen berries after forming the batter to make a Berry Cake.
Swirl in some nutella in the batter and create swirls on the cake top before baking to make a Nutella Milk Cake.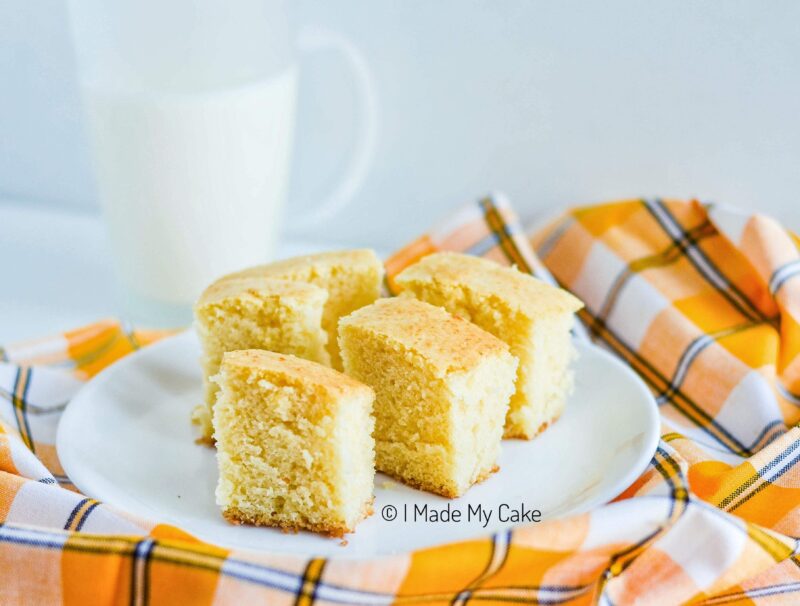 If you liked this recipe, you will also like these recipes which use minimum ingredients commonly available in most kitchens:
---
Hey! Would you be interested to give me feedback by completing this survey?
---
Hot Milk Cake Recipe
This cake goes well for tea-time snacks as it is not overly sweet and mild in flavor.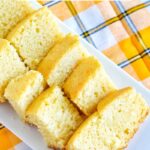 Print Recipe
Egg-free Hot Milk Cake Recipe
This eggless cake is buttery rich, delicious and so flavorful you cannot stop on one slice. The goodness of flavors strikes you right when you take in the first bite and it melts in your mouth.
Ingredients
140

grams

All-Purpose Flour

½

teaspoon

Baking Powder

¼

teaspoon

Baking Soda

A

Pinch

Table Salt

100

grams

Powdered Sugar

1.5

Teaspoon

Pure Vanilla Extract

150

ML

Hot Milk

(not boiling)

40

grams

Unsalted Butter
Instructions
Measure and sift the dry ingredients in a large bowl.

Line a 5-inch or 6-inch round cake pan with parchment paper or oil-flour method and preheat the oven at 350°F/180°C for 10 minutes.

Measure the milk and butter in a heat safe bowl.

Heat the bowl till they both are mixed and the milk is hot. Add Vanilla Essence and mix.

Add the hot milk-butter mixture to the dry ingredients and mix till combined.

Once you add the milk-butter mixture to the dry ingredients you have to be quick. Do not overmix the batter.

Transfer the batter to the lined pan and bake for 30-35 minutes at 320°F/160°C

Keep a check in the last five minutes and take out the cake when the toothpick comes out with few crumbs.

Let cool for an hour before demoulding and serving.
Notes
If using salted butter, skip the salt.
This cake gets a rich flavor due to the addition of hot milk and butter mixture. Do not let the milk cool down.
You may substitute oil for butter but you will not get the rich flavor this cake has with the presence of butter.
Try my other easy recipes: