Banana Muffins with Yogurt
 Make these flavorful banana muffins with yogurt in just 30 minutes to satiate that impulsive cake craving we all have! This recipe uses only 1 banana and no eggs! The icing on the cake is that it uses that leftover yogurt from your fridge!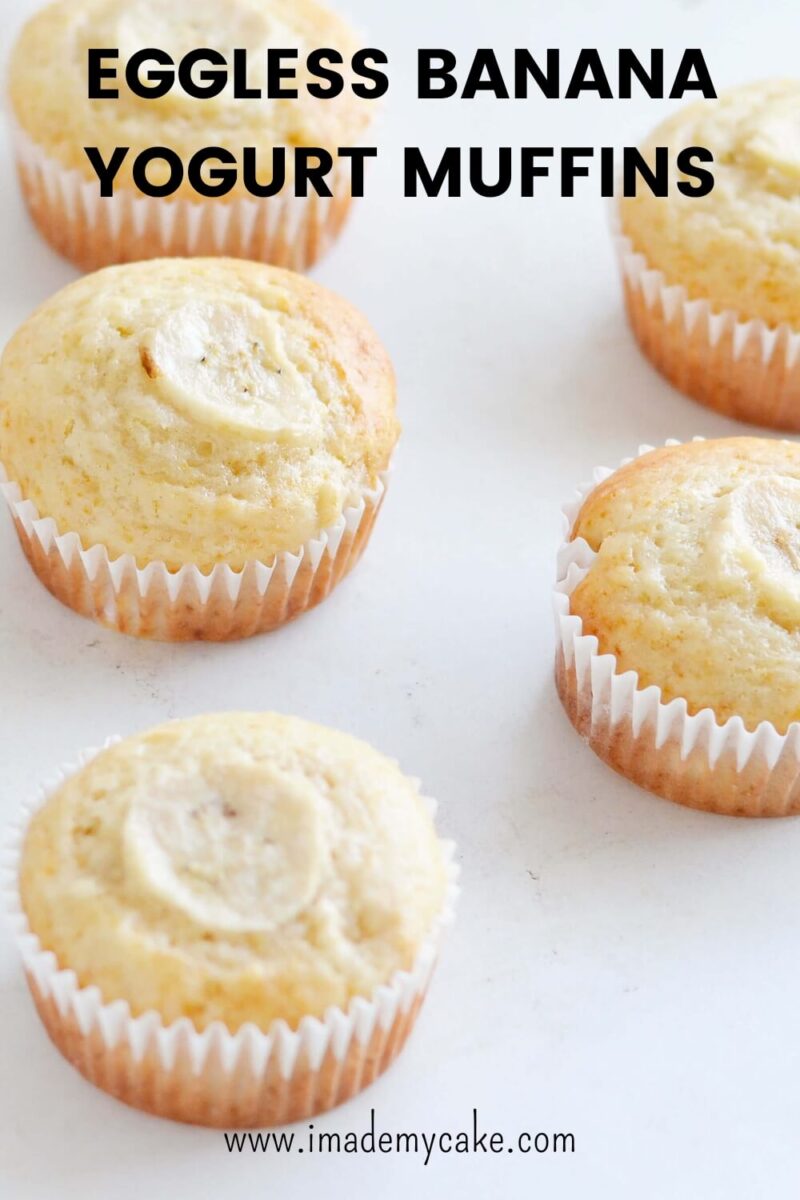 Yogurt and Banana Muffins without eggs
What does it take to make some yummy and healthy banana muffins?
Just 1 small ripe banana! Yes only 1! and some yogurt. Leftover yogurt works perfectly in combination with the sweet banana taste.
Do you have that one or two overripe bananas in your pantry which are not going to see the daylight in a day or two? And also some yogurt/curd in your refrigerator which has become sour? You are all set.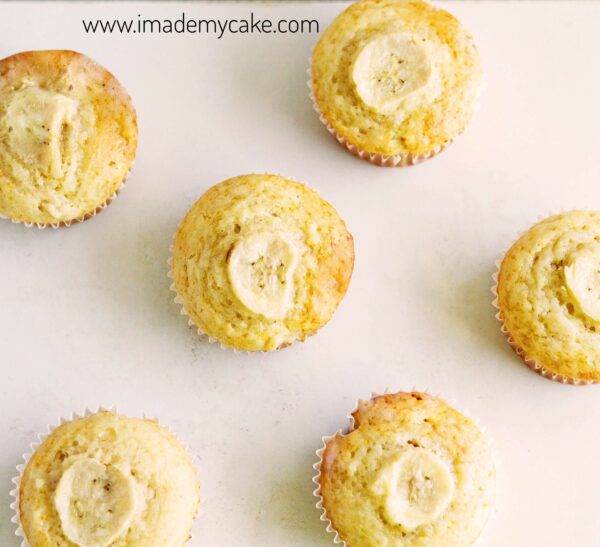 An easy One Bowl Banana Muffin Recipe
I came up with this moist banana muffin recipe when i was craving something lightly sweet and reached out to my dear refrigerator. Nope! Nothing inside that could satiate my sweet palate! I could just see some yogurt lying around. I hate when this happens! We all do right! We all love our refrigerator packed with food especially cakes or desserts 😉 which we can grab anytime!
I thought about some healthy eating and reached out to my fruit basket. Nope! Nothing but a black overripe banana that I could not eat as is. I did not want to throw it away as I do not believe in throwing food in the bin.
And thus were born these banana muffins!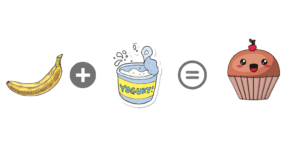 No Egg Yogurt and Banana Muffins
I first thought of just mixing them together to make a banana yogurt smoothie but then it dawned on me that I could make them into healthy banana muffins! Perfect for my idea of a snack as I'm always up for eating muffins or rather cake in any form 😀
Whenever you make these muffins, always check the sweetness of your bananas as the sweetness of these muffins will depend on your banana.
If your banana is not very ripe and just ready to eat, you may have to add a tablespoon or two of sugar extra for balancing the sweetness. So it is necessary to taste the banana a little beforehand.
There is another reason to it. Let me tell you.
If you do not add the extra sugar before and add it after checking the batter sweetness i.e. after the batter is mixed, you again need to mix the batter and there are chances that you may over mix it leading to a dense cake. So add the sugar before mixing the dry and wet ingredients together. Point to be noted My Lord!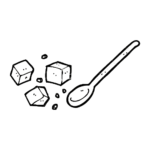 These taste great even when they are less sweet due to the delightful banana flavor.
Let's move on to the recipe but if you are in a hurry to rush to work, you can save it now to read it later! How cool is that!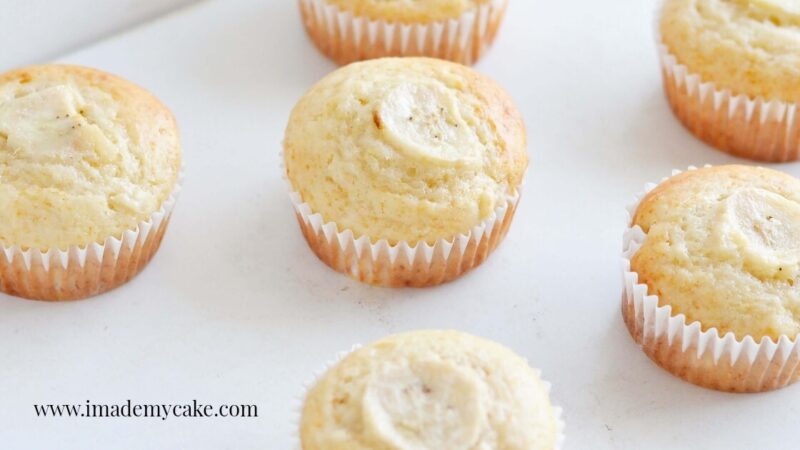 Making these Quick, Easy and Eggless Banana Muffins with Yogurt:
1. Flour
I am using All-Purpose Flour for making this banana muffins recipe. You can also use whole wheat flour. Make sure you check out my Tips section to get an idea about making this recipe with whole wheat flour.
2. Banana
I have used 1 long overripe banana for this recipe which approximately weighed around 40 grams. The riper the banana, the more flavorful the muffins will taste.
3. Sugar
This banana muffins recipe uses minimal sugar and piggybacks on the sweetness of the ripe banana. So, if your banana isn't very sweet consider adding more sugar.
---
You may also like: Chewy Banana Oatmeal Cookies
---
4. Oil
These banana muffins owe their moistness to this ingredient hands down. Do not consider substituting this for butter.
5. Yogurt
One important point to baking with plain yogurt or rather any yogurt for that matter is to whisk it for a few seconds. This makes the yogurt lighter and there is no need to explain the importance of lighter foods in baking; be it beating butter until it becomes light and fluffy or beating eggs so they are light and foamy. This step, though optional, gives us a fluffier and lighter cake that melts in your mouth.
Why Leftover Yogurt
Leftover Yogurt suits best for this recipe as it gives the muffins a sour taste which tastes really amazing but you can freely go ahead and make it with same quantity of fresh yogurt.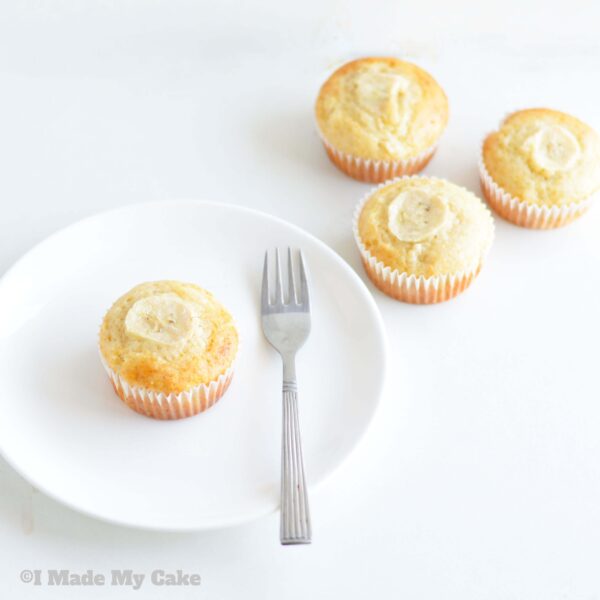 Tips and Flavor Variations:
To make these moist banana muffins healthy, you could substitute the all-purpose flour with

whole wheat flour

and add another tablespoon of water as whole wheat flour tends to absorb more water than all- purpose flour. Nothing can be more perfect than sending these for kids' party snacks at school!

To make

banana muffins with chocolate chips

, throw in a few chocolate chips to the dry ingredients once you sieve them and before mixing with the wet ingredients. This coats them with flour and saves you an extra step of coating them separately in flour if you put them at the final step.

If you are a Nutella fan, take a tablespoon of Nutella, heat in the microwave for few seconds (careful not to burn it as little quantities of food heat quicker) and swirl little on top of each muffin before baking it. Use a spoon or best, a piping bag to swirl the Nutella neatly over each muffin for gorgeous

Banana & Nutella Muffins

.

If you are a banana lover, use

banana flavored yogurt

for giving that extra banana punch to these muffins. Also, you could slice an extra banana thinly and put one slice on top and center of each muffin before baking for that cute banana muffin look.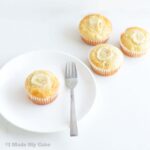 Print Recipe
Quick, Easy and Eggless Banana Muffins with Yogurt
Make these delicious and moist banana muffins that are perfect for kids party snacks and for using up your pantry bananas. That's two things crossed from your to-do list!
Ingredients
140

grams

All Purpose Flour

½

tsp

Baking Soda

Pinch

Salt

100

grams

Powdered Sugar

120

grams

Leftover Yogurt

1

tsp

Vanilla Essence

30

ml

Vegetable Oil

1

overripe Banana

(40 gms)

1

tbsp

Vinegar
Instructions
Preheat the oven at 180 degree Celsius for 10-12 minutes.

Mash the banana with a fork and keep aside.

Beat the yogurt, sugar and oil together with a hand whisk until they combine.

Add the mashed banana and vanilla essence to it.

Sieve the remaining dry ingredients and make a well in the center.

Add the wet ingredients and combine until just mixed.

Put in the vinegar at the very end and combine well. The batter will be thick. Do not add water.

Fill the muffin liners till the ¾ mark and bake for 20 minutes at 330°F/170°C
Whether you make these banana muffins with leftover or freshly set yogurt, these will taste just the best.
Overripe Banana gives you the extra sweetness because of which you can afford putting less sugar. You can go ahead and use regular yellow banana too. This recipe does not use eggs and is perfectly safe to lick before you bake! 😀
Perfect for kids' play dates, for satisfying a quick cake craving, or even for a road trip!