Chewy Banana Oatmeal Cookies
Make these cookies ahead of time and enjoy for breakfast as they are very filling and delicious and perfect for quick-fix breakfasts.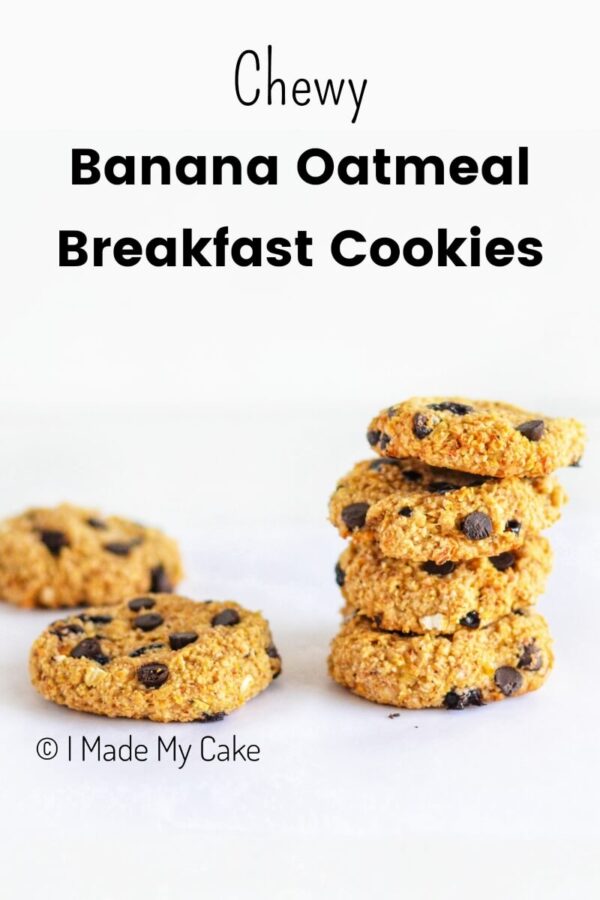 Quick and Easy Banana Oatmeal Cookies for Breakfast
These cookies will be your go-to for fixing that healthy breakfast or evening snack. They are very easy to make and get ready in no time.
I always add chocolate chips to them. This is the best combination for me as all the flavors of oats, banana and chocolate come together so well that you just cannot stop on one cookie and keep looking for more.
This small-batch recipe will mostly get over on the same day if you and your family loves the combination of banana, oats and chocolate. This recipe makes around 8 to 9 small sized cookies.
This cookie recipe is also a super hunger savior and helps me a lot in my busy mornings when I just want to grab a quick snack and work.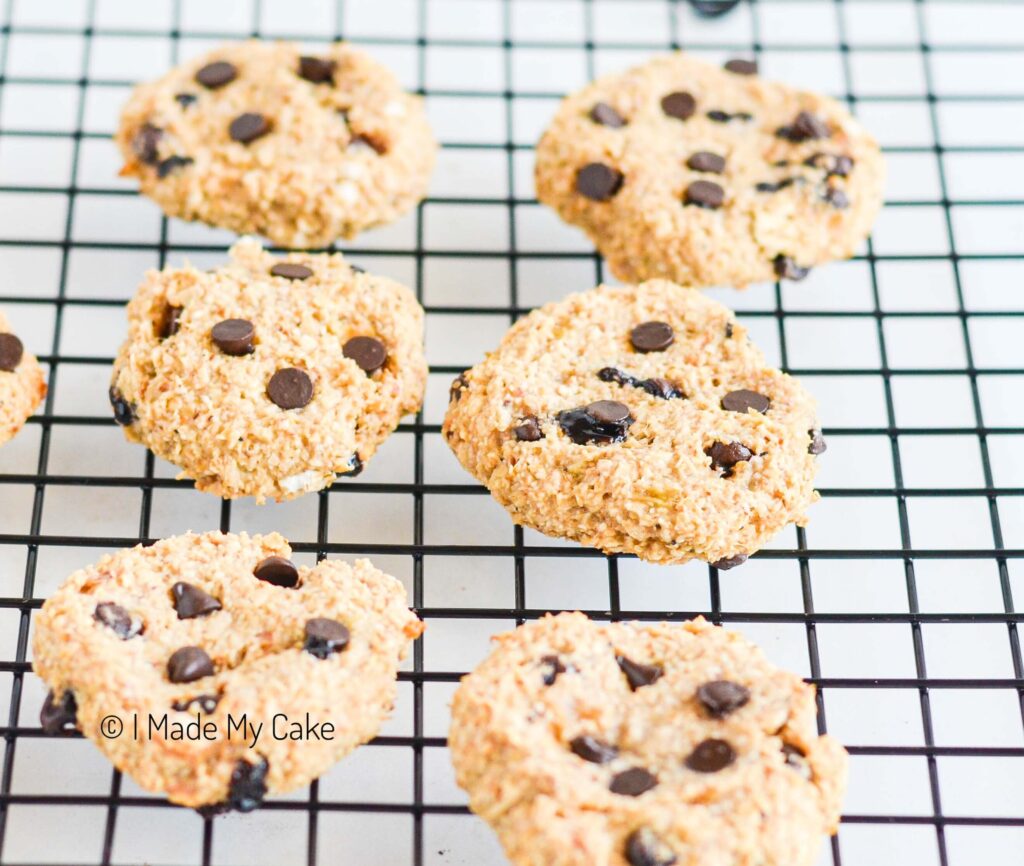 Healthy Eggless Banana Oatmeal Cookies for Toddlers
These cookies are healthier than regular cookies as they do not use any leavening agents or vinegar. Neither do they use eggs. So, they are a good choice as a snack for toddlers. I give these cookies to my daughter(who is a preschooler) many times as an evening snack or a mid-morning snack.
No, I'm not going to overwhelm you with the health benefits of oats. You can check that later. In a nutshell, Oats are a good source of protein and fiber and they are filling too. That means less eating and weight loss. Whoa! It's amazing how a Cookie can help you with weight loss, right?!
These cookies are great for you if you despise eating oats with milk but want to load up on the goodness of oats.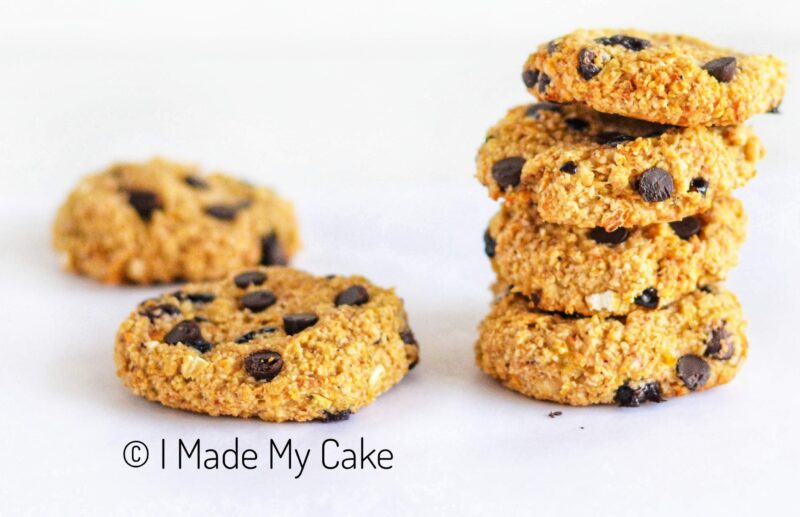 How to make Banana Oatmeal Cookies?
This small-batch recipe uses 5 ingredients in all and they are:
Oats
Bananas
Chocolate Chip
Little Sugar(promise!)
Little Butter
You can skip the ingredients on numbers 3, 4 and 5 but I don't like the bland taste of the 2 ingredient banana oatmeal cookies and so I have tweaked the two ingredient recipe to suit my taste. You can skip those if you feel.
Oats
I made these easy cookies using Quaker Quick Oats. First, roasted the Oats on stove top in a non-stick pan for 5 minutes and then powdered them coarsely when they cooled down. I love the coarse crunch of oatmeal instead of finely powdering it. You can keep it coarse or fine as you like. And yes, you can use Instant Oats too. This is a small-batch cookie recipe and uses only 80 grams of Oats.
Bananas
Baby Bananas are my favorite and that is the reason I have used them here. They are already sweet in taste and when they start getting over-ripe, they become perfect to use in cookies and cakes. You can also use regular long bananas in same quantity.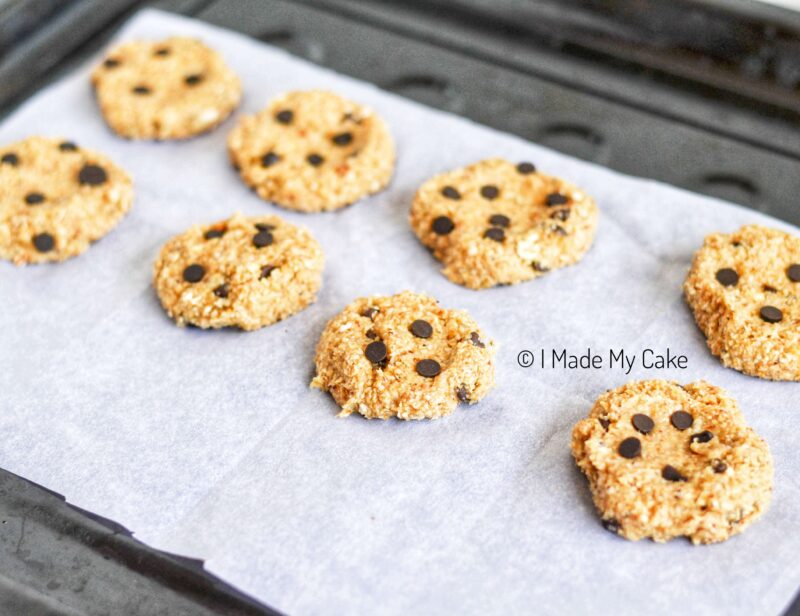 Chocolate Chips
In my honest opinion as I said before, the flavor combination of oats, banana and chocolate is just too good to miss.
SUBSTITUTE: If you do not have these at hand or want to skip these for something healthier, substitute these with any dried berries like cranberries, blueberries, blackberries or simply golden raisins; the list can go long.
Sugar
I have used only a tablespoon of sugar in these cookies to just make it sweet enough for the palette.
You can skip sugar if you want to make Sugar Free Banana Oatmeal Cookies.
Butter
Same goes for butter as sugar. I have used roughly a tablespoon of butter to get that moistness in the cookie. You can use vegan butter as a substitute if you can get your hands on it.
Once you have mixed all ingredients, roll the cookies using your hands by taking little dough mixture at a time. Using the back of a spoon, press them so they become flat and take the shape of cookies.
The dough mixture may stick to your hand while rolling and so you can spread little butter on your palms before you start rolling. If you do not want to use your palms, simply drop little cookies on the parchment using a regular spoon.
Now they are ready to bake.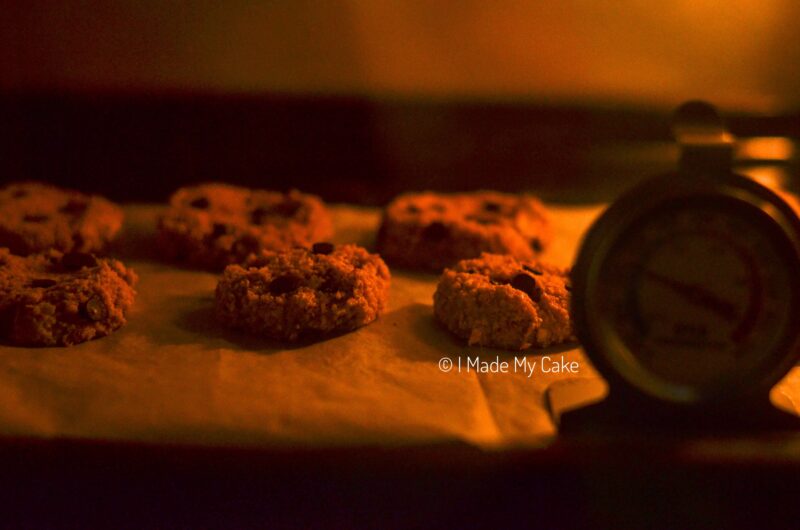 They bake in 10-12 minutes and the right time to take them out is when the sides start getting light brown.
And when you take them out of the oven and flip them, they look like this: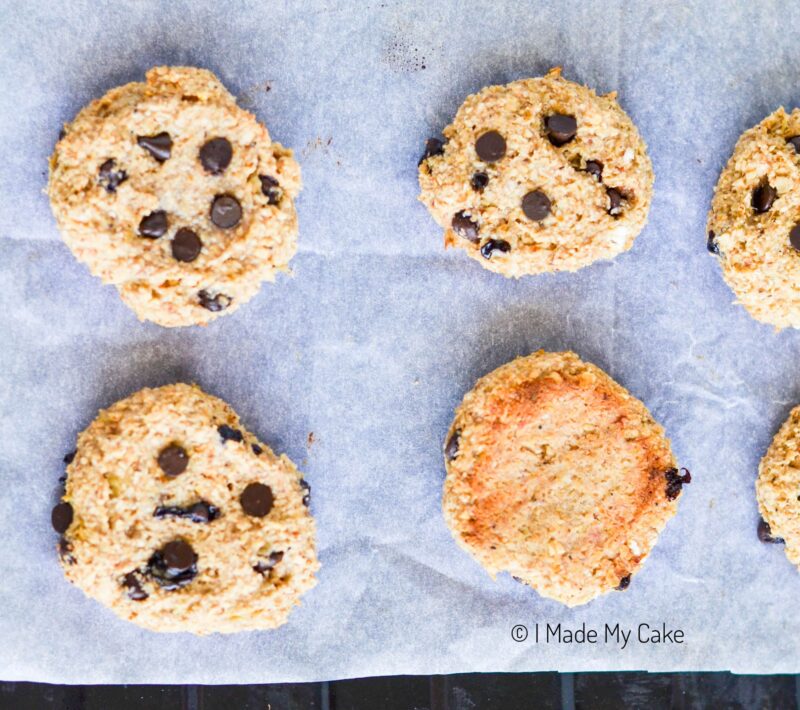 How to make Vegan and Gluten Free Banana Oatmeal Cookies?
Use Gluten Free Oats and skip the butter to make it vegan and gluten-free. Oats are gluten-free by origin but they may be processed in the same facility where wheat and soy products are manufactured. Hence always check the pack for details if you are allergic to gluten.
Easy One Bowl Cookies
These cookies are very easy to make for beginner bakers as you do not have to worry about over-kneading the dough or beating the butter. It qualifies for a one-bowl cookie recipe if you have already powdered the quick oats.
These cookies use basic ingredients that are available on almost all days in a kitchen pantry.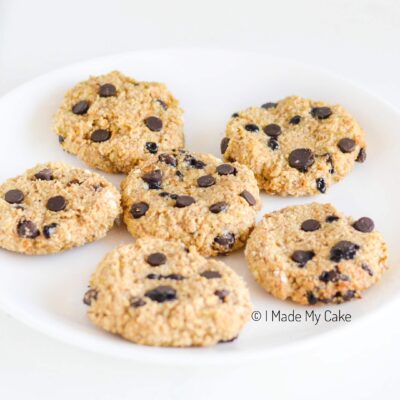 How to store Banana Oatmeal Cookies
These cookies stay fresh on the counter for maximum 2-3 days depending on the weather. If it is hot, they may stay fresh for only two days.
If you refrigerate them, they will be good for 4-5 days. I have not tried freezing them yet as I love freshly baked cookies.
If you like easy baking recipes, you will also like:
Soft and Chewy Banana Oatmeal Cookies Recipe
This recipe makes around 8 to 9 small sized cookies. You can double the recipe for making more cookies.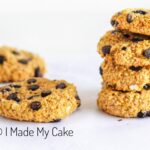 Print Recipe
Soft & Chewy Banana Oatmeal Cookies
These cookies are perfect for fixing quick hunger pangs and can be made ahead of time to enjoy for breakfast or evening snacks as they are very filling and delicious.
Servings:
3
(8-9 small cookies)
Equipment
OTG/Microwave with Convection
Ingredients
80

grams

Powdered & Roasted Instant Oats

(see notes)

90

grams

Ripe Baby Banana

(or any banana variety)

1

tbsp

Powdered Sugar

(optional)

10

grams

Butter

(little less than a tablespoon, optional)

½

tsp

Vanilla Essence

1

tbsp

Chocolate Chips

(optional)
Instructions
Roast Instant Oats over a medium flame for 5 minutes and let it cool.

Once cooled, remove 1 tablespoon of oats and keep aside. Powder the remaining oats.

Mash the bananas and add vanilla essence, sugar and butter. Mix well.

Add the powdered oats to the banana mixture and mix again.

Finally add Chocolate Chips.

Use your hands and roll small amounts of the mix into balls and press with a spoon.

Bake at 340°F/170°C for 10 minutes.

Let cool for some time before serving.
Notes
You can powder the oats in advance to make DIY Oat Flour at home and make them instantly.
Add some extra chocolate chips on the top after you roll the cookies for extra chocolate flavor.
Substitute Chocolate Chips for dried berries like cranberries, blueberries, or even golden raisins to make them healthier.
These are best served on the same day they are made.
They keep well in pantry for 2-3 days maximum depending on the weather. Consume them within 3 days as they tend to go bad due to the ripe banana in them.
They refrigerate well for 4-5 days.
Use Gluten Free Oats for making this recipe gluten free.
Interested to learn baking at home?
Fill up this form and get my free guide.