Best Ever Vegan Vanilla Cake Recipe without Milk
Easy Vegan Vanilla Cake Recipe
Whenever someone mentions a Vanilla Cake, I wonder about the simple pleasures of life.
There is beauty in simplicity – Anonymous
Vanilla Cake is such an adaptable cake, it fits in everywhere! Be it ice-creams or eating it plain and simple or making a layer cake with it, it is just so flexible!
This recipe gives you a soft, tender, melt-in-the-mouth and best-ever vegan vanilla cake which will win hearts with its simplicity and ease to make. This cake is ready in under an hour!
Vegan Vanilla Cake from Scratch
The hero in a Vanilla Cake Recipe is always the Vanilla Extract. A good quality Vanilla Extract will always give you amazing results. This recipe uses 1.5 tsp of Vanilla Essence that is around ½ tbsp which is perfect to get that Vanilla blast in your mouth. 
This vanilla cake is so simple to make as it uses only 5 main ingredients in all and is very quick to make. You will be done and dusted with it in under an hour.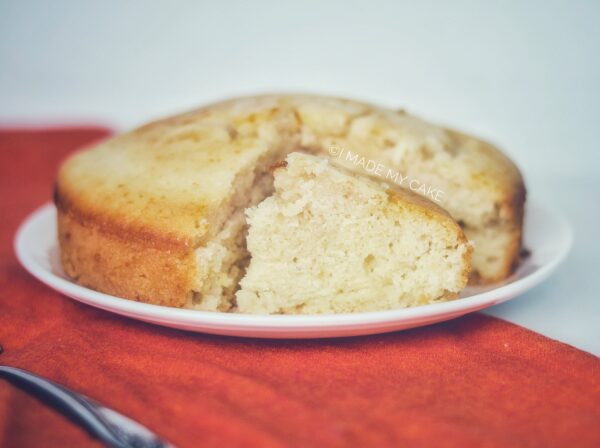 Flour
All-purpose Flour is good enough to make this fluffy vanilla cake. You can also use Cake Flour to make it lighter in texture.
Leavening Agents
I have used both Baking Powder and Baking Soda in this recipe to get that perfect fluffiness in the cake. And as this cake has the support of both leavening agents, that is what makes it a no-fail eggless cake recipe.
Vanilla Extract
The Hero Ingredient! Make sure you use a good quality extract as the cake depends on only this one ingredient.
Oil
Oil is what keeps this cake moist and so tender. And so it is a good choice to use for a Vegan Birthday Cake as it is perfect for layering due to its moist crumb. And it will not harden once refrigerated as happens with butter cakes. So you have a winner recipe in hand! 
You can also use this for making a Vegan Vanilla Sheet Cake.
Making Vegan Vanilla Cupcakes
You can easily use the same basic cake recipe to go ahead and make Vanilla Cupcakes. Just fill in batter up to the 2/3rd mark of the cupcake liners and you are good to go.
This vanilla cake recipe will make approximately 8-10 regular sized cupcakes and approximately 12-13 mini cupcakes.
This is a very easy recipe perfect for a beginner baker to start their baking with!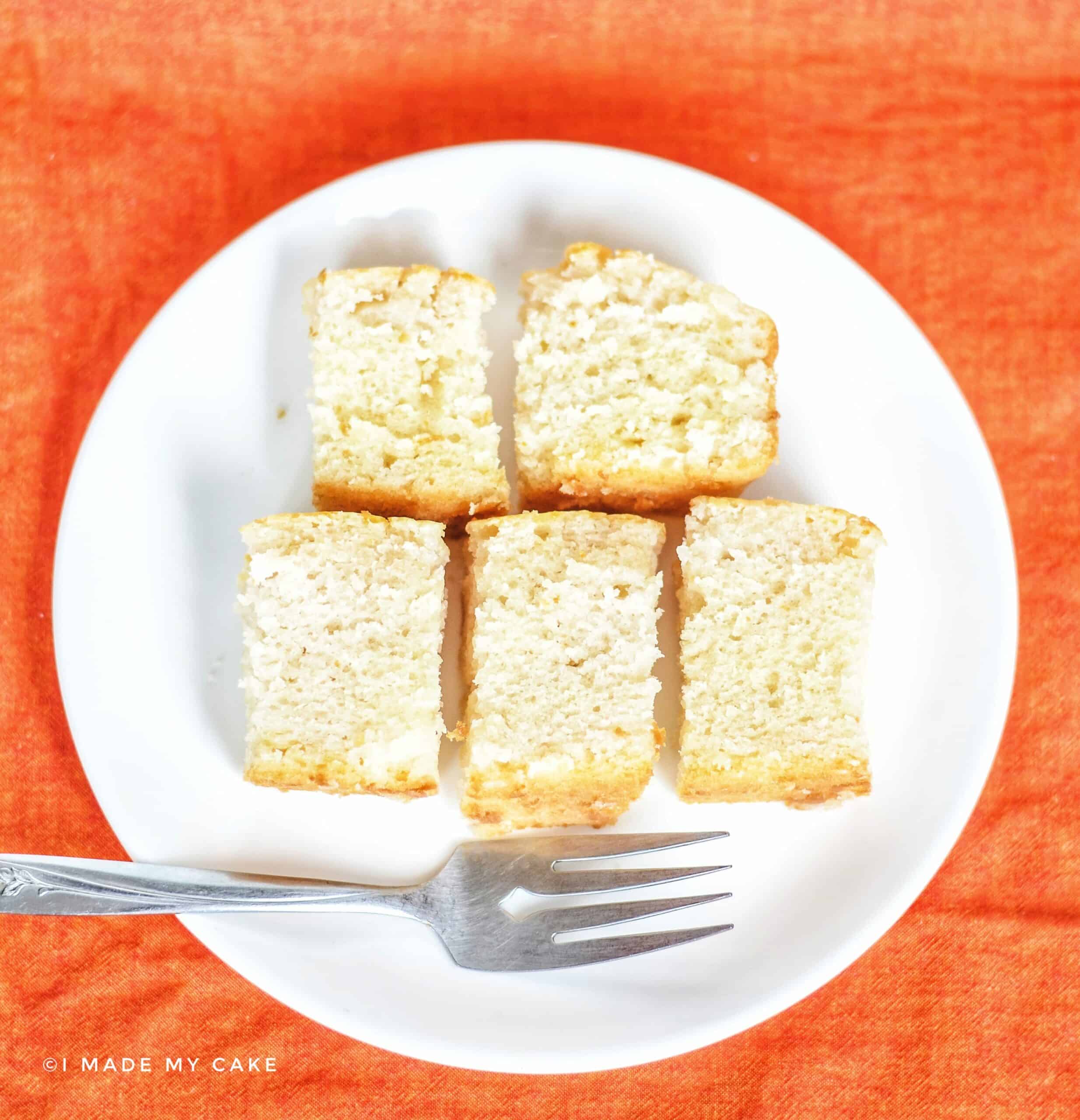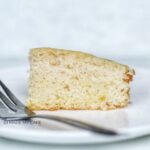 Print Recipe
Vegan Vanilla Cake
An incredibly moist and tender Vanilla Cake Recipe which is perfect for layer cakes, birthday cakes and trifles. You can easily add variations to this recipe.
Ingredients
140

grams

All-purpose Flour

½

tsp

Baking Powder

¼

tsp

Baking soda

Pinch

Table salt

(optional)

1.5

tsp

Pure Vanilla Extract

1

tbsp

White Vinegar

(You can also substitute the same amount of fresh lime juice)

130

ml

Water

(You can also substitute the same amount of milk)

100

grams

Powdered Sugar

50

ml

Canola oil/Sunflower Oil
Instructions
Preheat the oven for 12 minutes at 350°F/180° C.

Measure the flour, baking powder, baking soda and salt.

Whisk well.

Sift and measure the powdered sugar and other dry ingredients.

Mix oil and vanilla essence and add to the dry ingredients.

Add water and finally vinegar.

Whisk well.

Combine with the dry ingredients gradually and fold the cake batter.

Line a 5-inch cake tin and pour the batter till the ¾th mark of the tin.

Bake for 50 minutes at 320°F/160°C or until a toothpick comes clean.