Eggless Chocolate Muffins
An easy and simple recipe for chocolate lovers. This post contains affiliate links.

Easy Chocolate Muffins – A great kids' party snack!
You may have tried chocolate muffins as this is a very popular treat.
Today this post is about double chocolate muffins made without eggs or condensed milk which you can make in under 30 minutes! Almost. (Are you are quick at mixing ingredients? :P)
Make these muffins and call your friends over. They will love you for this.
---
Just starting with baking? Here are the basic tools you need.
---
Few days back, I made these chocolate muffins just because I didn't want to bake a full-fledged chocolate cake but wanted to eat something nice and chocolatey. So I decided to make these and I loved them so much, I immediately decided of posting this recipe here and sharing it with you guys.
So I do not have the step-by-step pictures of making these, but the recipe is easy enough to understand.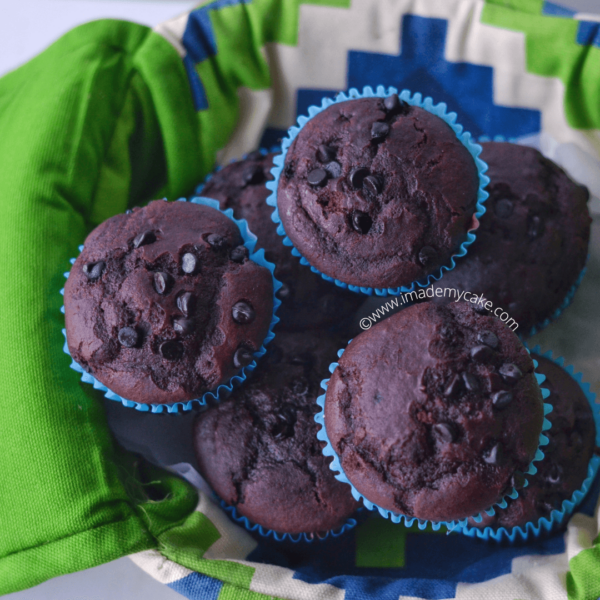 How to make Eggless Chocolate Muffins without condensed milk?
One of the best egg substitute out there is condensed milk, but it not a common pantry item and mostly reserved for rare occasions of making sweets at home.
And so, I have skipped this ingredient from this Chocolate Muffins recipe so now it is simpler and convenient to make anytime.
We are going to be using the next best egg substitute after condensed milk to make these muffins and that is yogurt. You can use store-bought yogurt for making these but homemade yogurt works perfectly too.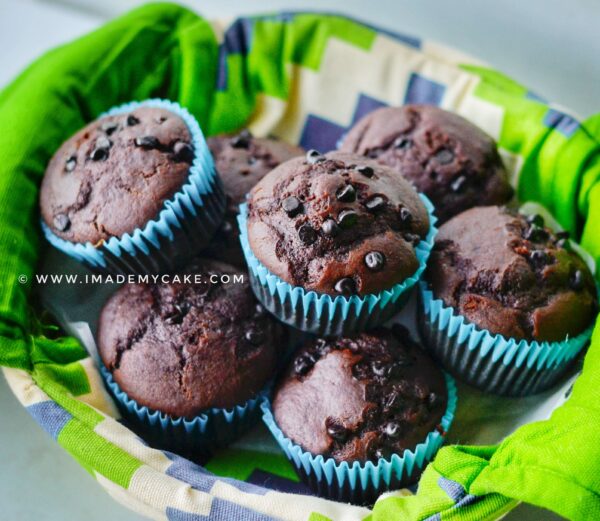 Ingredients for making eggless chocolate muffins
These Chocolate Muffins use the below ingredients in addition to leavening and other supplementary ingredients:
Cocoa Powder: Use a good quality cocoa powder like this one to make sure the chocolate flavor comes out perfectly in your muffins. If you wish to make these in to light chocolate muffins instead of dark, you can use half the amount of cocoa powder without any other changes to the recipe.
All-purpose Flour: I have made these muffins with 100% all-purpose flour but this can be substituted with 25% whole wheat flour and 75% all-purpose flour keeping other ingredients the same.
Yogurt: As I have said earlier, homemade yogurt works perfectly in this recipe and I have made these muffins using homemade yogurt set overnight.
Milk & Butter: Using melted butter gives these muffins a rich buttery taste. In case you want to use oil, you can add 30ml refined odorless oil keeping other ingredients the same. Use room temperature milk.
Dark Chocolate Chips: These are optional but add a lot of taste to the muffins and make them Double Chocolate Muffins as we add second form of chocolate to the recipe in addition to cocoa powder. I use these chocolate chips for my baking.
Instructions for making the batter
These eggless chocolate muffins are easy to make and you can whip up the batter quickly. You just need 10-15 minutes to make the batter if you are a beginner and 20 minutes of baking time.
Measure the butter and melt it. Let it cool. Do not add hot butter to the batter. Do this step first so you have enough time to cool it.
Measure and sieve the dry ingredients and keep aside.
Beat the yogurt so it becomes light in texture. This helps to aerate the cake well that means, it helps to make it fluffy.
Add all ingredients properly to the bowl of yogurt step by step and not all at once to make the batter.
Fill the muffin liners up to the 3/4th mark and bake for 18-20 minutes.
---
Related Posts:
13 Mistakes new bakers make while baking
---
Why are these muffins also called Double Chocolate Muffins?
Let me explain this to you in simple words:
Whenever you use an ingredients two times in a recipe but in different forms, you can use the adjective "Double" with the recipe name.
Since we already have added Cocoa Powder to the batter but are also adding another form of Chocolate in the form of chocolate chips, this recipe can also be called as Double Chocolate Muffins.
This is the same technique I have used to make this Double Strawberry Cake with fresh strawberries.
Eggless Chocolate Muffins Recipe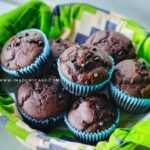 Print Recipe
Eggless Chocolate Muffins
A delicious Double Chocolate Muffins recipe when you want to eat chocolate but quickly
Equipment
OTG/Microwave with Convection
Ingredients
160

grams

All-purpose Flour

25

grams

Unsweetened Cocoa Powder

1

teaspoon

Baking Soda

Pinch

Table Salt

100

grams

Homemade Yogurt

50

ml

Milk

120

grams

Powdered Sugar

(sifted)

40

ml

Melted Butter

(at room temperature)

30

ml

Water

2

tablespoons

Dark Chocolate Chips
Instructions
Measure and sift the dry ingredients. Add the sifted powdered sugar, mix and keep aside.

Heat the butter just until it melts and let it cool.

Beat the yogurt with a spoon for a minute and add the cooled butter to it.

Add the remaining wet ingredients and mix together. Do not add chocolate chips.

Add the chocolate chips to the bowl of dry ingredients such that they get coated.

Now mix both dry and wet ingredients until combined.

Fill the muffin liners until the 3/4th mark and bake at 170°C for 18-20 minutes or until a toothpick comes clean.
Notes
You can omit the chocolate chips if you do not have them. 
You may also use chocolate chunks/white chocolate chips instead.
Final Thoughts on making these muffins at home:
These eggless chocolate muffins are so simple to make and are perfect for snacking on road trips or long travel, for kids' pajama parties, for any daytime celebration, or for those days when you feel like eating something like chocolate cake. Your family will praise you after you make these for them.
If you bake these yummy chocolate muffins, send me your pictures on mansi@imademycake.com. I would love to see them all.