Which Hand Mixer to buy for baking at home?
Often times there is a confusion between a hand mixer and a hand blender. This post covers all the differences and also throws light on which hand mixer to buy for home baking. Also, this post contains affiliate links.
Hello there!
Are you confused with a plethora of hand mixers and do not know which one to choose?
One of the most useful tools in baking at home is a hand mixer. And no you cannot use a simple whisk to do a hand mixer's job.
I get a lot of questions on hand mixers and how to choose one for regular home use. Let's see few questions here(rest are towards the end of the post)
What is a Hand Mixer?
If you are new to the world of baking, you may have just heard about using a hand mixer but do not know what it is or how to use it.
A hand mixer is a kitchen appliance helpful if you plan to make cakes, cookies frequently along with whipping cream for cakes.
In short, it is used for:
Beating butter required for making cake batter and cookie dough
Whipping heavy cream for icing cakes
Whipping cream for making butter
Making bread dough
Whipping eggs/egg whites
I'm not even getting started on how indispensable it becomes once you start using it.
It not only helps with baking but you can also make homemade butter(eventually ghee as well) and ice-cream too! Yum!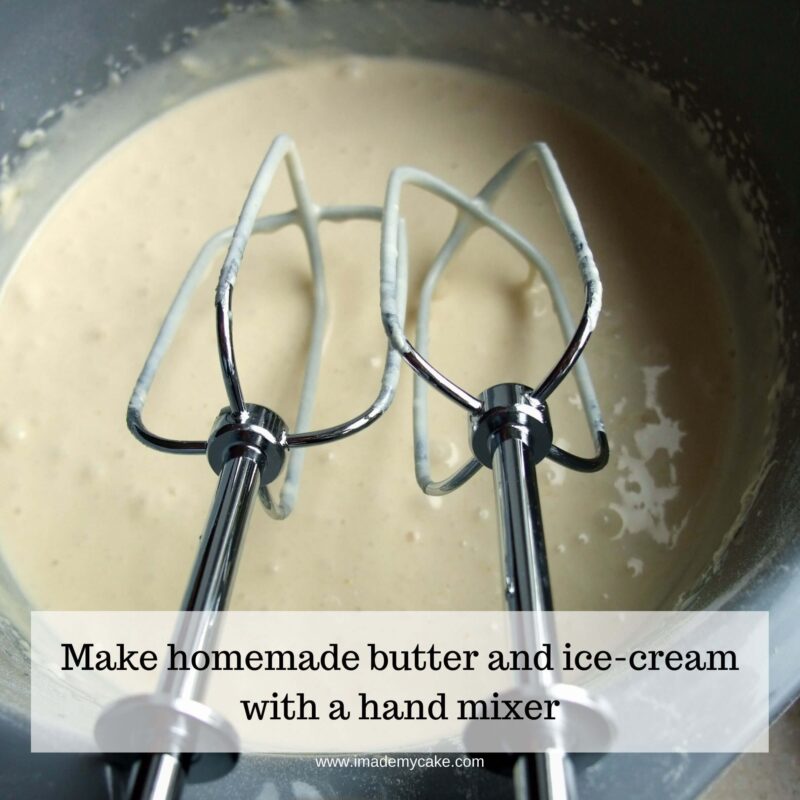 What is the difference between hand mixer and hand blender?
Ok. This is the most confusing thing for someone who has not used both.
A hand mixer comes with removable beater/whisk attachments while a blender does not have these attachments.
This is how a hand blender looks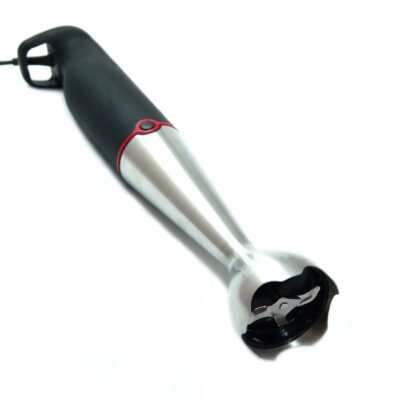 Remember this:
A hand blender is not useful for baking.
This is useful for blending or lightly pureeing any ingredients which is not a part of making cakes/cookies.
One can mistakenly purchase this instead of getting a hand mixer.
So remember the difference and do not get confused. If you are a beginner, my 51 baking tips eBook will serve you just right.
What wattage hand mixer should you buy?
There is always a good amount of discussion on this and of course yes a higher wattage is always better in terms of efficiency.
One should go for a 300W machine for best results but I want to tell you this:
Even if the wattage of your hand mixer is slightly low, it is perfectly fine for occasional baking. On the contrary, I have been using this 175W hand mixer for my cake biz and it is still serving me perfect for more than 5 years now. I use it almost everyday for whipping cream and beating butter.
Yes it is good if you can go for a higher wattage like 300W but this one also serves the purpose just fine.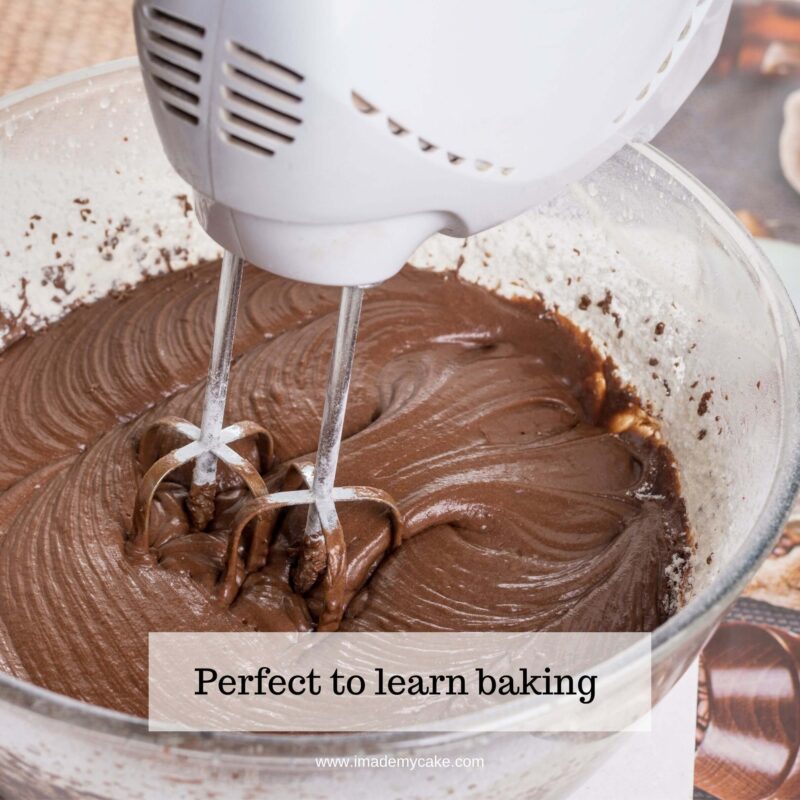 The mixer attachment you see in the above picture is used for making cake batter and whipping cream. The other attachment is used for making dough.
Which is better hand mixer or stand mixer?
Both have it's advantages.
If you are just a beginner, always go for a hand mixer as it is easy to use and perfect for home baking where you make small cakes or whip lesser amounts of cream.
Cons of hand mixer:
This also serves right for a home baking business with the only restriction being you cannot whip larger batches at a time.
You need to keep holding the machine until the job is done.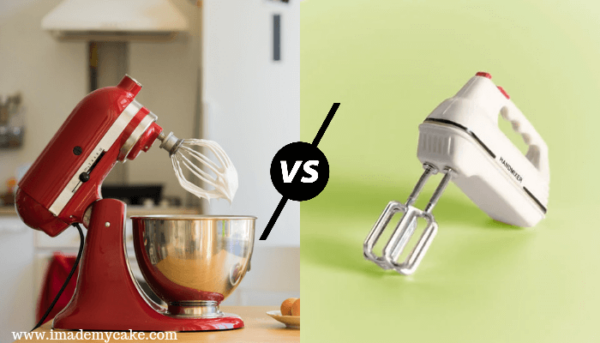 Once you get a good grip at baking or if you want to expand your home baking business, you may go for a stand mixer as it comes with it's own set of advantages; exactly opposite of the hand mixer cons.
You can process larger batches of ingredients
You do not need to keep on holding the machine that means more free time! To wrap up other cake decorating tasks. That's a boon for home bakers right! (Any home baker reading?)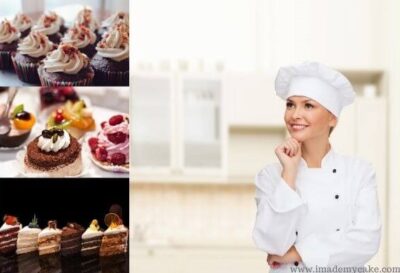 Cons of Stand mixer:
Expensive
Occupies a good amount of space on the kitchen counter.
Now you know which is best in what situation.
So let's see which hand mixer is the best to buy if you are a beginner baker.
Which is the best hand mixer for making cakes?
There are many brands available both online and offline especially post lockdown & pandemic as almost everyone baked a cake and their own bread during lockdown.
If you have not yet started baking, but want to learn step by step, please read my super detailed post on how to start baking that will help you take the first step towards baking at home quickly.
Did you start baking during the Covid-19 pandemic? Let me know in comments.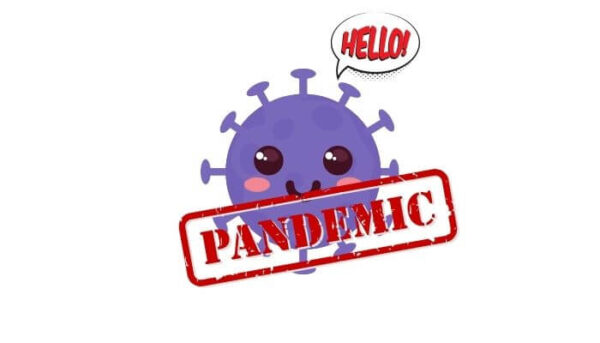 So back to the brands that you can consider before making your hand mixer purchase. Always consider three things before making the purchase:
Wattage of your hand mixer
Brand and durability
Features you are getting for a price point
These are the top 5 brands you can consider that are great quality wise and are quite durable.
I have listed the below hand mixers in the order of highest price first.
This is the best option available out there in terms of quality and durability. This is the same brand I own and as I said before it has been serving me perfectly since 5+ years. It falls on the higher side of the price range above INR 2000/- but is well worth it as a one-time investment.
This hand mixer has an eject button to easily eject/remove the whisk attachments and also a turbo speed option which is an extra speed setting.
This hand mixer has 5 speed settings and a 300W wattage.
This hand mixer has similar pricing and also features as compared to the Philips one above.  This one too has an eject button and the turbo speed option with 5 speed settings. Told you, similar features. 
If you are confused between Usha and Philips, go for Philips anytime. If this helps you make a choice, yes this is an Indian product but it is not made in India.
The next three brands that I'm going to show you are more or less similar in terms of performance and pricing.
A good brand to consider especially if you have used other Wonderchef products like the Nutriblend. This one also has 5 speed levels like others.
However, there is no mention of wattage on the wonderchef website or Amazon. A deep google search told me it is 300Watts but the absence of it on their website looked weird.
Bajaj HM 01 250-Watt Hand Beater 
A trusted brand for buying ovens and other large appliances. This machine has only 3 speed settings as compared to 5 in other brands. Also, this hand mixer features a 250 Watt motor as compared to 300W motor of other hand mixers in the same price range.
So, this would come in a little expensive than other machines with 250W and only 3 speed settings. You would want to consider this if you are particular about the wattage and speed.
This is the last and the least suggested hand mixer in the list here as it's performance is on the lower side compared to the other products. Still a better option to consider than local brands on Amazon/other stores. The only upside is the lower price point.
This hand mixer has 3 speed settings with a wattage of 300W. If you have a lower budget set for getting a hand mixer with good features, this one may fit the bill.
Finally,
There is one last brand I would want you to check out quickly and that is this one here. It is similar to these three products.
Frequently Asked Questions
There are a few more questions that my followers on Instagram have asked me so I have included them here for you to read:
1. Can you mix dough with a hand mixer?
The answer is yes, you can. There are separate attachments that come along with hand mixer for mixing bread/roti dough. However, the results you get by kneading the bread dough by hand are better.
2. What can you use in place of a hand mixer?
You may use a hand whisk but you will need to put in a lot of elbow grease for getting the same results with a hand whisk.
3. I am a beginner. Which hand mixer shall I buy?
Go for this Philips Hand Mixer.
4. What is the ideal speed setting while using the hand mixer?
This depends on what ingredient you have in the bowl for mixing. If you are whipping heavy cream, the speed setting will be different as compared to when you are beating the butter for making cake batter.
So, to summarize:

Higher Wattage Hand Mixers
A 300 Watt machine is sufficient for home baking but there are higher wattage options(450W) available too like this Philips one.
If you are more into a quality product with similar features this Bosch Hand Mixer, though on the expensive side, shall be a good option.
Remember one thing:
A hand blender is not useful for baking.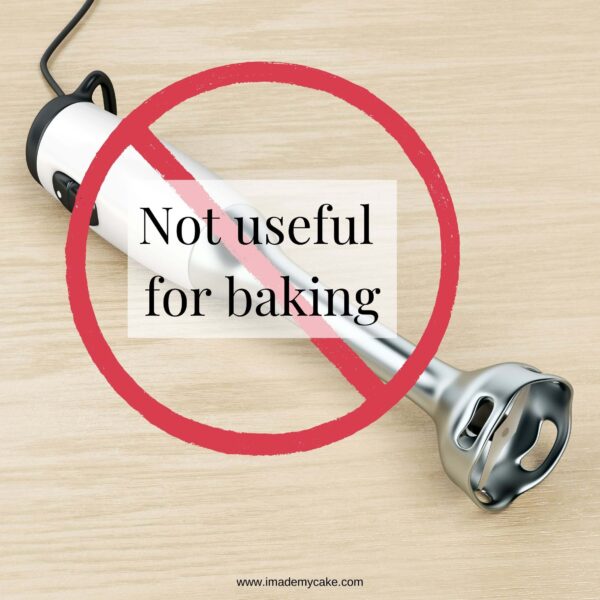 If you have already own a hand mixer, but are not satisfied with its working, this is for you.
Many people complain of their hand mixer becoming warm after using it for few minutes. What does that mean?
That means the motor is getting used more than it's limit and you need to reduce the working time. This generally happens with low wattage hand mixers but it is nothing to worry about.
Here are a few tips if your hand mixer gets warm while using:
Do not run your hand mixer at high speed for a long time. Give it a two minute break before resuming.
If you are whipping heavy cream or making bread dough, use lesser quantity of cream/dough so that it is within the limits of the hand mixer to whip it before it gets warm.
Conclusion:
Assess your need for a hand mixer or a stand mixer.
Check the brand, wattage and speed levels available for a particular price point.
Higher wattage is only a plus point not a compulsory thing to consider when buying a hand mixer for occasional baking.
Avoid buying all-in-one products where all attachments are available in one machine or power-free whisking tools. They are not suitable for home baking in the long run.
I hope this post was helpful enough for you to make a decision on which hand mixer to buy for your baking needs and for you to start baking delicious cakes and bread at home soon.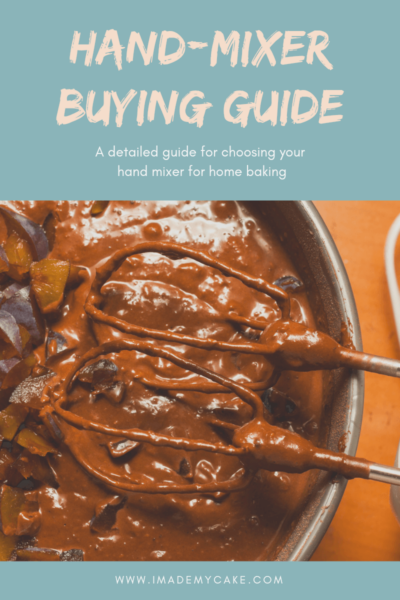 Do you have any questions? Need more help choosing your hand mixer? Ask me in comments below and I will try to help you choose one asap.