How to Start Baking at home when you are a total beginner
Start baking cakes at home in 6 easy steps.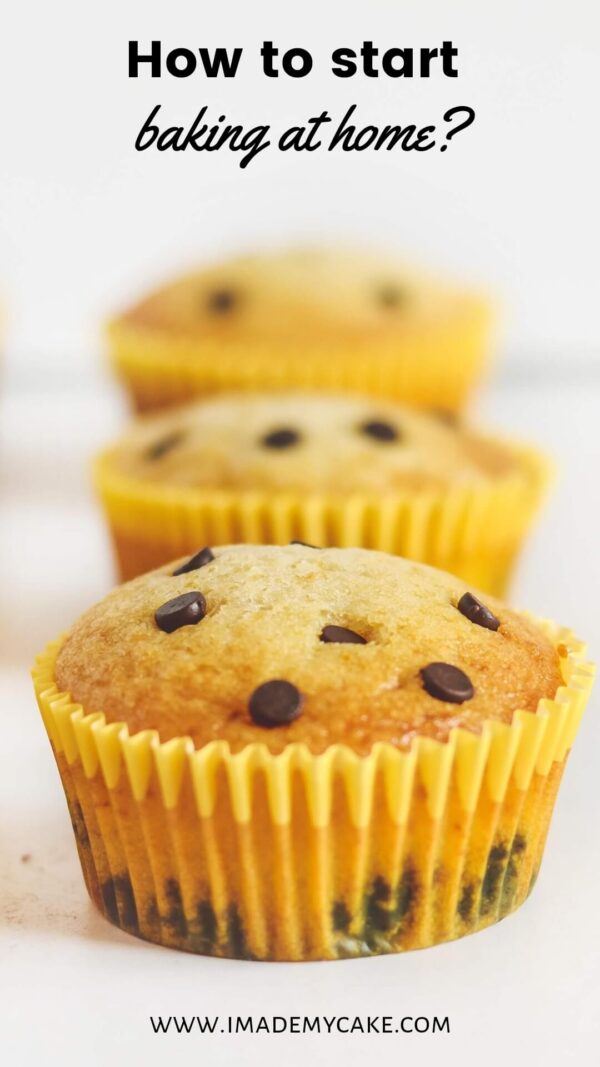 You like Baking.
You want to learn Baking.
You do not know how to do it or You do not have time to do it.
The fact that you are here looking for ways to learn baking easily, differentiates you from people who give up on their baking.
At first you may feel like Alice (from Alice in Wonderland) and baking would look like this big rabbit hole where you cannot fathom a thing! But trust me once you get a hang of this, you will wonder why you did not start earlier.
Cooking v/s Baking
Baking is WAY different than Cooking! Yes, they both are different! I know there are so many aspects to preparing food! This is the very reason I have come up with this post to get you started. So, grab a cup of coffee and start reading. Get ready & begin your journey into the wonderful world of baking!
Cooking is Art but Baking is Science. You can cover up if you miss adding salt to your delicious looking food but that is not the case with baking. If you forget to put sugar in your cake, it is a disaster which you cannot undo and your cake will not be able to see the daylight tomorrow. So, it is very important to perform each step in preparing the cake properly.
Baking is Therapeutic
Did you know that baking is therapeutic to humans? No explaining why we feel amazing when we bake a cake! For this therapy to be successful, your cake should come out smelling amazing and ultimately tasting yum too! We do not want hot air fumes and a burnt or sunken cake coming out of your oven!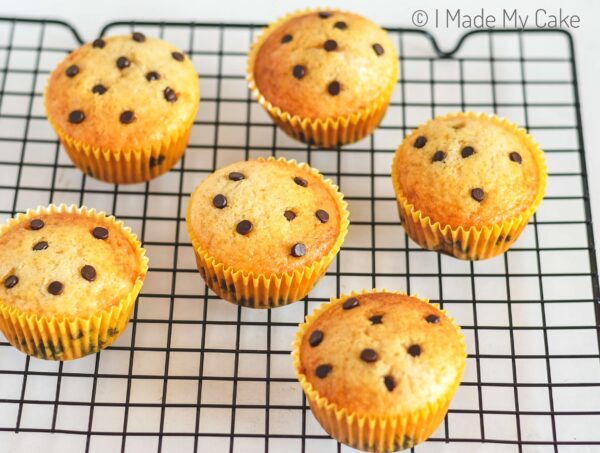 Baking a Cake at home in 6 easy steps
You can definitely start baking at home on your own! Prepare yourself to make your first cake
Start with an easy recipe preferably muffins.

Cakes are made using either oil or butter. Butter needs to be beaten with sugar but you can use oil directly in cake recipes.
So, I will prefer you start with a muffin recipe that uses oil. Why Muffins? Because they are super easy to make and will not fail you. They are no fuss to make and will be ready in 20 minutes.
There are many recipes available on the internet but not every recipe is perfect for your first cake.
My advice would be to start with an oil-based cake recipe or a recipe which uses melted butter as it may become difficult to beat the butter properly and to understand for how long to beat the butter.
The Ingredients

Read the recipe twice. Do you have all the ingredients with you? If no, then you got to arrange them first before you start mixing anything. We cannot skip any ingredient given in the recipe. It will only result in cake fails.
Avoid substituting any ingredients at this stage. You can learn that once you are confident enough in baking. For example, if you do not want to bake with eggs, choose an egg-free recipe to start with but avoid trying to substitute eggs with something else.
Always measure the dry ingredients by volume and not by weight. What does that mean? For example, you need to measure the flour in grams and not in cups. This makes a lot of difference as one cup of flour may have more flour in it when weighed in grams depending on the way it was scooped.
When a recipe says 1 teaspoon, use the teaspoon from your measuring spoons set and not any spoon from your kitchen. Regular spoons are not allowed for measuring ingredients. This makes a lot of difference.
I always recommend a digital kitchen scale. You can also use cups for the same but just be careful of the cup sizes as the measuring capacity of every cup is different. Check the cup capacity mentioned in the recipe or google for suitable conversions according to your cup capacity.
Do not swap Baking Powder and Baking Soda for each other. Their role in the recipe is different for each of them.
If the recipe mentions baking powder and you do not have it, you should avoid making that recipe. Use a recipe with baking soda instead.
Mixing the Ingredients
Once you add the dry and wet ingredients together, you should be very careful to mix gently. Vigorous mixing will kill your cake. For this, mix together all the wet ingredients first and then add them to the dry ingredients step by step in parts and not all at once.
Not all recipes allow you to mix all your wet ingredients first. Find easy one bowl recipes on the internet or check out my simple one bowl vanilla cake recipe or easy banana muffins recipe.
Before transferring your batter into the cake pan, make sure to line your cake tin with parchment to avoid cake sticking to the pan.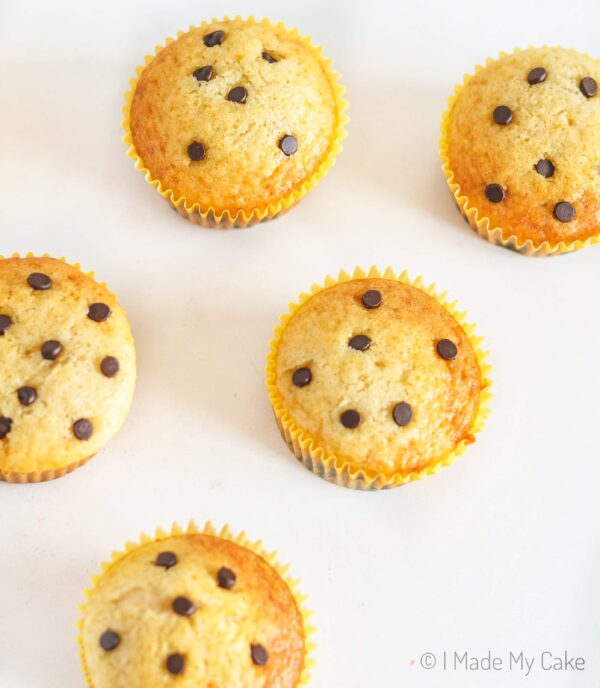 Setting Oven Temperature – the biggie!
Generally, all cakes bake well with the lower rod on and the cake tray in the middle rack.
For baking pizzas and bread, you can use both top and bottom rods.
Having said this, my cakes still come out fine when I bake them with both rods on. So it is just a matter of setting the proper temperature and understanding your oven.
Now that you have mixed together all the ingredients it is time to fill your cake tin with batter. Use a parchment paper or oil-flour method to line the tin. Fill it only till 3/4th mark or 75% of the cake tin size.
Whether you bake in an oven or a microwave with convection mode make sure you follow the recipe instructions regarding the temperature settings and preheat time. Also know that in many recipes the temperatures for preheating the oven and baking the cake are different.
How to know if your cake is done
You have put your cake in the oven and are waiting for it to get ready. Keep an eye on it for the last 10 minutes. I am not saying keep opening the oven door that is one of the baking mistakes new bakers make. But in the last 10 minutes of its oven time, do the toothpick test once and see if any crumbs stick to it.
If the toothpick comes out wet, your cake needs at least 10 minutes to get done. But if 2-3 moist crumbs stick to the toothpick, your cake is ready. You need to take it out then and there.
Overbaking will make your cake dry and crumbly.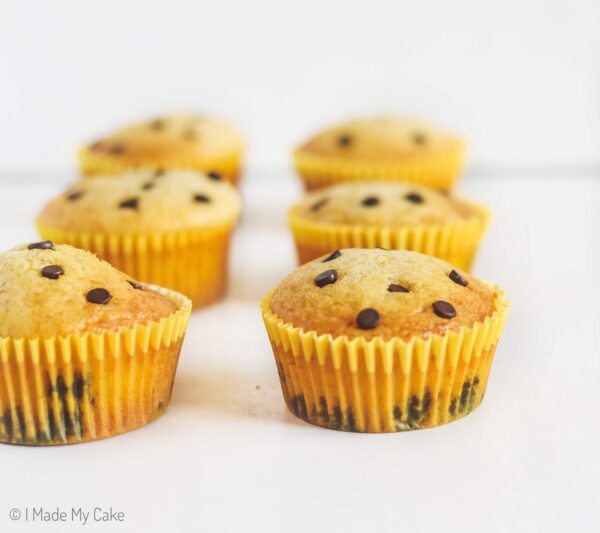 Demoulding the cake
Once you take the cake out of the oven, let it cool for at least 20 minutes before you take it out of the pan.
If you slice your cake while it is still warm, your cake will not give sharp slices and will be crumbly. Let it cool completely before slicing.
So, in a quick summary, the steps to follow while baking your first cake are:
Start with an easy muffin recipe.
Measure your ingredients accurately and do not make any substitutions.
Add the wet ingredients into the dry ones. Not the other way round! Line your cake tins with parchment.
Set the proper oven temperature.
Check for the doneness of the cake in the last 10 minutes. Your cake should have 2-3 moist crumbs sticking to it. That is the perfect sweet spot to take your cake out of the oven.
Demould your cake only after it has cooled completely. If you slice a properly cooled cake, you will get sharp slices.
Everything is easy when we follow it step wise. Do not skip any of the above steps to make that perfect first cake of yours.
Do you know why so many people fail at baking? Because they do not follow the proper steps. If you follow these steps and bake a perfect first cake, tag @imademycake on instagram. I would love to see you succeed.
Btw..Follow me on Instagram to see all the inside stories and lot of daily tips for baking at home.