Ragi Cookies (Finger Millet Cookies)
Not your regular Ragi Cookies, these delicious and easy cookies made with ragi flour and cocoa powder are a must try!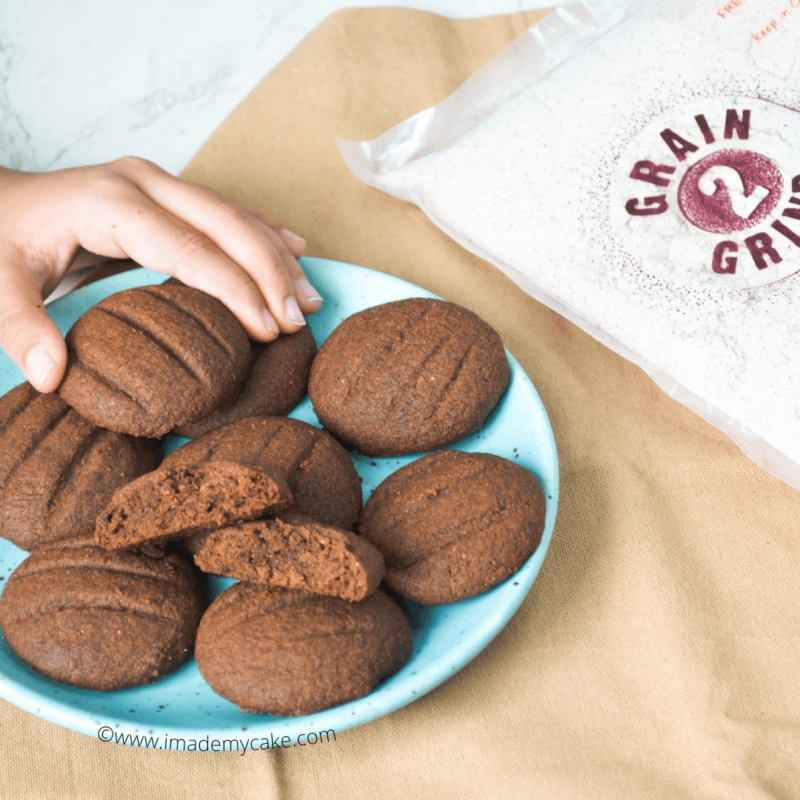 Thank you Grain2Grind for sponsoring this post.
Few weeks back when I received this Ragi Flour that was a part of a Flour hamper from Grain2Grind, I was very excited to try their Ragi Flour which is made with stone ground chakki fresh atta.
The flour absorbs more water than regular flours while kneading. The grains for making this flour are sourced from ethical farming.
I decided to make these healthy sugar-free cookies using the Ragi flour which my daughter absolutely loved too.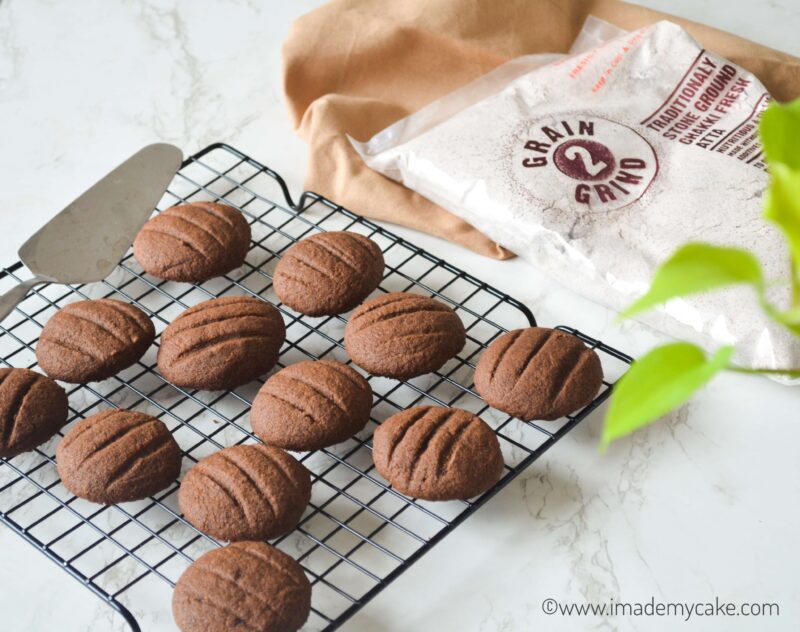 Are Ragi cookies healthy for kids and toddlers?
Ragi/Nachni/Finger Millet is very nutritious for kids, toddlers and adults as well.
In this recipe, I have tried to keep it as "natural" as possible, i.e. I have tried to make it with naturally available ingredients so that these cookies can be consumed by everyone.
However, while making for toddlers, skip the cocoa powder and add the same amount of Ragi flour/whole wheat flour as Cocoa Powder is not suitable for kids under age 2.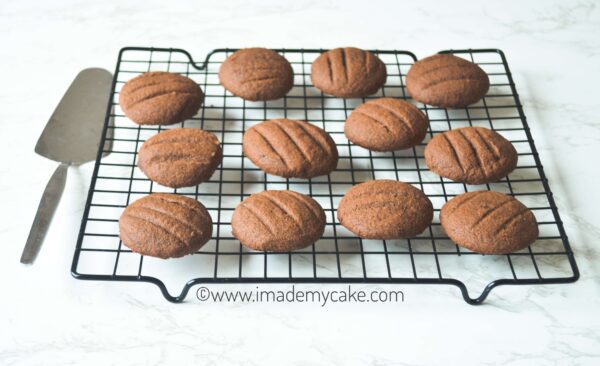 Ingredients
We are using 6 easily available ingredients to make these cookies. These are made without any all-purpose flour and leavening agents. That means no baking soda or baking powder.
Grain2Grind Ragi Flour/Finger Millet Flour: Ragi/Finger Millet flour is rich in many nutrients and antioxidants and also an excellent source of Vitamin D and calcium. Read more about it's benefits here.
Whole Wheat Flour: I have added a little whole-wheat flour in this recipe to give a good texture to the cookies.
Cocoa Powder: Adding Cocoa Powder to this recipe makes the cookies more delectable as the cocoa powder perfectly compliments the raw earthy flavour of Ragi Flour and Jaggery. Replace this with whole wheat flour when making these cookies for toddlers.
---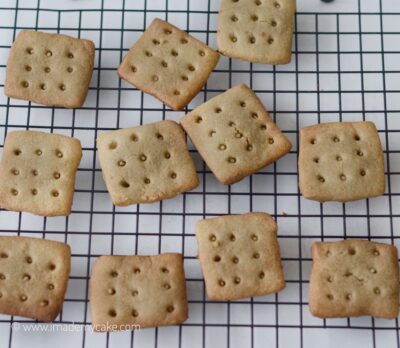 ---
Butter: This is an important ingredient that gives the cookies their texture. We rub the flour mix with butter which melts during baking.
Jaggery Powder: Use Organic jaggery powder for making this recipe. Jaggery adulteration is very common and make sure you source the jaggery powder from reliable sources when you are making it for toddlers and young kids.
Milk: We are going to add one to two tablespoons of milk to this recipe to give a soft texture to the cookies. You may add same quantity of water if you are not using milk
I have also not used any Vanilla Extract for these cookies. If you are making it for toddlers, you need not add Vanilla extract to keep them as "natural" as possible.
If you are making for older kids and adults, you may freely add 1 teaspoon of Vanilla Extract for this recipe.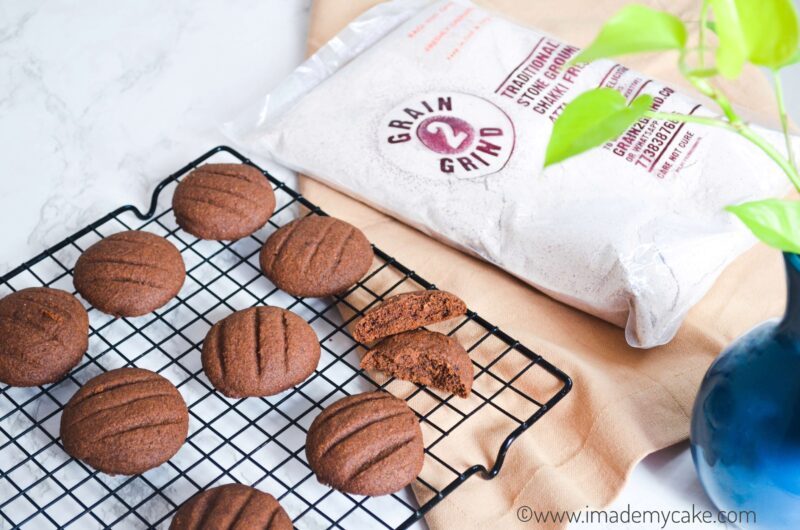 Step by step Instructions:
For making these cookies, you will need to:
1. Measure and sift Grain2Grind Ragi Flour, Whole wheat Flour and cocoa powder.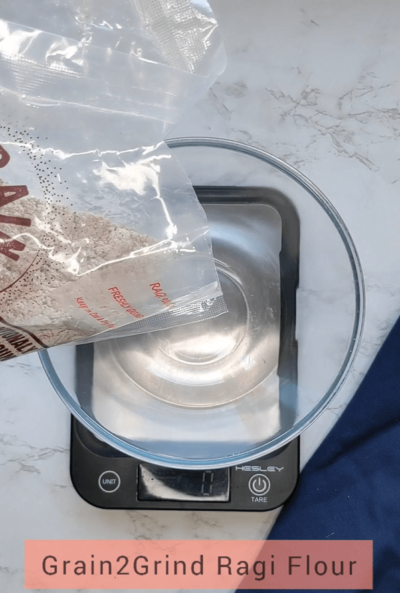 2. Sift them and mix.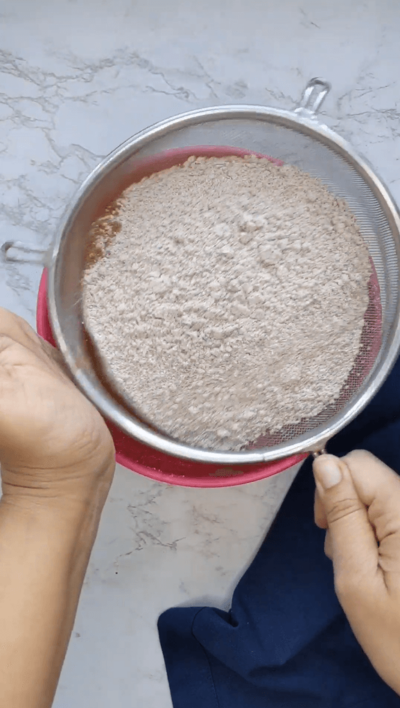 3. Measure the butter and add it to the bowl of dry ingredients.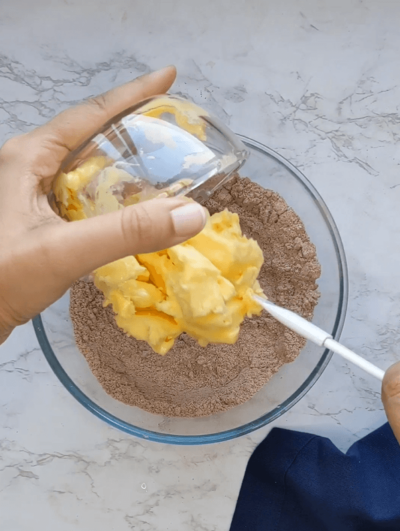 4. Start rubbing the flour and butter until the mixture comes together.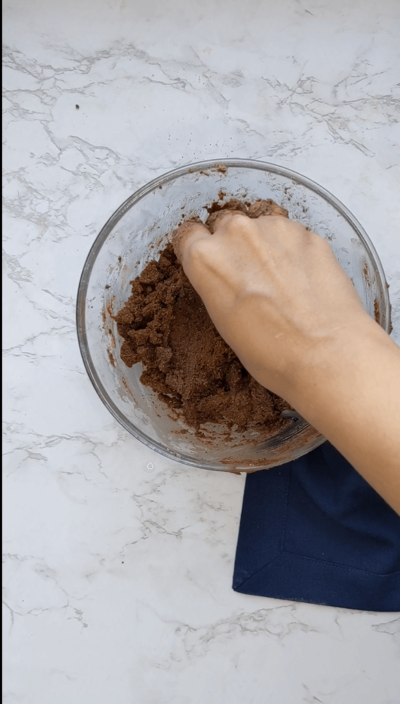 5. Add the organic jaggery powder and mix.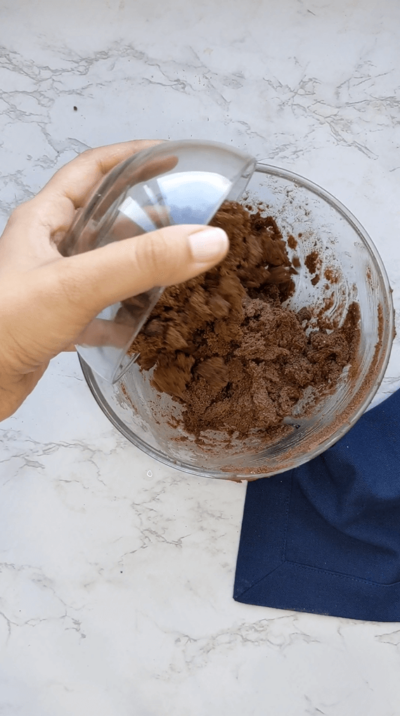 5. Add the milk and combine the dough together. Do not knead.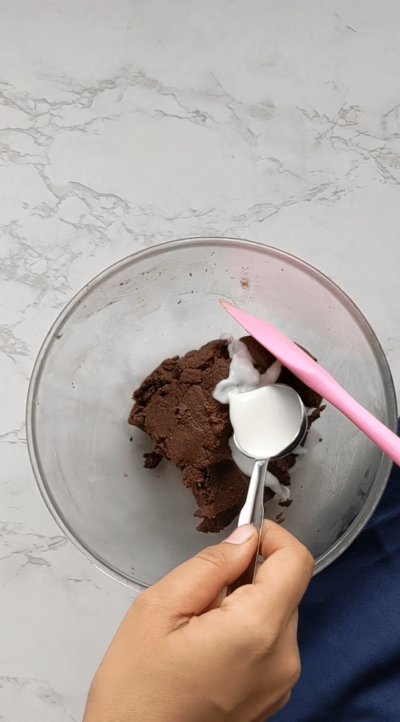 Shaping the Ragi Cookies
6. Once the dough is ready, roll a small ball and make indentations/lines with the back of a spatula so the cookie looks interesting. You may skip this step.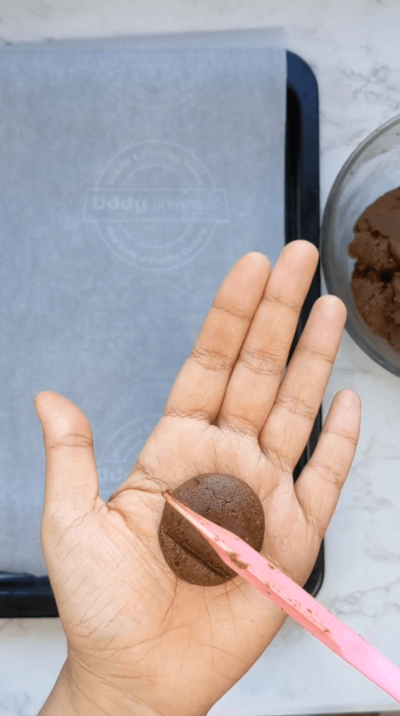 7.Bake the cookies at 180°C in a preheated oven for 12-15 minutes with both rods on if baking in an oven. If you prefer soft cookies, bake only using the lower rod.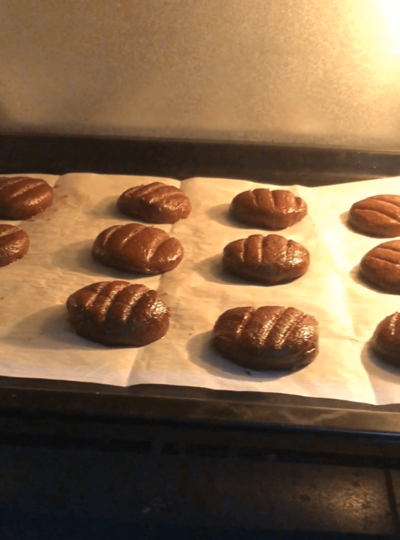 8. Once the cookies are out of the oven, they will be soft and will harden over time as they cool. Immediately transfer them to a cooling rack.
Ragi Butter Cookies Recipe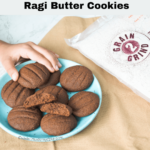 Print Recipe
Ragi Cookies
Delicious and healthy Ragi Cookies made without All-purpose Flour, sugar and baking powder/soda.
Ingredients
200

grams

Ragi Flour/Finger Millet Flour

50

grams

Whole-wheat Flour

25

grams

Cocoa Powder

(4 tablespoons)

200

grams

Unsalted Butter

(soft spreadable butter consistency)

140

grams

Jaggery Powder

(use Organic Jaggery)

Pinch

Table Salt

2

tablespoons

Milk
Instructions
Thaw the butter for sufficient amount of time until it is of the spreadable consistency.

Measure and sift both flours and the cocoa powder. Add the butter to this bowl of dry ingredients.

Start rubbing the flour and butter together until the mixture is combined.

Now, add jaggery powder and crush any lumps present with your fingers. Sift the jaggery powder if needed. Mix gently. Do not knead.

Finally, add the milk and bring the dough together. Do not knead.

Shape cookies as per your wish and chill the entire tray in the fridge for atleast an hour.

Preheat the oven at 180°C for 10 minutes. Take the tray out from the fridge and bake the cookies with both rods on for 12-15 minutes.

If you want to bake soft cookies, bake using only the lower rod of the oven.

Once baked, transfer all cookies to the cooling tray. All cookies will be soft once out of the oven and will harden with time spent on the counter as they cool. They will stay soft later as well if you have baked them using the lower rod.

Store in an airtight container within easy reach for a guilt-free snack.
Shelf Life: These cookies lasted for 3-4 days at room temperature for me before they were polished off from the jar 🙂 They may last for few more days if stored in an airtight container in cool weather. You may also refrigerate them to store them for longer.
I plan to make these again soon.
These cookies are good to enjoy after meals to satiate your sweet tooth or could be given to kids as a part of their evening snack or so.
Pin this recipe for making later: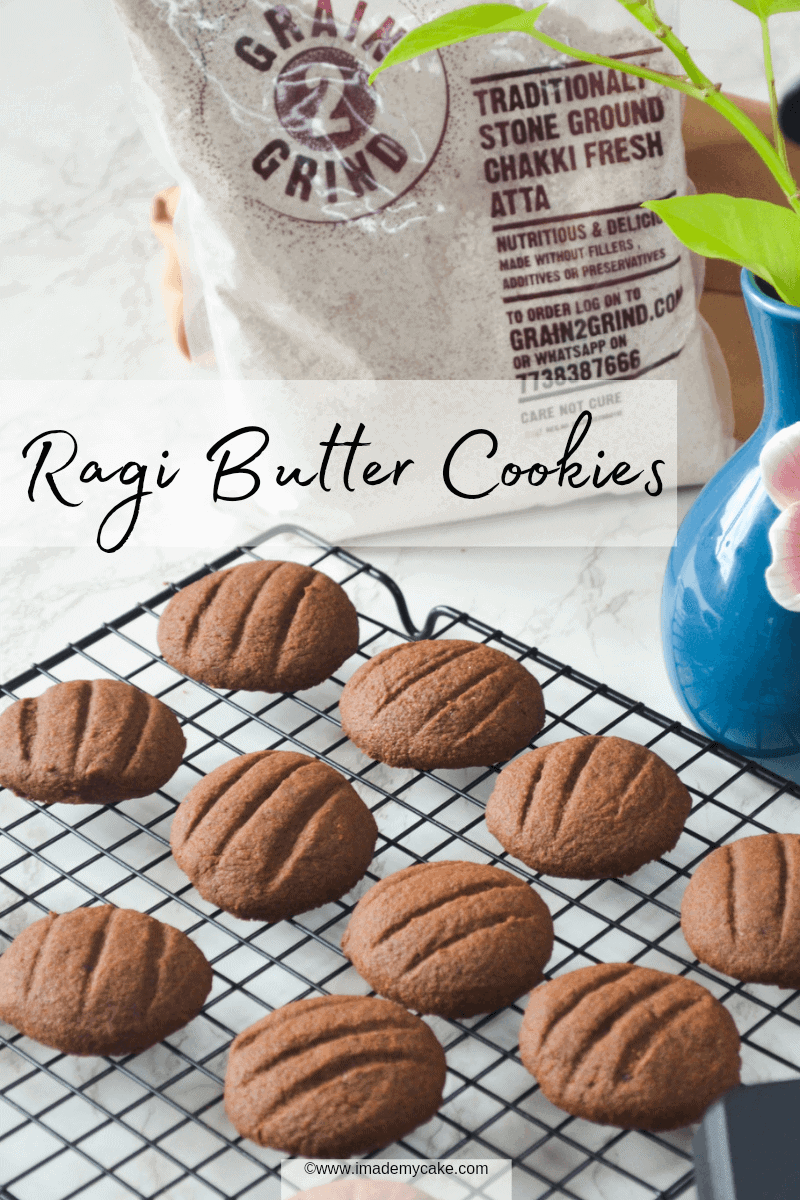 Other sugar-free recipes:
Other Cookie recipes:
Bajra Cookies (Pearl Millet Cookies)