Eggless Whole Wheat Muffins with Jaggery
Make these easy and healthier 100% whole wheat muffins with chocolate chips and jaggery. They are so fluffy, moist and do not use any eggs. Just the recipe you need for that sweet craving.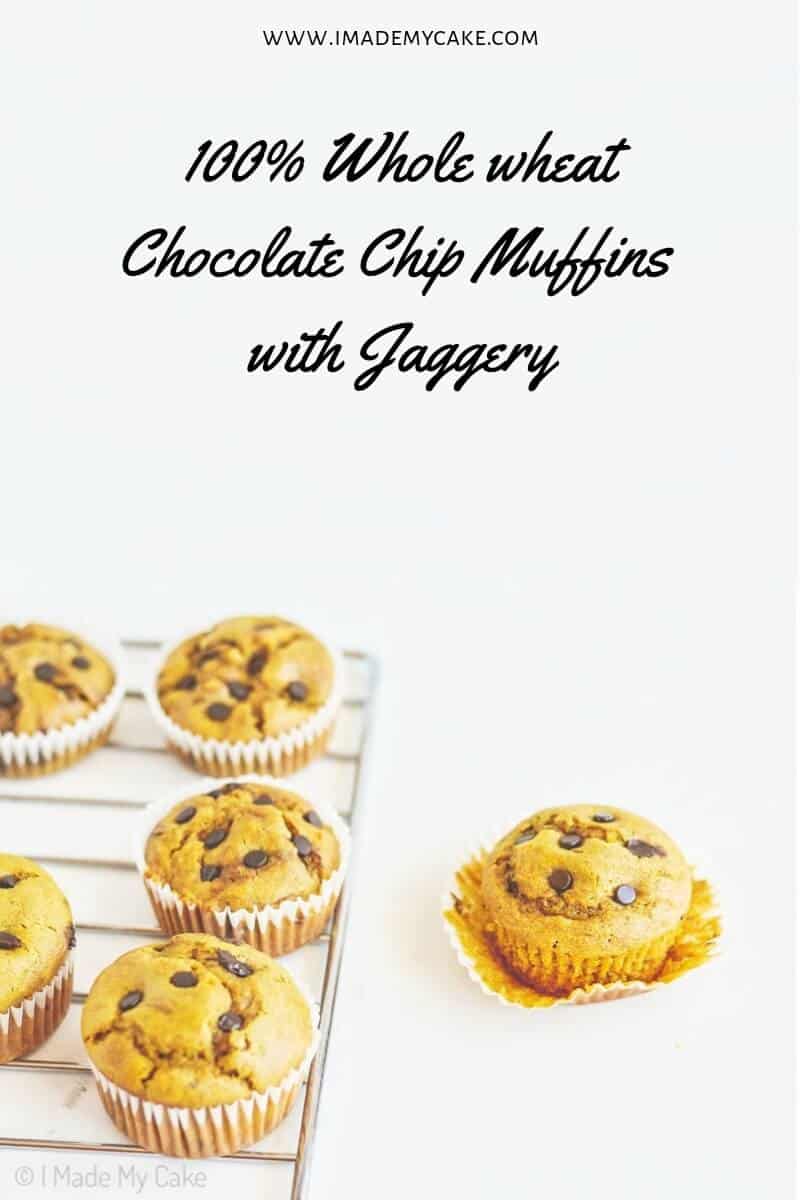 Fluffy and Moist Whole wheat Cake.
Is that for real?
Yes, gurl!
Eggless Whole Wheat Muffins
If you are always in search of healthier whole wheat cake recipes, this one is not going to fail you. I promise. These moist, fluffy and delicious whole wheat muffins are my go-to when my daughter asks me to pack some cake in her snack box to school.
Everyone loves it when they can indulge in some cake by not compromising on their health too. These muffins use butter instead of oil and whole wheat flour instead of refined flour and so they are healthier than your regular cake.
These are also a good choice when you have a kids' party at home and you do not want to serve them regular cake just for the sake.
I always make these muffins for my friends who do not consume refined white sugar and refined flour when they come over. Everyone loves them as no flavour is compromised and they taste just like regular chocolate chip muffins. No one can make out the difference! Yay! Can you imagine eating cake without guilt!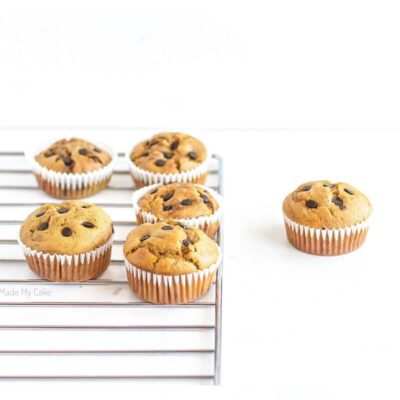 How to make Whole wheat Muffins Fluffy and Moist?        
The trick to make whole wheat cake soft and fluffy and not dense and rubbery is to not over-mix the cake batter.
Whole Wheat Flour forms gluten pretty quickly and so you have to be very careful while you mix the wet ingredients with the dry ones. You have to mix until they are just combined. Little lumps can stay as they are. Do not go around breaking them and mixing the batter vigorously while at it.
Follow this simple tip and see the difference in your whole wheat cakes.
Making a cake with whole wheat generally requires an additional tablespoon or two of water as whole wheat flour absorbs more water as compared to refined flour.
So, the most important thing to remember: DO NOT OVERMIX THE BATTER.
Chocolate Chip Muffins with Jaggery
There are 5 main ingredients used for making these in addition to leavening agents and other ingredients:
Whole wheat Flour
Butter
Jaggery
Milk
Chocolate Chips (optional)
Below are the detailed steps:
For making these chocolate chip muffins, you need to melt the butter and jaggery first.
For enhancing the flavour of plain vanilla muffins, I have added 1 tablespoon of dark chocolate chips to the butter-jaggery mixture while it is still warm and let them melt.
This gives a light chocolate punch to the muffins. You can totally skip this step if you do not want this.
You can skip the chocolate chips too and keep the muffins plain and simple.
These muffins taste best on the same day of making them or the next day. They will stay fresh in the refrigerator for 4-5 days and will freeze well for 25-30 days.
Do not make these mistakes if you are a beginner baker:
Do not add the butter-jaggery mixture to the dry ingredients when it is hot or warm. Let it cool completely for about 8-10 minutes.
Do not overmix the batter as this will lead to gluten formation and your cake will become dense and rubbery. It may stick to your teeth when you eat it. The key to make whole wheat muffins less dense is to mix the batter until all ingredients just combine.
Fill the liners/cupcake moulds with batter only till the 3/4th You can fill little less than that if you wish too.
If you liked this Wholewheat Muffins Recipe, you will definitely like these:
Whole Wheat Muffin Recipe with Jaggery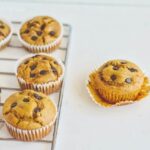 Print Recipe
Fluffy and Eggless Wholewheat Muffins with Jaggery
Delicious Eggless and 100% Wholewheat Chocolate Chip Muffins with Jaggery
Ingredients
140

grams

Whole Wheat Flour

½

tsp

Baking Soda

¼

tsp

Baking Powder

Pinch

Table Salt

50

ml

Unsalted Butter

(melted)

110

grams

Jaggery

(finely chopped)

50

ml

Milk

80

ml

Water

1

tsp

Vanilla Essence

1

tbsp

White Vinegar
Instructions
Measure the butter and melt it.

In the same bowl, while the heat is still on, add chopped jaggery and keep stirring continuously until the jaggery dissolves completely. Add Vanilla Essence and switch off the stove. Keep aside and let cool.

While it is still warm, (optionally) add 1 tbsp chocolate chips for some nice mild chocolate flavor in the muffins. Let them melt in the warm jaggery-butter mixture.

Meanwhile, measure and sift the dry ingredients.

Now once the jaggery-butter mixture is cool, add it to the dry ingredients and mix lightly.

Add the milk, water and finally the vinegar. Mix until just combined.

Do not over-mix as wholewheat flour forms gluten immediately. And if gluten is formed, your cake will be dense and stretchy.

Preheat the oven for 10 minutes at 350°F/180°C

Place liners in the muffin tin and fill batter in each liner till ¾th mark

Bake for 18-20 minutes at 340°F/170°C.