Snickerdoodle Mug Cake
An easy and quick instant mug cake recipe for those cake cravings. This post may contain affiliate links.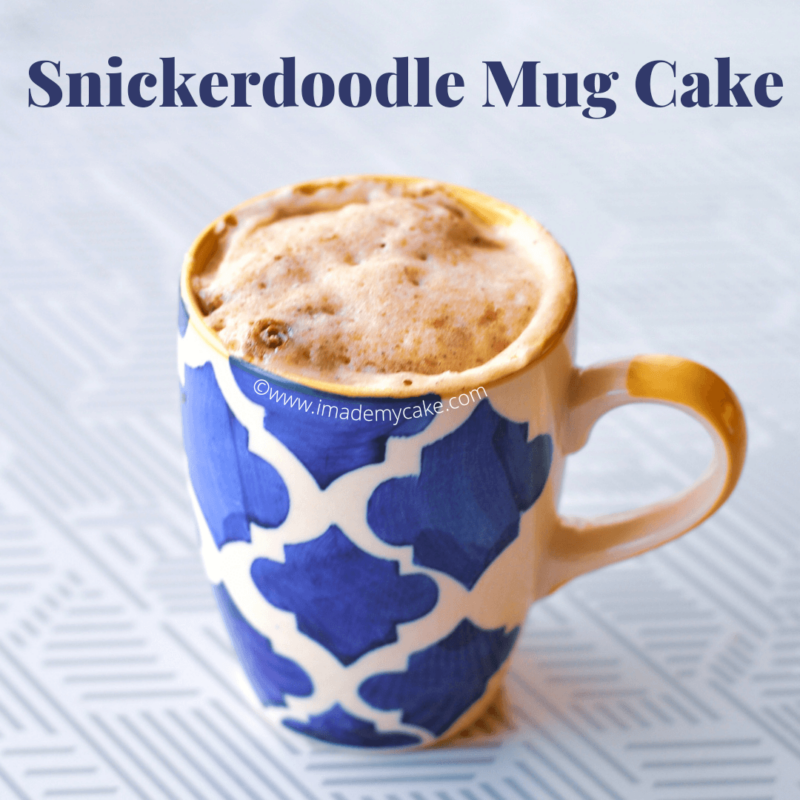 Today let's see how to make a Snickerdoodle Mug cake.
What is a Mug Cake?
A mug cake is a delicious instant cake mixed and made directly in a mug and microwaved for two (or less than two minutes) and is the convenient cake option to go with when you do not have enough time to make a full-fledged cake or even muffins.
This is perfect if you want to make single serve cakes. I love this idea when family members want to enjoy different flavor cakes and these are just the right size for one person.
What is a Snickerdoodle Mug Cake?
There is a famous cookie that goes with the name Snickerdoodle Cookie which is coated with cinnamon and sugar before baking. This mug cake is the "cake version" of snickerdoodle cookies.
Also, snickerdoodle Cookies are made with cream of tartar and baking soda. But as cream of tartar is not a commonly available pantry ingredient, keep reading to know what you can substitute in it's place for making this mug cake.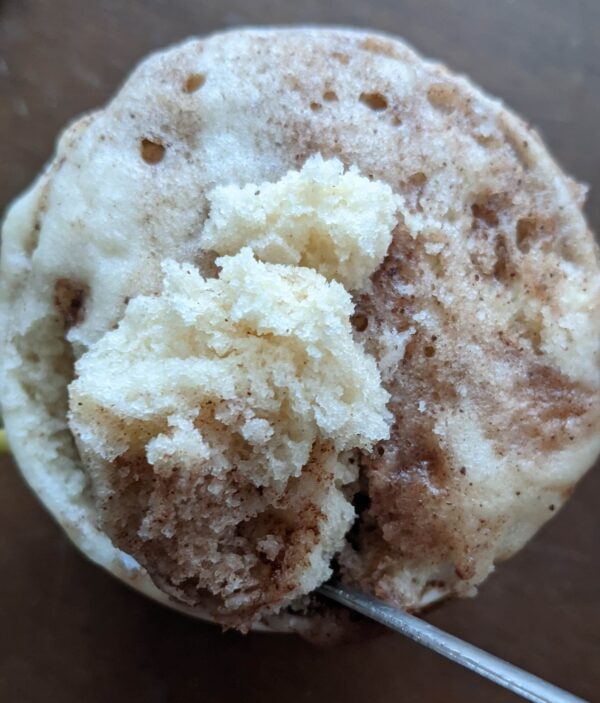 What do you need for making this mug cake?
You will need two things:
A Microwave Oven: You cannot make this cake in OTG/Stovetop. The instant cooking feature of a Microwave Oven helps cook this cake and this is what I explain in this post: Microwave Oven v/s OTG: Which is better? You may want to read it if you are planning to purchase either of them.
Coming back to this cake, you can make this cake even if your microwave oven does not have the Convection mode required for baking.
A microwave-safe Ceramic Mug: I used this mug which I got recently from Amazon and I love it. It is quite heavy in weight and looks very beautiful. I love beautiful mugs. You too?
You may use any mug that is at least 300 ml in volume to avoid spilling of batter like this from the mug. This mug was just short of 300 ml and so it overflowed a little giving it a cappuccino look! It looks like a frothing cappuccino right 🙂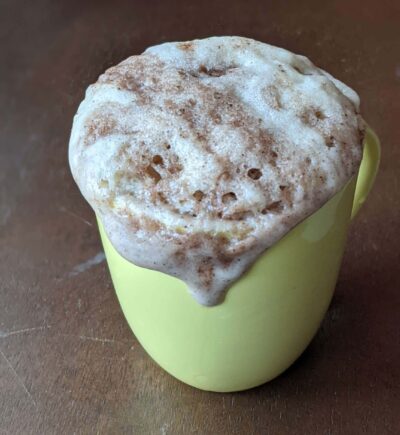 If you do not have a large mug, divide the final batter in two parts and microwave it.
Ingredients for making the Snickerdoodle Mug Cake
There are very nominal ingredients that this mug cake uses and they are :
All-purpose Flour
Here you need to use all-purpose flour only. Please do not substitute it with whole-wheat flour or any other flour as you will not get the same fluffy texture of the cake.
Sifted Powdered Sugar
If you are using homemade powdered sugar, sieve it once to avoid any sugar crystals in the final cake.
Who likes sugar crystals in cake?Or you can pass it through a tea strainer by placing the strainer over the mug before adding the sugar.
Cinnamon Powder
The heart and soul of this cake. Snickerdoodle flavor is based on cinnamon. Always make sure you pass it through a sieve once if the powder is homemade.
Butter
In this recipe, we are using one tablespoon of butter. If you do not have butter, you may use same amount of odorless oil. But this is not recommended as it will severely affect the buttery rich flavor the Snickerdoodle cake/cookie boasts of.
Milk
Few tablespoons of milk ensures that the cake gets a nice milk flavor and improves in taste. If you want, you may use at least one tablespoon of milk and replace remaining with water. But the flavor will definitely compromise in absence of milk. Do not substitute all milk with water.
Vanilla Extract
A good quality Vanilla Extract plays an important role in imparting the flavor to this cake. You may use cinnamon flavored extract if you have it handy.
Leavening Agents
We are using both Baking Powder and Baking Soda for this recipe. Why? Snickerdoodle Cookies are known for the presence of Cream of Tartar as an ingredient in making them.
Since Cream of Tartar is not a commonly available kitchen ingredient, I have used Baking Powder in this recipe which already contains Cream of Tartar. Do not worry as all brands and types of baking powder contain cream of tartar.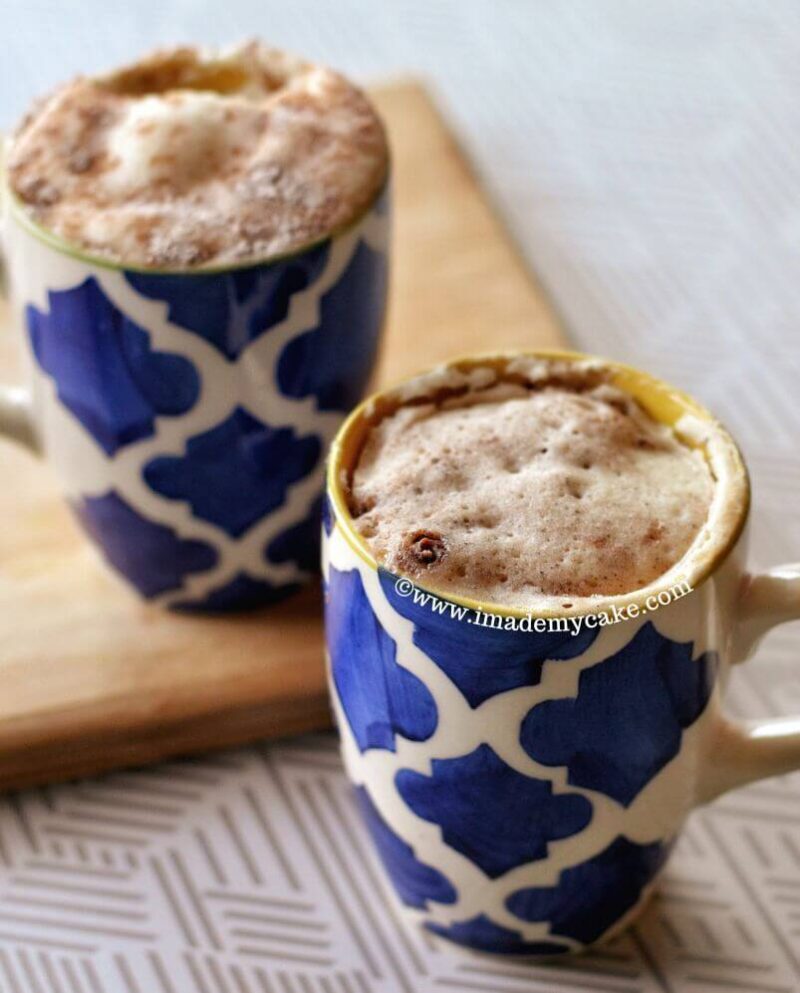 How to make the Snickerdoodle Mug Cake?
Mug Cakes are the best cakes beginners can start with. If you are a beginner with baking, read my post on how to get started with baking at home.
It is super easy to make this cake and what's awesome is I have step by step pictures for you to understand how to exactly make this easy snickerdoodle mug cake!
Let's get started.
Before you start making this batter, make the cinnamon sugar mixture first.
For this, you need to mix the cinnamon powder and icing sugar in the given quantities. If you are using homemade cinnamon powder, sift it first using a tea strainer.

Step 1: Measure and add the flour to a microwave safe ceramic mug.

Step 2: Add the sugar and leavening agents.
Step 3: Now, add the cinnamon powder. I missed taking a picture of adding cinnamon but remember to add it. Mix all dry ingredients with a fork. This is a very important step. Mixing by fork ensures that the dry ingredients are mixed evenly as we are not sieving them.

Step 4: Measure and melt the butter by microwaving it for 30-40 seconds. Be careful to not burn it as it is in very small amount. It cools down in few seconds. Add the butter to the mug.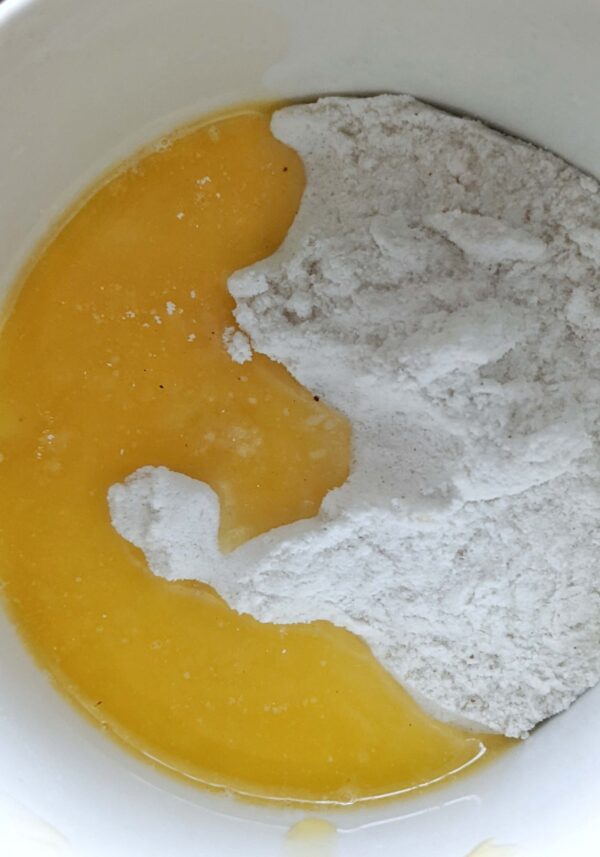 The brown dots in the above picture are cinnamon powder granules.
Step 5: Add the wet ingredients – milk, water and vanilla extract as per the recipe and mix well.

Step 6: Scrape the sides of the mug properly to avoid any dry ingredients sticking to the sides of the mug even after the cake is done.

Now, wait!
Do not keep the mug in the microwave oven. There is one more step that needs to be done: Layering the batter with cinnamon dust i.e. cinnamon sugar mixture we made before we started with this.
Step 7: Layering the cake batter. Divide the cake batter into three parts. That means take out 75% of the batter in a bowl and let 25% be in the mug itself. Now sprinkle the cinnamon sugar mix. After this cover it up with half of the batter in the bowl. Keep the remaining half for layering again.

Do not skip this step as this gives a lot of flavor to the cake.
Once you have put all the batter in the mug again, sprinkle some cinnamon sugar mix on the top of the cake batter and give a light mix so the powder is mixed into the batter. Keeping it unmixed will give a good taste when you eat the first bite from the cake.

So, the layers of this mug cake should be like:
Starting with Cake Batter — Cinnamon Sugar — Cake Batter – Cinnamon Sugar — Cake Batter — Cinnamon Sugar finally sprinkled on top. Hope you get the idea. If you are still confused, tell me in comments.
The batter will be at half of the mug capacity and once you microwave it, it will double in size and will reach the mug top.
Step 8: Microwave the cake batter exactly for 1 minute 30 seconds on high i.e. the default microwave settings. You do not need to change it. Just close the microwave door and press the "+30 seconds" button three times. That's it. Your cake is ready!
Take out the mug with caution as it will be very hot. The cake is too hot to eat as well. You will have to wait for 8-10 minutes before the cake cools down enough for eating.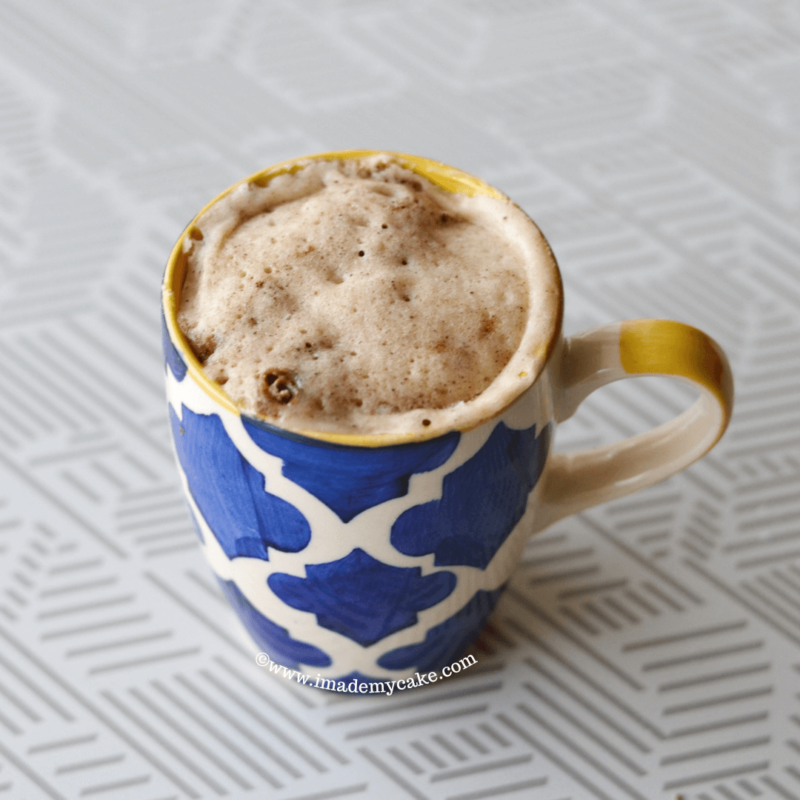 Eggless Snickerdoodle Mug Cake Recipe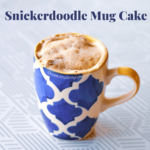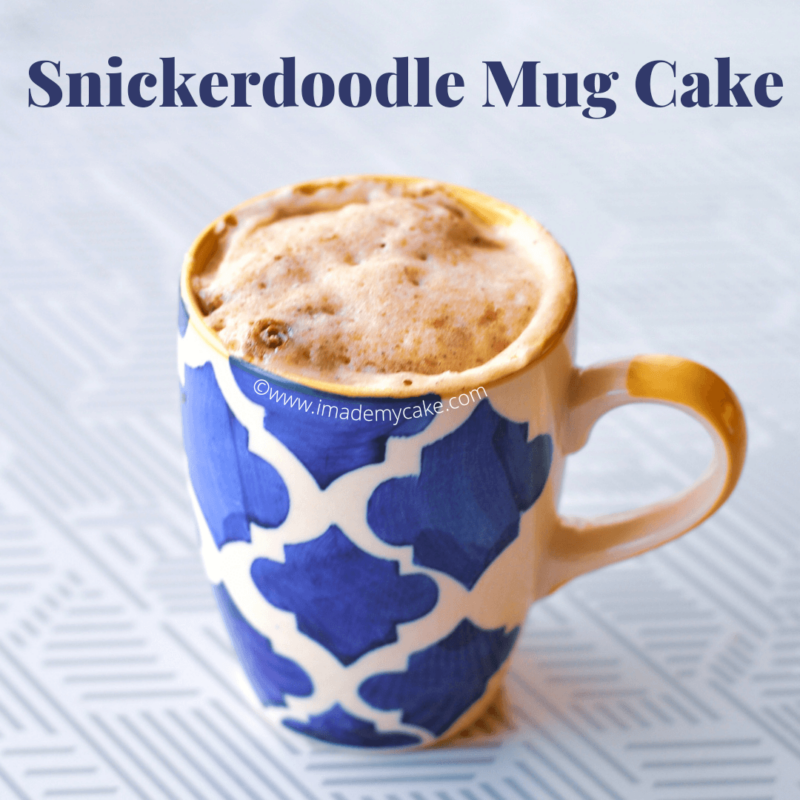 Print Recipe
Snickerdoodle Mug Cake
A quick and easy mug cake recipe for satisfying those cake cravings.
Ingredients
6

tbsp

Flour

⅛

tsp

Baking Soda

⅛

tsp

Baking Powder

4

tbsp

Icing Sugar

1

tbsp

Butter

(melted)

¼

tsp

Vanilla Extract

3

tbsp

Milk

1

tbsp

Water
For the Cinnamon Sugar
1

tbsp

Icing Sugar

¼

tsp

Cinnamon Powder

(sieve, if made at home)
Instructions
Measure flour, sugar, baking soda and baking powder in the mug. Mix thoroughly with a fork.

Take one tablespoon of butter and melt it. Let it cool.

Add the melted butter, vanilla, milk and water.

Mix thoroughly to form the cake batter.

Divide the batter in two or three parts. Add the cinnamon sugar mix in between the layers and finally, on top.

Microwave on high for 1 minute 30 seconds. Cool for 8-10 before serving. Consume directly from the mug.
Notes
Consume the cake immediately. Do not make ahead or keep for more than one hour as the cake turns hard. 
You may skip the Cinnamon Sugar to make a plain and simple vanilla cake but it is a lot more flavorful with the addition of Cinnamon sugar.
Final Thoughts
It is best to eat this cake directly from the mug. I tried to take it out of the mug for showing you a picture but it did not come in single piece and broke. But look at how delicious the cake looks with the layers of cinnamon sugar blended in right with the cake. Yum! Can't wait to dig in.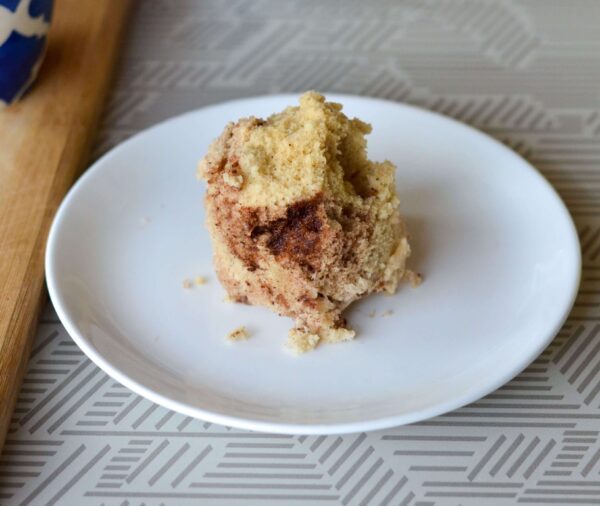 Serve this cake with ice-cream if you want to. Either ways, it is too yum to miss.
I cannot wait to finish this cake. Please make yours soon and enjoy the light and moist Snickerdoodle Mug Cake. What did you think about this recipe: Is it easy to make or difficult? Tell me in comments.