Homemade Mango Jam Recipe without Pectin
This small batch homemade mango jam uses just 3 ingredients and is ready under 15 minutes. It tastes just like store-bought jam and uses no preservatives. A complete win-win!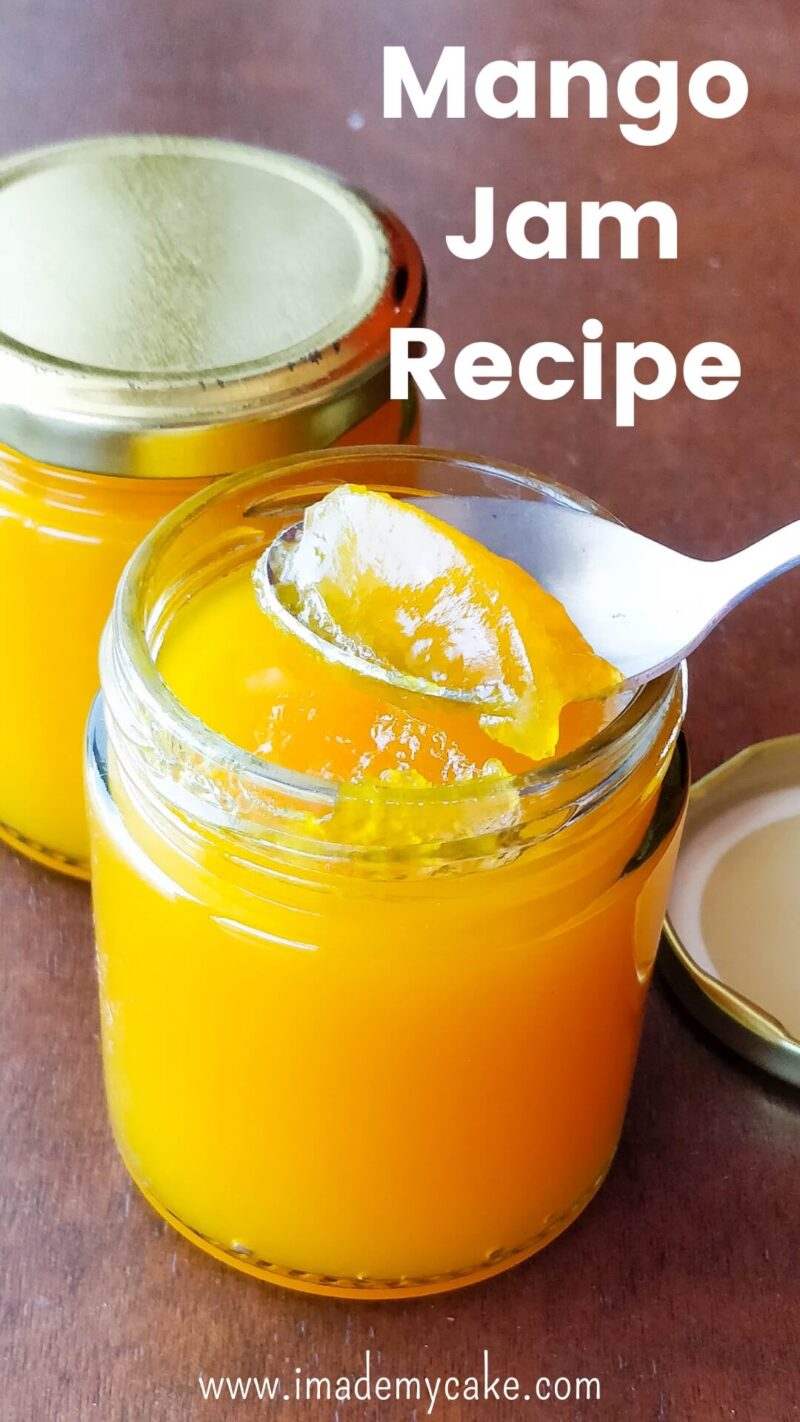 Warning: Do not consume this jam by the spoonful as it is sooo delicious but high in sugar!
Homemade Mango Jam
It is very easy to make Mango Jam at home without preservatives and using Pectin. For this recipe I have used the pulp from one medium sized ripe mango, sugar and some lime juice.
How to make jam at home?
Not all fruits are used in making jams and jellies. The common jam flavors include mangoes, apricots, strawberries, black grapes, lemon among many more.
Making jam at home is simple enough and takes very less time. It is just the fruit, sugar and a gelling agent. This gelling agent can be either starch or vegetable gum like xanthan gum or pectin.
---
You may also like: Easy Banana Yogurt Muffins
---
Pectin also speeds up the jam making process as it gels the mixture quickly when it receives heat. Also, we get more quantity of jam since less is evaporated due to reduced cooking time.
But neither of starch, pectin or gum are commonly available in most kitchen pantries and so we are going to use lime juice in our recipe which is a high pectin fruit and helps in gelling and also in preserving the jam.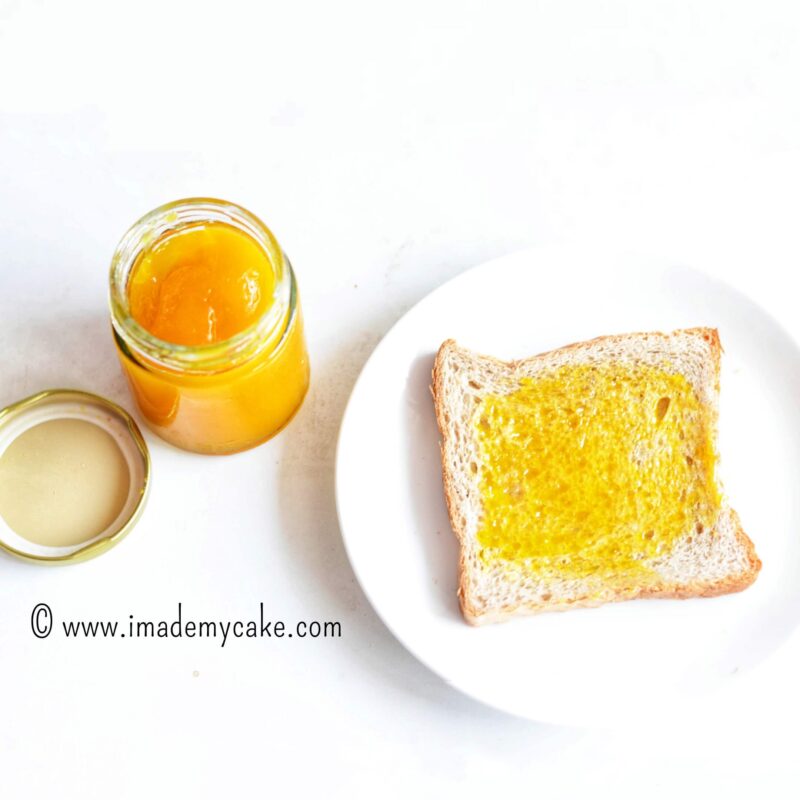 Making Mango jam without pectin
This recipe does not use pectin. But what is the actual role of pectin in jam making. So basically Pectin is something that gives the jelly consistency to the jam. Jam thickens because of the presence of pectin.
But if we do not add it, does our jam set? Yes it does. I will tell you why.
Do Mangoes have Pectin?
Pectin in fruit contributes towards the gelling capability of jam. Apples, peaches, blackberries, lemon, lime and bananas are high in pectin. Mangoes have very low levels of pectin in them. So we need to add a gelling agent while cooking the jam.
Do not use the threaded variety of mangoes for making jam. Only use mangoes which have smooth texture of pulp.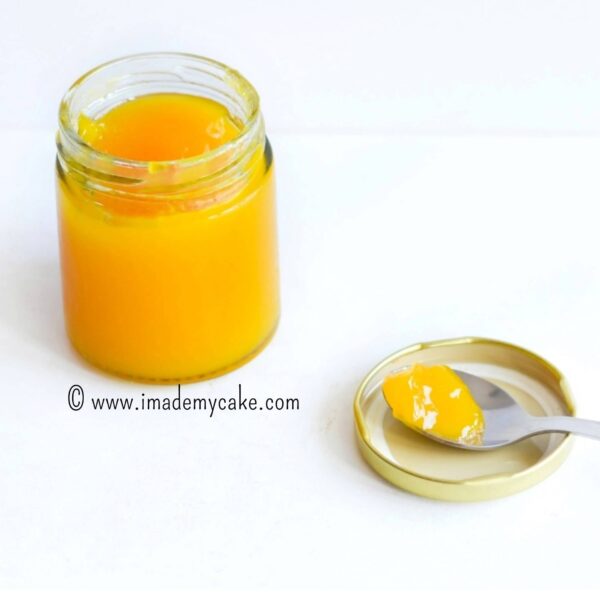 How do you preserve jam for a long time?
Lime juice acts as a natural preservative due to its acidic nature. It's high levels of pectin also help in the gelling of the jam. And so addition of some lime juice to the jam becomes imperative to avoid preservatives.
Using a glass jar or mason jar sterilized with hot water for storing jam extends it's life up to 1 year. I got to know about this thrifty tip here.
But this jam gets over in few weeks if not days; trust me it is so yummy and can be served with toasted bread slices, scones and biscuits. Or you could relish a quick snack by spreading it over a roti (flatbread) and as a quick solution to hunger pangs.
Small-batch Mango Jam Recipe
I have used the pulp of 1 medium-sized ripe mango which was about half cup and half cup sugar. If you wish to double this recipe, double the ingredients according to their weight in grams and not the cup volume.
Here is the Video Recipe for making Mango Jam at home:
https://youtu.be/66kAyhmWGuY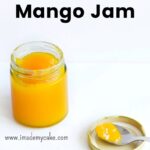 Print Recipe
Quick Homemade Mango Jam without Pectin
An easy, delicious and quick jam recipe with just 1 ripe mango, sugar and lime juice.
Ingredients
½

cup

Fresh Mango Pulp

(130 grams)

½

cup

Sugar

(100 grams)

1

tsp

Lime Juice
Instructions
Slice a medium sized ripe mango and scoop out the pulp

Pulse it in a blender so it has smooth texture.

Transfer it to a thick bottom pan and turn on the heat.

Add the sugar and keep stirring till the jam thickens.

Check the doneness by putting a spoonful of jam on a plate to see if it is runny.

If it is not runny and looks like jelly, your jam is done. Now add the lime juice and turn off the heat.

Let it cool and transfer to a sterilized mason jar. Refrigerate.
Notes
You can make chunky mango jam by adding mango chunks separately to the pan while the jam is cooking. However this will reduce the life of the jam.
You can double the recipe by doubling the weight of the ingredient in grams and not by the cup size.