Whole wheat Pound Cake | Chocolate Chip Cake
A delicious and soft Whole wheat cake which matches the texture of a regular pound cake. You will not be able to make out the absence of whole wheat flour and will have others asking you if this is really made from whole wheat flour!


An incredibly moist and soft Whole-wheat cake made using chocolate chips with the texture of a good pound cake.
An ideal cake to bake if you are:
avoiding all-purpose flour
travelling and need a yummy cake to gobble.
baking a cake without reason but want to make it a bit healthier!
In this post, I have used the words WWF and APF which mean Whole wheat flour and All purpose Flour respectively.
How to make a soft whole wheat cake?
Generally, whole wheat cakes taste dry due to lack of enough moisture in the batter. Whole-wheat flour absorbs more moisture from the batter and so you need more quantity of wet ingredients to make WWF cakes moist and soft like regular APF cakes.
I love to experiment with different flours and simply love making tea-time cakes! And while one of my baking experiments, I found that simply adding extra liquid to a whole wheat flour cake batter does the job of creating a moist and soft whole wheat flour cake.
This cake is so soft and moist that you will wonder whether you have used all-purpose flour or whole-wheat flour while measuring the dry ingredients.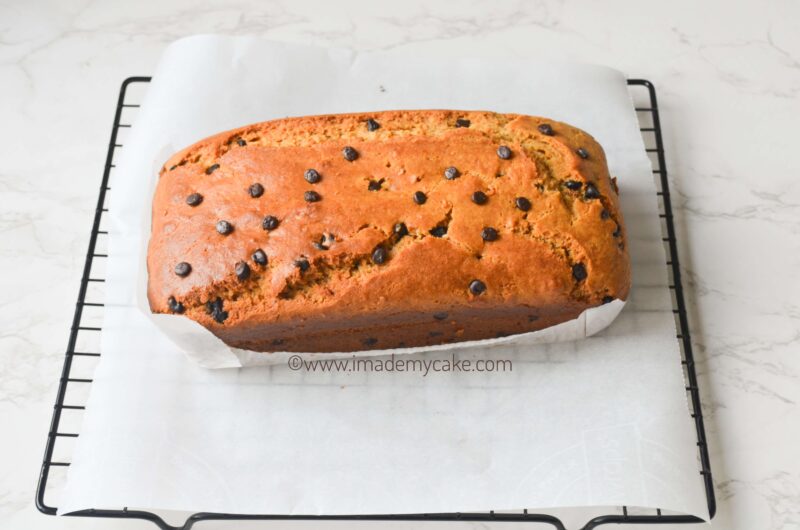 Ingredients & Instructions
This moist and soft cake uses these ingredients:
Whole wheat Flour: I have used whole wheat flour in this recipe to make it healthier. Most of us experience that when we use whole wheat flour for baking, the cake turns out dry and dense. There should be a proper balance of the dry and wet ingredients when making a whole wheat cake to make it turn out moist.
Also, this cake does not give that typical "whole wheat flour cake taste" that is common in most WWF cakes.
Condensed Milk: We use this for giving a good structure to the cake. Loaf cakes need additional structure and condensed milk is a perfect ingredient to impart a strong structure to the cake in addition to keeping it moist with the help of other ingredients.
Sugar: Sugar is an ingredient which contributes the sweetness of the cake. As there is sugar already present in condensed milk, we are keeping the added sugar on the lower side in this recipe. Increasing/decreasing the amount of sugar may change the texture of the cake. So, it is not advisable.
Milk: A wet ingredient that makes this cake moist and soft and also reacts with the baking soda to give the cake a good crumb and a good rise.
Fat: This cake uses both butter and oil to strike the proper balance between structure and moistness which means no dense or dry cake.
Vinegar: In addition to milk, we are adding vinegar to this recipe. This is done so that it can help the cake rise properly by reacting with baking soda.
Chocolate Chips: While this ingredient takes the cake to the next level, you may skip this if you do not have chocolate chips on hand. But I highly recommend adding these. I have used around 1/3rd cup but you can always add more if you love them in your cake.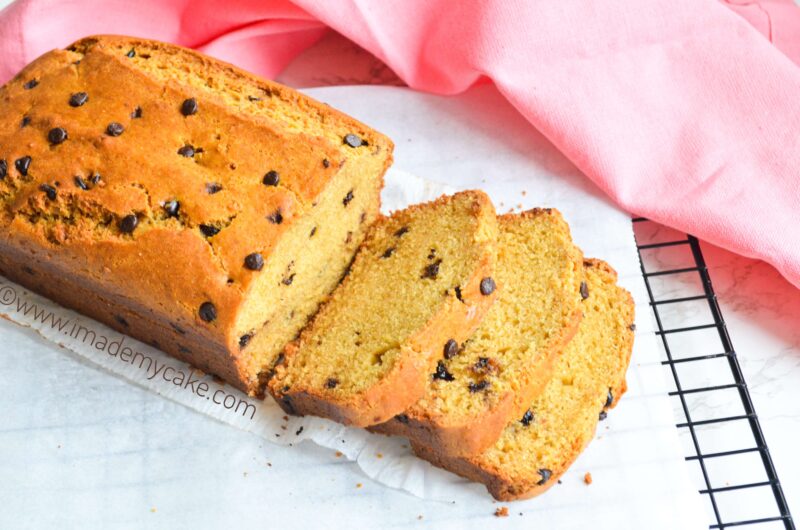 Putting together the cake
For making this cake,
You will need to mix the wet ingredients together except water and vinegar and then the dry ingredients together.
Add the chocolate chips to the dry ingredients.
Transfer the wet ingredients to the bowl of dry ingredients and combine gently.
Now add water and vinegar and give a final mix.
Transfer the cake to the lined loaf pan and bake.
Combining all ingredients gently is very important to achieve a good soft crumb of this cake. If you overmix the cake batter, the cake will be dense as we are using Whole wheat flour.
Instead of or in addition to chocolate chips, you may also use walnuts, almonds, blueberries, tutti-frutti, etc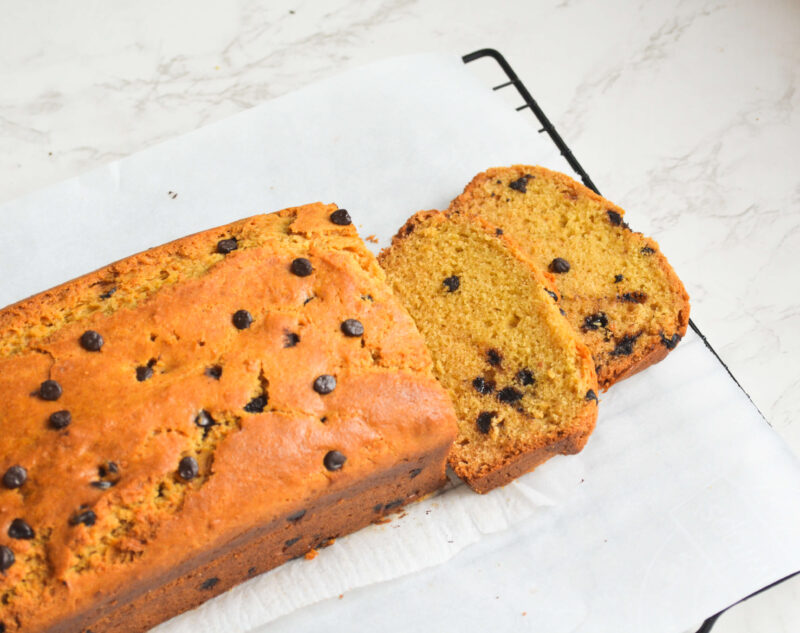 Whole Wheat Pound Cake Recipe
Whole wheat Pound Cake
A moist and delicious pound cake made without eggs
Ingredients
250

grams

Whole wheat Flour

1

teaspoon

Baking Soda

¼

teaspoon

Baking Powder

Pinch

Table salt

100

grams

Powdered Sugar

⅓

cup

Chocolate Chips

120

ml

Milk

100

ml

Condensed Milk

75

ml

Water

1

teaspoon

Vanilla Extract

40

ml

Melted Butter

50

ml

Oil

1

tablespoon

White Vinegar
Instructions
Measure and sift the dry ingredients like flour, leavening, sugar and salt. After sifting, add the chocolate chips to the dry ingredients.

Melt the butter and let it cool.

Combine the condensed milk, milk, oil and Vanilla Extract. Add the melted butter which has cooled down.

Now add these wet ingredients to the dry ingredients and mix gently. Add water and vinegar. Combine well but gently.

Preheat the oven for 10 minutes at 180°C and line a 9 by 5 inch loaf pan.

Transfer the batter in to the loaf pan and once the preheating is done, bake for 45 minutes at 160°C. Do not increase the baking temperature to avoid over baking on the top. Take the cake out of the oven once the toothpick comes out clean.

Let the cake cool completely. Slice and serve moist and soft whole wheat pound cake.
Notes
Instead of or in addition to chocolate chips, you may also use walnuts, almonds, blueberries, tutti-frutti, etc
Shelf Life: This cake stays fresh for 2 days at room temperature in colder weather. But it is always better to refrigerate it and thaw the slices as per your need.
Pin this recipe for later: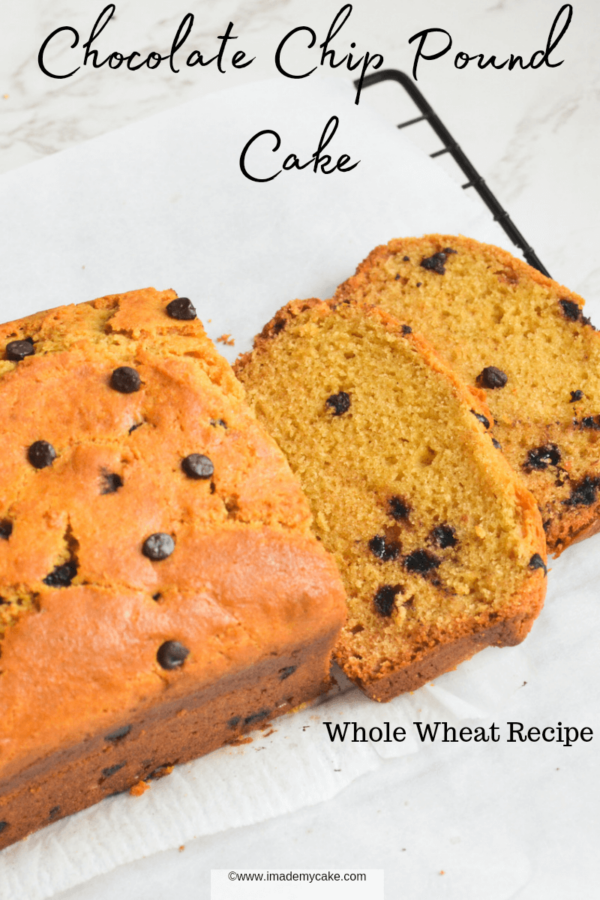 More Whole wheat recipes: