Quick and Easy Snickers Fudge with Condensed Milk
Make this easy, quick and simple milk chocolate fudge with Snickers chocolate bar and Condensed Milk. This is the perfect dessert for Snickers lovers who want something mroe than just a chocolate bar.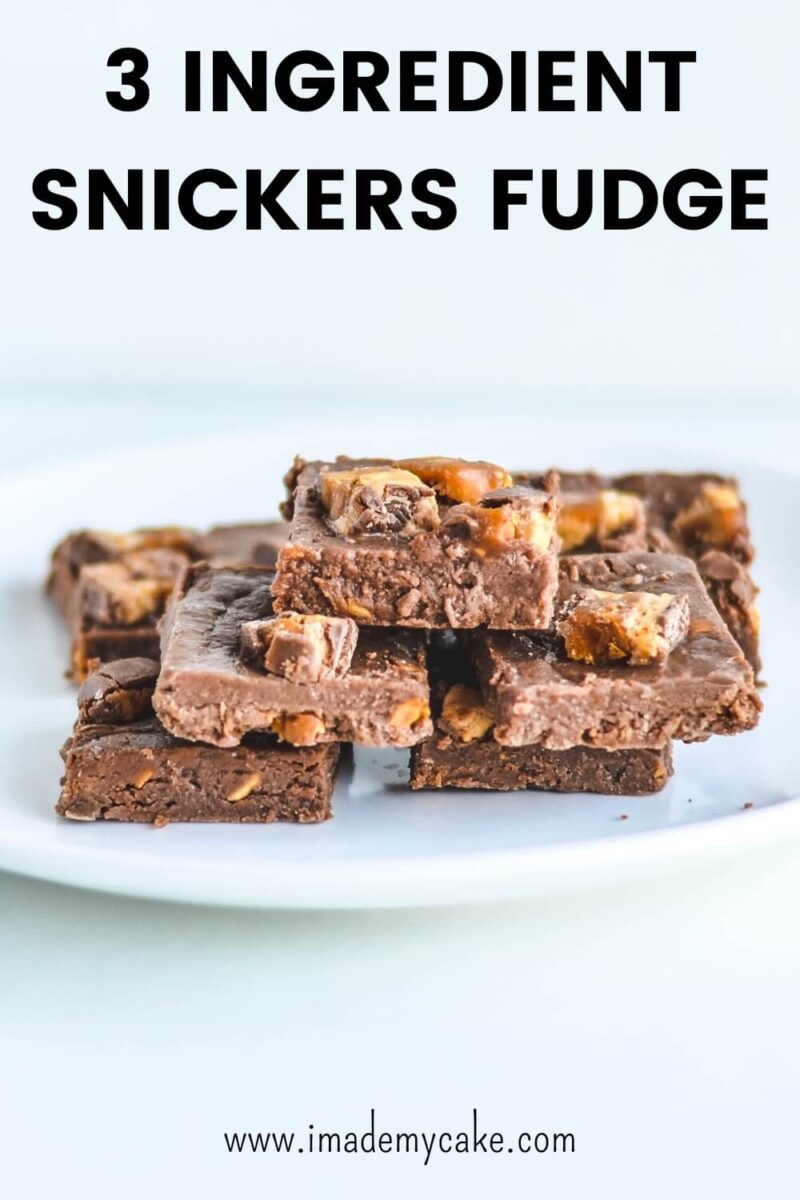 How to make Fudge from scratch?
Traditional Fudge which is made from scratch does not use condensed milk. Those recipes use milk and butter instead with the chocolate to help set the fudge. So if you want to make chocolate fudge from scratch you need milk, butter, condensed milk and any other flavouring or nuts or dried berries to go along with it.
You may need to add extra sugar depending on your taste preference if you use the traditional fudge making method.
3 Ingredient Snickers Fudge
This fudge recipe is very simple to make as it uses only Snickers Chocolate Bar, Condensed Milk and Milk Chocolate. Believe me, this is the best chocolate fudge recipe that uses Snickers and is so easy to make. It is literally just mix and set.
Because we use condensed milk, this gets ready in about an hour. If you have run out of condensed milk, you can try my Cranberry Pistachio White Chocolate Fudge which does not use condensed milk.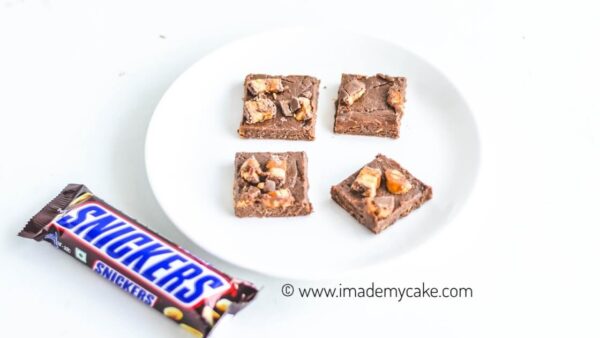 Ingredients
Milk Chocolate
Sweetened Condensed Milk
Snickers Bars
Yes..that's it! You can use bittersweet chocolate too but this tasted amazing with milk chocolate. However, there are so many variations to try on this one!
Instructions to make Snickers Fudge
If you are making this in a microwave, take a large heat safe bowl and put the chopped chocolate. Microwave it in intervals of 30 seconds – 1 minute until it melts. This should take around 2 to 3 minutes depending on the quantity of chocolate.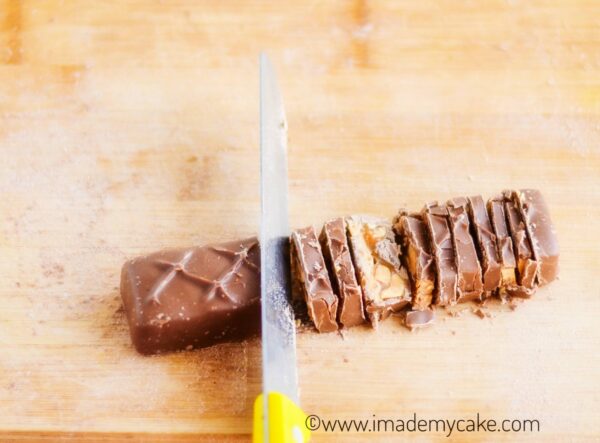 Then add in the condensed milk. It should combine well. If not, heat it again for few seconds and mix. Now add in the chopped snickers and you are done. Chill it for few hours before slicing.
If you are making this on a stove top, you need to use the double boiler method to melt the chocolate. Follow the exact same procedure after melting the chocolate as the microwave method to make the fudge on a stove top.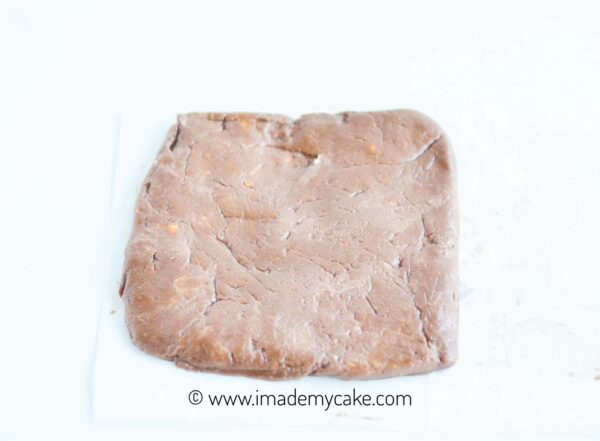 The key here is to not let the chocolate burn irrespective of the method used to make it. You do not want burnt taste when you taste your fudge.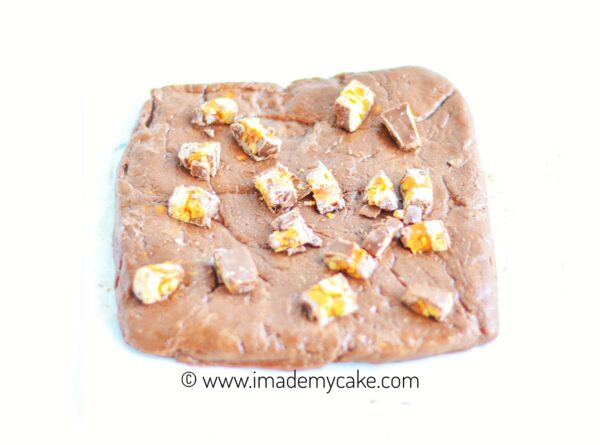 Should Fudge be refrigerated to set?
Yes. If you want to speed up the process. It will also set at room temperature but it may take very long probably around 6 to 8 hours if left to set at room temperature.
But if you refrigerate it, that should be done within two hours. You can also refrigerate it overnight for best results.
How do you cut Chocolate Fudge without breaking when slicing it?
If your fudge is well chilled for 2+ hours, it will not break while slicing. Use a hot knife to slice into squares.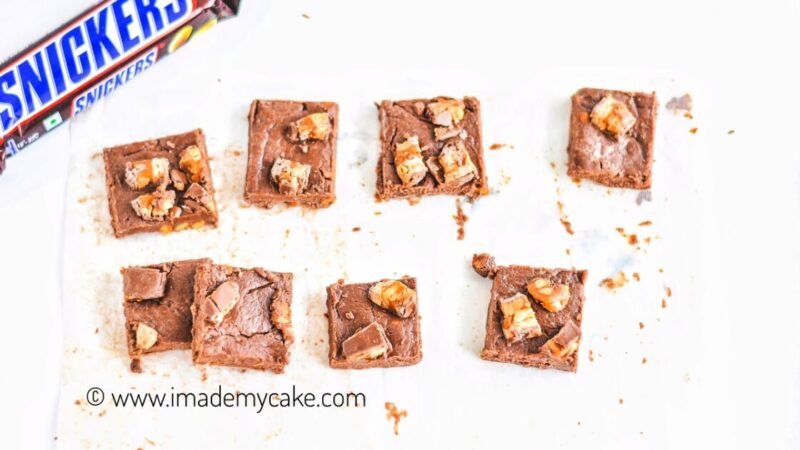 Easy Snickers Dessert
There are so many desserts you can make with a Snickers Bar: Snickers Fudge, Snickers Ice Cream, Snickers flavored layer cake and cupcakes. The list is long.
How long does homemade fudge last?
Homemade Fudge made with canned sweetened condensed milk will last around a month when refrigerated and for atleast six months when frozen.
The shelf life of Chocolate Fudge made with milk and butter will be shorter due to the shorter shelf life of those ingredients.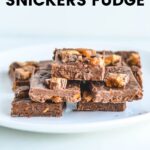 Print Recipe
Easy Snickers Fudge
This is the ONLY milk chocolate fudge recipe you need if you love Snickers! It is so easy and quick to make, you can literally whip it up in 10 minutes!
Ingredients
100

grams

Milk Chocolate Compound

50

grams

Sweetened Condensed Milk

50

grams

Snickers Bar
Instructions
Line a plate or a flat baking tray with parchment paper.

Chop the compound milk chocolate into small pieces and place it over a double boiler.

You can also microwave by placing the chopped chocolate in a microwave safe glass bowl and microwave in intervals of 30 seconds until melted.

Add the sweetened condensed milk and mix until both are nicely combined.

Add the chopped snicker bar pieces and reserve few for topping if you wish.

Spread the hot fudge over the lined tray and top with the reserved snicker pieces.

Chill for at least 1 hour. Cut into pieces and serve.
Notes
Be careful to not burn the milk chocolate in the microwave. You do not want a burnt smell to your fudge.
The thinner you spread the hot fudge on the plate, the thinner your fudge pieces will be. 
If you like thick fudge pieces, don't spread the fudge much.