White Chocolate Fudge with Cranberries and Pistachio
This creamy white chocolate fudge paired with cranberries and pistachios brings the perfect tang and taste to the regular white chocolate fudge.
This post contains affiliate links.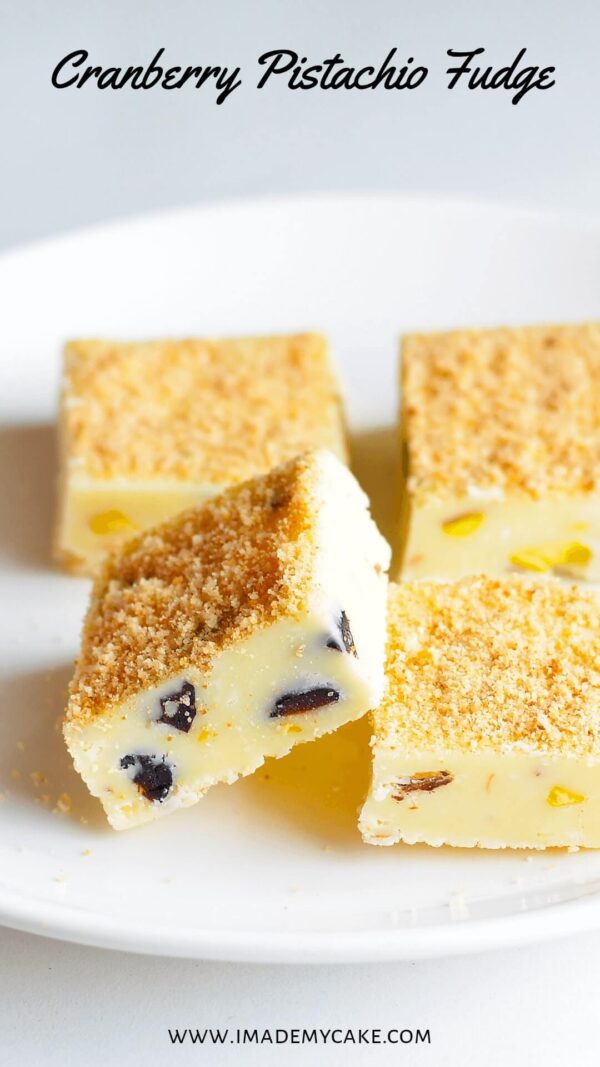 Creamy Delicious White Chocolate Fudge.
Everybody loves it.
Let's make it.
No-bake Cranberry Pistachio White Chocolate Fudge
Fudge brings me memories of my childhood when local bakeries used to sell it in their glass display counters.
There was and there is no greater joy than eating chocolate fudge.
Click To Tweet
It is a great make ahead option for the holiday season. Serves as a good return gift for birthday parties too. Just wrap it nicely in a parchment with a colorful string and you are good to go.
This is a no bake recipe which means you do not require any baking skills for this. Yay!
Easy White Chocolate Fudge Recipe
While the traditional chocolate fudge recipe involves making fudge with milk and butter, I have used condensed milk here which is a time saver.
This is a just-mix-all-ingredients-together recipe and is quite easy to make. I have used regular baking compound chocolate, like this, for making this recipe. The most laborious task I feel is chopping the chocolate. While it takes just around 5 to 10 minutes for this, I have to admit I hate chopping chocolate blocks. And I'm sure whoever is chopping chocolate out there hates it too!
I have not tried using white chocolate chips for this fudge, but you can give it a try.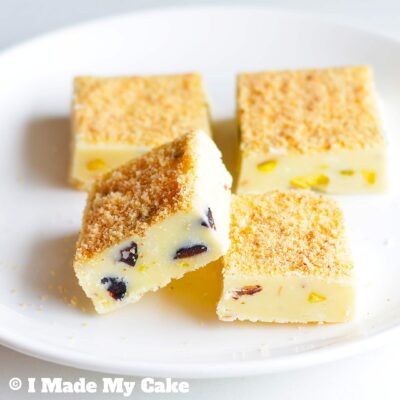 How to make Small-batch Cranberry Pistachio White Chocolate Fudge with Condensed Milk
You will need four ingredients to start making this in no time:
White Compound Chocolate
Sweetened Condensed Milk
Fresh/Frozen/Dried Cranberries
Pistachios
Optionally, you could add 1 tablespoon of butter and a pinch of salt to enhance the creamy taste.
Also, you can easily double this recipe.
Chop the chocolate slab into small pieces. Make them as small as you can as this will speed up their melting time when you put it on a double boiler. This recipe uses only 100 grams of White Chocolate so you can use up your leftover white chocolate for making this Cranberry Pistachio Fudge.
Sweetened Condensed Milk
Using condensed milk that is already sweetened will let you skip the sugar for this. Traditional fudge recipes call for Milk and Butter which we have substituted with sweetened condensed milk.
Cranberries
I have used dried cranberries in this recipe. You can also use fresh/frozen and this will only enrich the taste of the fudge.
Pistachios
You can use any nuts like chopped almonds or cashews for this recipe. I have chopped pistachios into small pieces after shelling them.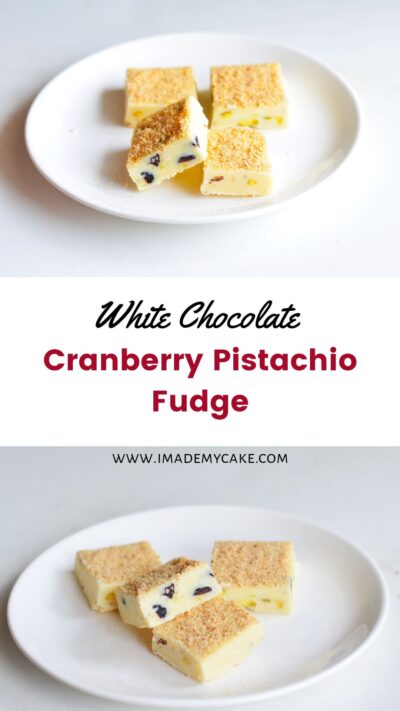 Below I have outlined two methods for making this recipe.
You can use a double-boiler method which is the most reliable way of making this fudge that I recommend or use the microwave too.
How to make this on a double boiler
You will need two bowls for this such that one fits halfway into the other (the larger one).
Heat some water in the larger bowl.
Ensure that the smaller bowl is 100% dry. Put the chocolate in the smaller bowl and place it over the larger bowl and proceed with the recipe instructions.
---
Related Post: How to make a Fresh Strawberry Cake with strawberries on top
---
How to make this using a microwave
This is the easier method but requires constant attention on your part. Microwaving white chocolate is not easy as white chocolate seizes quickly.
You will need only one bowl for this.
Microwave the chopped chocolate in a bowl on high power for 2-3 minutes in 30 second interval and keep stirring in between to avoid seizure of chocolate.
Add the butter and mix well till it melts with the chocolate. This will mix quickly if it is room-temperature butter.
Add the condensed milk and microwave again for 30 seconds or 1 minute (with a 30 second interval) until everything comes together.
Using a spatula, transfer the mixture on the lined plate.
You can even make this with your kids and ask them to put the chocolate in the bowl and mix in the cranberries and pistachios.
No Discount on the Chilling Time
The hard part is to wait for two hours before you could devour into this.
When I made this cranberry pistachio fudge for the first time, I chilled it for only half an hour as I couldn't wait anymore but then the fudge slices were not very sharp and it didn't look good enough for gifting as it was sticky on the sides and didn't cut properly.
So, I suggest the two-hour waiting time as it sets perfectly and cuts nice and sharp which looks good for gifting.

Did you check my Pinterest Board where I pin similar recipes ideal for gifts like no-bake candy and truffle recipes that are super helpful for the holiday season?
Don't forget to follow me on Pinterest!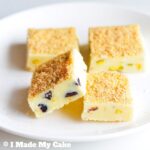 Print Recipe
White Chocolate Fudge with Cranberries & Pistachio
This delicious and creamy small batch Cranberry & Pistachio Fudge will be the perfect gift for anyone who loves white chocolate or just to whip up a batch on a nice Sunday afternoon!
Ingredients
100

grams

White Chocolate

(chopped)

50

grams

Sweetened Condensed Milk

1

tbsp

Unsalted Butter

Pinch

Table Salt

3

tbsp

Cranberries

(dried, fresh or frozen)

3

tbsp

Chopped Pistachios

2

Vanilla Cookies

(crushed)
Instructions
Line a plate with butter and place parchment paper on it. Keep aside.

Chop the white chocolate.

Arrange a double boiler and add chopped chocolate chunks and let them melt.

Once they have melted partially, add butter and mix.

Finally add the condensed milk and mix till everything comes together. Add a pinch of salt at the end.

Fold in the Cranberries and Pistachios.

While the mixture is still hot, using a spatula transfer it to the plate and give a rough shape.

Optionally, press some crushed vanilla cookies on top for a nice look.

Let it cool for 10 minutes before chilling it for two hours in the fridge.

Using a sharp hot knife, cut into shapes and serve.
Notes
This recipe makes around 10-12 small squares which can serve 4 to 5 people on an average.