Moist Chocolate Buttermilk Cake
Here's a delicious and easy to make chocolate cake recipe that is perfect for making celebration cakes.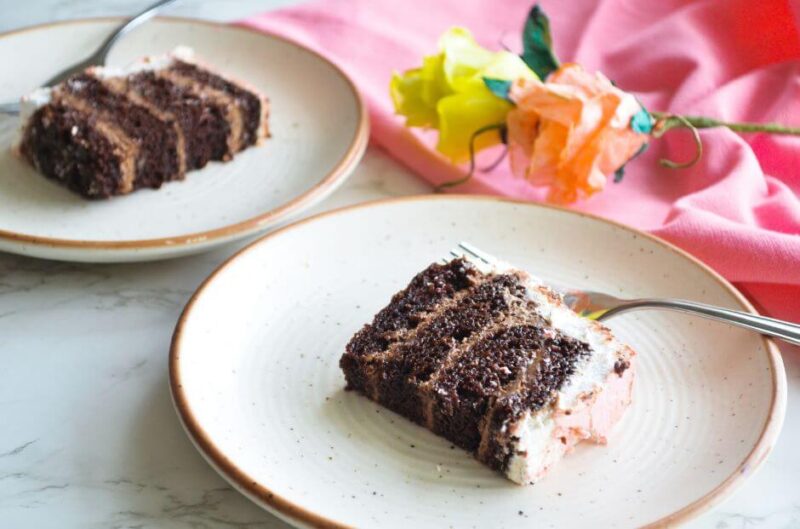 Your search for an easy chocolate cake recipe made with everyday kitchen ingredients ends here! If you are planning to make your own birthday cake this year, save this recipe as you are going to love it.
This recipe is very quick to whip up and it takes me no more than 5 to 8 minutes to prepare the batter if I already have other ingredients ready. If you are a new baker or do not bake often, you may take around 10 to 12 minutes to prepare but that is fine as long as you mix the batter correctly.
---
Read: 13 common baking mistakes new bakers make!
---
Let's see how to make this yummy cake!
How to make a moist chocolate cake?
One of the difficulties bakers have is that their chocolate cake goes dry after baking and that is also one of the many reasons people do not prefer chocolate cake. Because the cake becomes dry few hours after baking.
This happens when the ratio of dry and wet ingredients is not suitable for keeping a cake moist. The wet ingredients should be slightly more than the dry ones.
This recipe will give you a perfectly moist and delicate chocolate cake which you will never say is dry. Try it once!
---
Read this: Baking 101- Fundamentals of baking cakes, muffins, cookies and bread
---
I used this recipe to make my birthday cake, the details of which I will share later in the post. So, keep reading. Let's get to the ingredients of this cake first.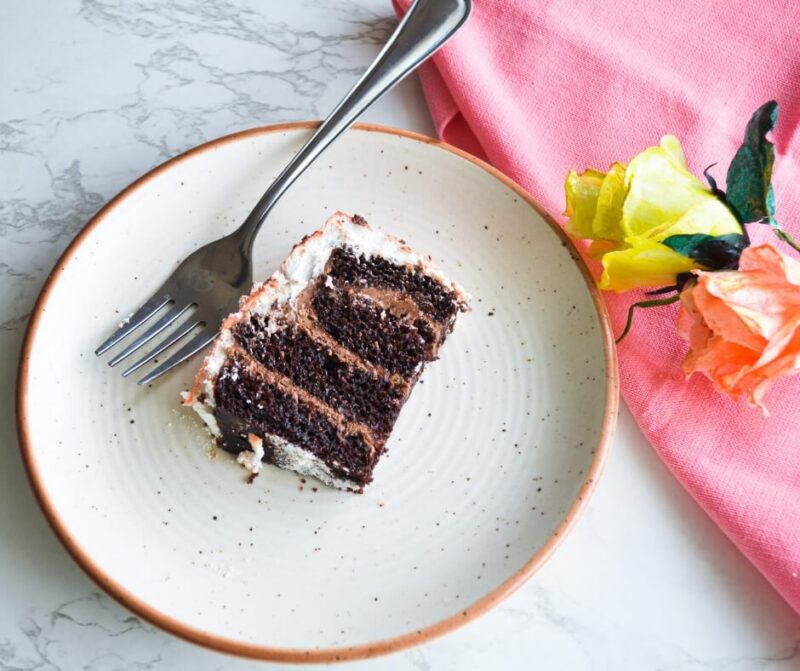 Ingredients & Instructions to make Chocolate Buttermilk Cake Sponge
This is a very moist chocolate cake made with buttermilk as one of the important ingredients, which is an everyday item in most kitchens. And so, you cannot have any reason to not make it!
Bake it for birthdays, any special days like Father's Day, small get-togethers or any celebration. Layer it with chocolate ganache, whipped cream or chocolate mousse and you will have a hard time stopping yourself from getting another helping.
This cake uses the below important ingredients:
All-purpose Flour
Cocoa Powder (I used Hershey's)
Baking Soda
White Sugar
Buttermilk
Oil
The reaction between baking soda and buttermilk is what gives this cake a good rise. The oil in the recipe keeps the cake moist. The ingredients are so commonly available that you can make this cake anytime.
I made buttermilk using yogurt and water.
Yogurt: 130 grams
Water: 70ml
Whisk it together nicely and make buttermilk. You may use two glasses to make this buttermilk like how the traditional Indian method of making buttermilk is.
And, the instructions are very simple:
All you need to do is measure, mix together and sieve the dry ingredients. Then mix together the wet ingredients.
Add the wet ingredients to the dry ingredients. That's it! So easy and quick right!
Just make sure you measure the ingredients correctly. Transfer to the baking tin and bake! Let's get to the recipe.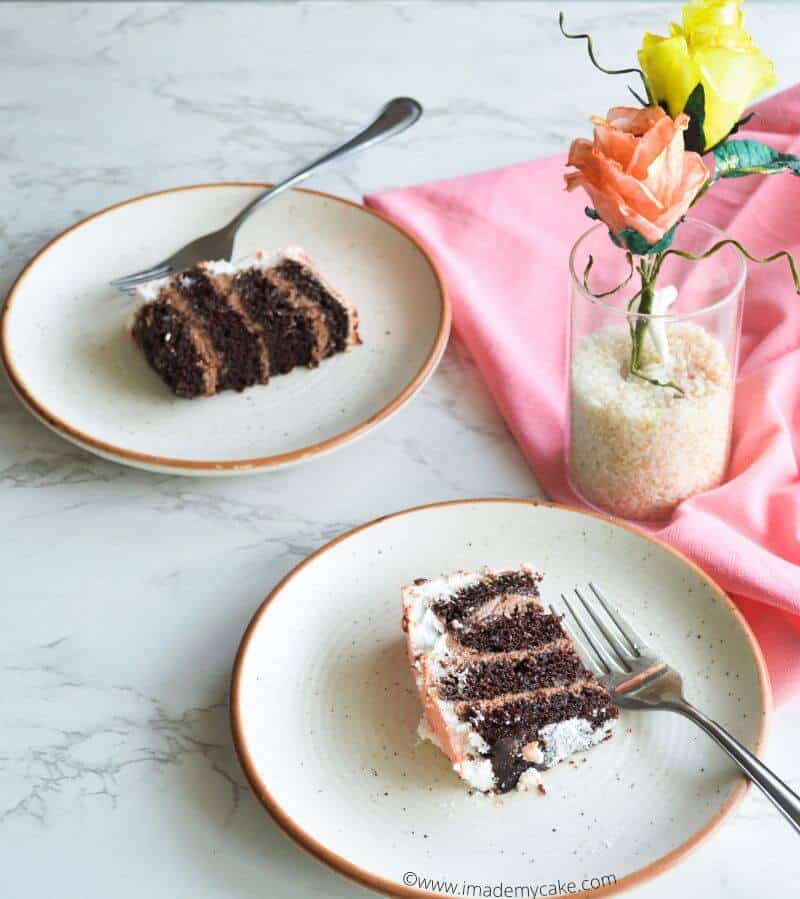 I then sliced each cake into two layers and frosted it with eggless chocolate mousse. You may use Vanilla Whipped Cream, buttercream or any other icing of your choice. It may not be seen but I also added a little bit of salted caramel sauce as a filling inside the layers. Just too much of yumminess!
Chocolate Buttermilk Cake Recipe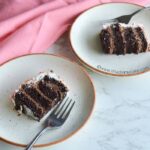 Print Recipe
Chocolate Buttermilk Cake
A moist and rich chocolate cake recipe for layer cakes.
Ingredients
150

grams

All purpose Flour

1

teaspoon

Baking Soda

25

grams

Cocoa Powder

(I used Hershey's Cocoa Powder)

140

grams

White Sugar

(powdered)

Pinch

Table Salt

45

ml

Odourless Oil

(I used sunflower oil)

200

ml

Buttermilk

(yogurt + water)

1

teaspoon

Vanilla Extract

30

ml

water
Instructions
Measure and sieve the flour, cocoa powder ,baking soda, sugar and salt. Mix them well.

Prepare the buttermilk by mixing yogurt + water. Refer recipe notes for buttermilk substitution.

Measure and mix the wet ingredients and keep aside.

Add the wet ingredients slowly in to the bowl of dry ingredients.

Prepare the batter by mixing gently. Ensure that there are no lumps and unmixed ingredients before baking.

I baked this in two 6 inch cake tins for 25 minutes at 170°C in a preheated oven.
Notes
I made buttermilk for adding in this recipe by mixing 130 grams yogurt with 70 ml water and whisking the mixture nicely. 
You may also use milk + vinegar combination. Use 200ml milk + 1 tablespoon vinegar. Let it stand for few minutes before using. You may also use lemon juice instead of vinegar.
I had made this cake for my birthday this year and could not "not" share this recipe with you as it is so easy for new bakers. Also, here's a picture of the cake for you.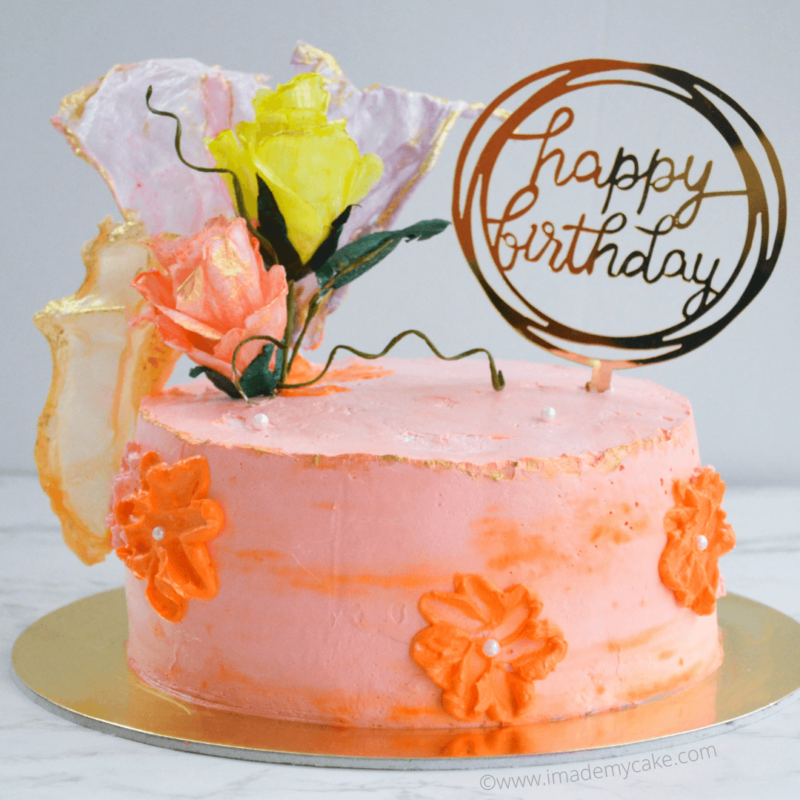 I tried three new techniques with this cake:
Handmade Wafer Paper Flowers: The two roses you see on the cake are made out of wafer paper and are my first edible roses! I made the pink one first followed by the yellow. Did you like them? Tell me in comments!
Palette Knife Flowers: The orange flowers on the sides are made using a palette knife. It was my first time with this technique and so I kept them simple.
Wafer Paper Sails: I made the wafer paper sails of three colors: orange, pink and purple. It was really interesting to try them for the first time.
This cake was one of my successful experiments that I often conduct in my kitchen every week. I share all details of my "experiments with baking" in my weekly newsletters. You can read one of my newsletters here.
You are very welcome to join my weekly newsletter where I share what I baked in a week, my upcoming online workshops and just good things about life!
If you are already on my list and read my emails every week, you must be knowing all this 😉
Popular recipes and articles from the blog:
Microwave Oven v/s OTG: Which is better?
Pin this for later: