Eggless Christmas Fruit Cake without Alcohol
A warm and delicious cake made with spices and fruits perfect for cold winters.
This post contains affiliate links to products.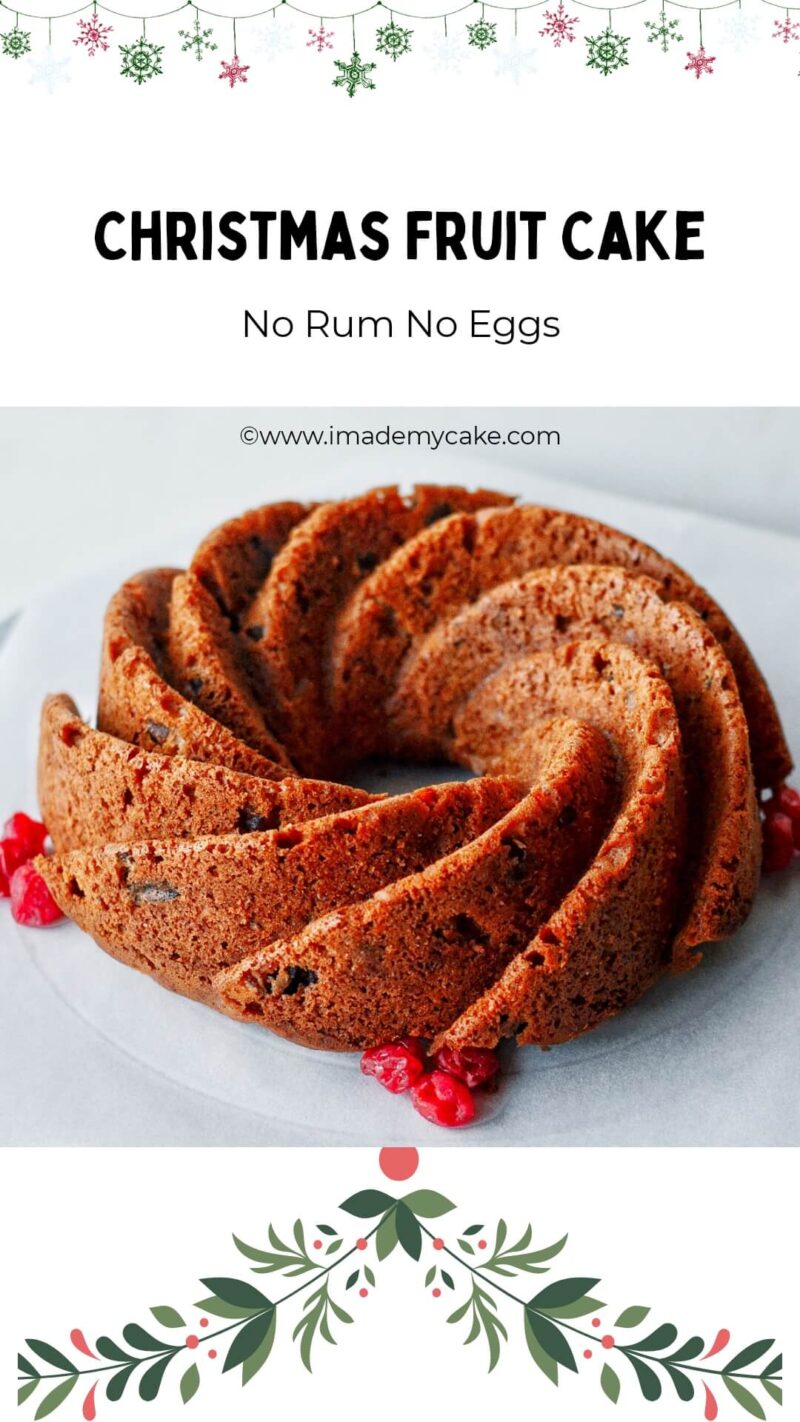 What is Christmas Fruit Cake?
Christmas Fruit Cake is an amazingly delicious and warm cake served in the cold winter months of December during Christmas time. This cake uses warm spices in the form of powder which you have to mix with the dry ingredients so they are mixed evenly.
There is of course no "spicy" taste to the cake but yummy warm flavors from all the spices that you feel in each bite. Yum!
I usually make this cake by the time November ends and then make it again in December.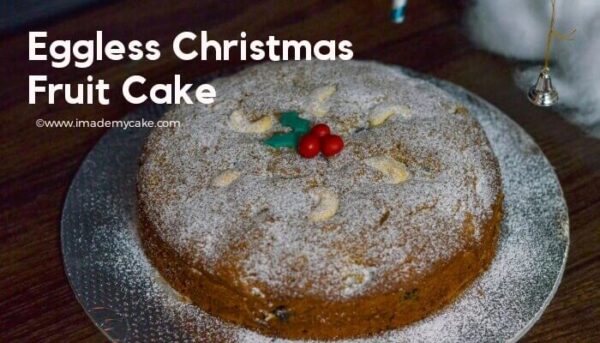 What are "fruits" and which fruits to use in a Christmas Fruit Cake?
Fruits in a Christmas Fruit Cake are dried and candied fruits that are soaked for a period of time to make them soft and flavorful.
They can be among (but not limited to) these:
Dried Apricots
Candied Cherries, and
Candied Orange Peel (This recipe doesn't use this)
Candied Ginger (This recipe doesn't use this)
You may use any other dry fruits as well like walnuts, dried figs or so. You will get these in any local dry fruit stores at better prices. I have added the Amazon links in the above list if you wish to buy it from Amazon.
For making this fruit cake, you would want to use a mix of dried fruits mentioned above, nuts and cherries with some tooti-frooti, if you wish. All these "fruits and nuts" come together so well in the cake and complement the spices perfectly giving you an absolute treat to devour.
Few people do not like tooti-frooti or candied cherries in the cake and go only with dried fruits and nuts. Use whatever suits you and whatever you have at hand. This cake can be made with just raisins, cashews, walnuts and dates if you have only these at hand.

When you are using dates, cashews, apricots and cherries, you will need to chop them up into small pieces before soaking and that is what the middle picture shows.

How to soak fruits?
The best part of making this fruit cake and something that sets it apart from the rest of the cakes is using fruits but soaking them before adding to the cake batter.

There are two ways in which you can soak the fruits you just chopped:
Use Rum
Use Orange Juice
Rum is the traditional way of soaking the fruits and adding to the cake batter.
If you do not wish to use rum, you may use Orange Juice: both fresh or tetrapak work fine.
You will need to soak the fruits in the Orange Juice for at least 8 to 10 hours so the fruits soak well and become soft and plump after absorbing all the juice. You can soak the fruits a night before the day you want to make the cake. Soak the fruits for maximum of 2-3 days.

Which sugar to use?
This cake is traditionally made with molasses that is a by-product of processing sugarcane. Not all molasses available in the market can be used for baking cakes though.
If you are not sure about molasses or do not have molasses available near you, you may use Dark Brown Sugar which is best for beginners as well. I have used this very same dark brown sugar for making this fruit cake. Alternatively, you may use jaggery powder in the same amount if you do not have brown sugar available with you.
Light Brown Sugar will work as well but your cake will have a light yellowish color instead of light brown color.
Avoid using your regular white powdered sugar/caster sugar for this recipe as the true flavors of the cake come out well with brown sugar or molasses.
Ingredients
This fruit cake uses room temperature (unsalted) butter and brown sugar which we cream together.
I have used four dry spices in this cake: dry ginger powder, nutmeg powder, cinnamon powder and clove powder.
You can make all these spice powders at home. Just dry roast the whole spices until they turn aromatic and grind them once they cool. Sieve before using as homemade spice powder are never finely grinded.
Dark brown sugar does not require powdering and can be used as is if the granules are fine and not like regular sugar. 
Instructions on how to make the Christmas Fruit Cake
Let us see how to make the cake with these step by step pictures for you:
Measure and sift the flour, leavening and spice powders along with other dry ingredients.

2. Measure the butter and beat it till it becomes light and fluffy.

3. Add brown sugar and beat again. Measure yogurt separately in a bowl.

4. Now, add the yogurt and dry ingredients alternatively and combine everything gently using a spatula.
5. Add the soaked fruits in the mix in batches and combine again. Add the remaining orange juice used for soaking as well.

6. Combine the batter properly such that there are no patches of flour or wet ingredients present in the batter. Improper mixing causes cake fails which we want to avoid.

7. Line an 8-inch round cake pan and transfer the batter. Top it with few cashews. Bake at 170°C/340°F for 35-40 minutes or until a toothpick comes out clean.

Eggless Christmas Fruit Cake Recipe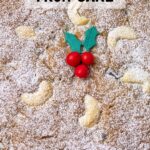 Print Recipe
Eggless Christmas Fruit Cake
A warm and delicious cake rich in fruits and spices to enjoy during the cold winters and christmas time
Ingredients
250

grams

All-purpose Flour

1

teaspoon

Baking Powder

1

teaspoon

Baking Soda

125

grams

Room Temperature Butter

(Unsalted)

150

grams

Brown Sugar

100

grams

Yogurt

1

teaspoon

Vanilla Extract
Cake Spices
¼

teaspoon

Dry Ginger Powder

¼

teaspoon

Cinnamon Powder

¼

teaspoon

Clove Powder

¼

teaspoon

Nutmeg Powder
Fruits for soaking
75

grams

Golden Raisins

75

grams

Black Raisins

(Sultanas)

25

grams

Black Currants

25

grams

Dry Cranberries

25

grams

Dried Apricots

(chopped)

25

grams

Dates

(chopped)

5-6

Candied Cherries

(chopped)

2

tbsp

Candied Orange Peel

25

grams

Cashewnuts

(chopped)

200

ml

Orange Juice

(fresh/tetrapak)
Instructions
Measure the fruits and chop the larger ones. Soak the fruits a night in the Orange Juice before making the cake.

Thaw the soaked fruits for one hour before using in the cake.

Measure the butter and beat it until soft and fluffy. Beat again with sugar.

Measure yogurt and keep aside.

Sift the dry ingredients with spice powders and keep aside.

Add the yogurt and dry ingredients alternatively in the bowl of beaten sugar and butter and combine gently until mixed.

Add the soaked fruits and the remaining juice and combine again.

Preheat the oven for 10 minutes.

Transfer the batter to a lined round cake tin of 8-inch or 9-inch and bake at 170°C for 35-40 minutes until a toothpick comes clean. Keep checking post the 35 minute mark.
Notes
Soak the fruits for at least 8 hours before using.
You can make two smaller 6-inch cakes by dividing the batter into two parts. Note that the baking time will reduce in that case.
Cooling Time and Shelf Life
Let the cake cool for 15 minutes before taking it out of the cake pan. Do not remove before 15 minutes as your cake may crumble while demoulding.
This cake stays good at room temperature for 3-4 days (as the weather is cold during winters) or upto 7-10 days in the refrigerator under continuous refrigeration. If you store it in the refrigerator, let the cake thaw for an hour at room temperature before consuming.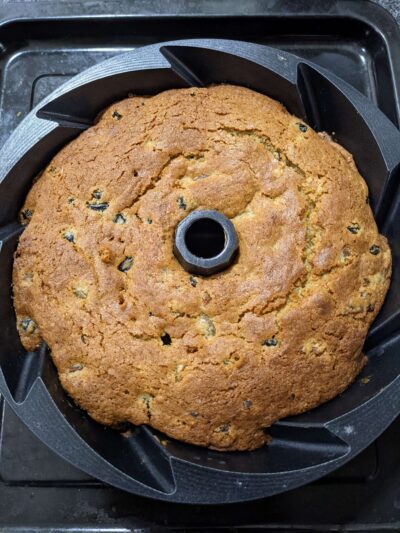 Making it in different shapes
You may make this cake into the regular round cake or bundt cake.
I would be really happy if you make this cake during Christmas. When you bake, tag me on Instagram and use the hashtag #imademycake so I can see your cake pictures.
Let me know how you liked this post about Christmas Fruit Cake without Eggs and Alcohol in the comments below.