Eggless Lotus Biscoff Brownies
May I say that Biscoff Cookies are one of the best cookies in the world? And you know what is another best thing? Brownies. And they become so delectable when put together ♡
This post contains affiliate links.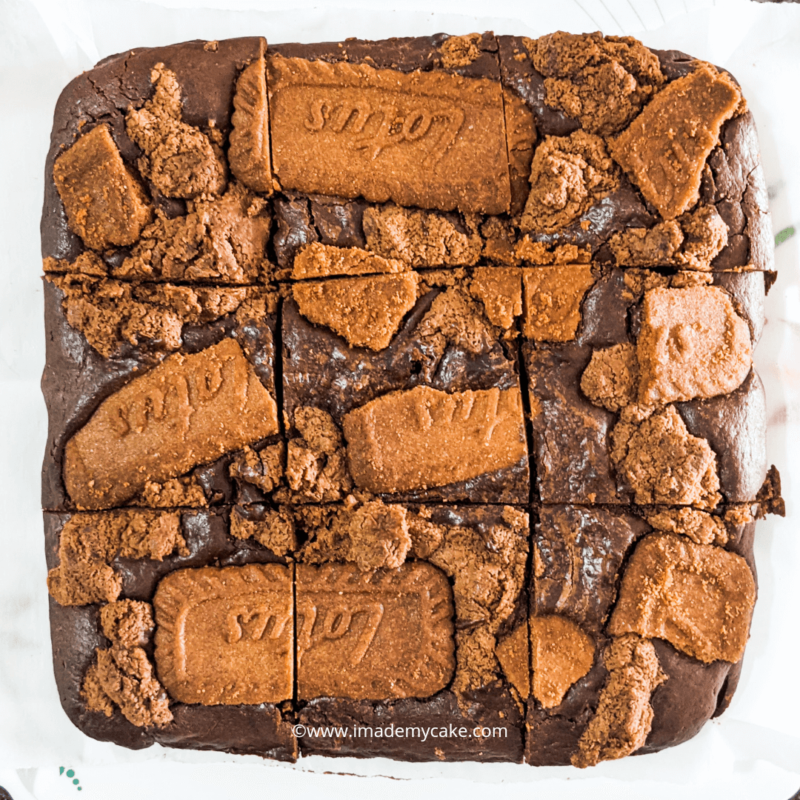 Ingredients
The main ingredients that give these brownies their name are the famous Lotus Biscoff Cookies and the Lotus Speculoos Spread.
Lotus Biscoff Cookies
Here are important points for few ingredients:
Flour: Brownies always use very less flour in them. That is what makes them fudgy: when the wet ingredients are on the higher side in the overall ratio of ingredients. So, do not get tempted to add more flour/cocoa powder/baking powder.
Dark Chocolate & Cocoa Powder – Always use a good quality Dark Chocolate and Cocoa Powder for baking as they will make or break your brownie flavour.
Baking Powder – Using little baking powder gives a slight rise to these Fudgy delicious brownies.
Condensed Milk & Milk – These basically act as egg replacers. If you want to use eggs, add two medium eggs instead of condensed milk and milk. However, if you want to use condensed milk but do not have milk at hand, it can be replaced with water in this recipe.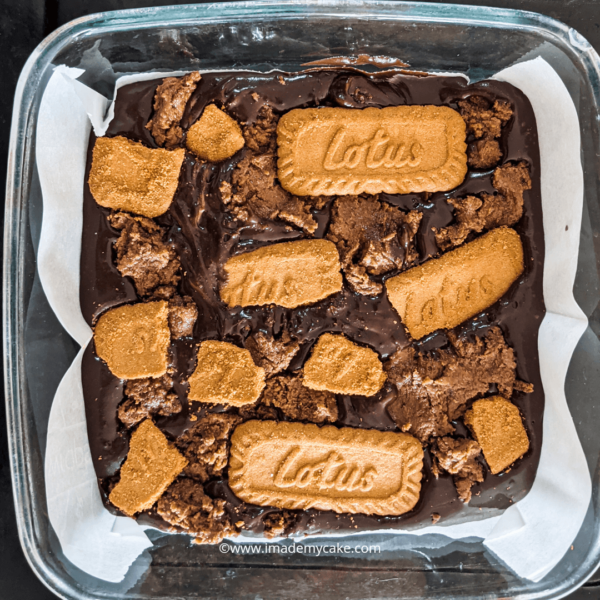 Instructions
Chop the dark chocolate in to small pieces and transfer to a heat-safe bowl. Measure butter in the same bowl and melt them together in a microwave or on a double boiler (using the Bain Marie method).
Heat them until they are melted. Be careful not to over heat the bowl. This may cause the chocolate to burn lending a burnt taste to the brownies.
To the same bowl, add Condensed Milk, milk, vanilla and the Speculoos spread and mix.
Add the dry ingredients to this bowl and mix. This almost qualifies to be a one-bowl brownie recipe, doesn't it!
Transfer the batter in an 8×8 inch baking dish and bake for 40 minutes at 180°C
Take it out of the oven after 40 minutes. A toothpick may not come out clean as these are Fudgy Brownies and not cake. Fudgy Brownies are a bit sticky on the inside. Overbaking will make them dry and not enjoyable.
After baking them, I took a picture of them only to later realize that it came out blurry. Adding it below still so you can get an idea of the texture.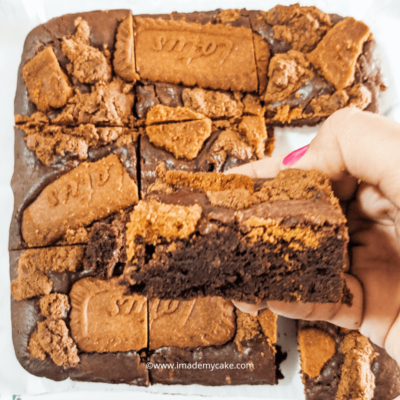 ---
Recipes similar to Eggless Lotus Biscoff Brownies: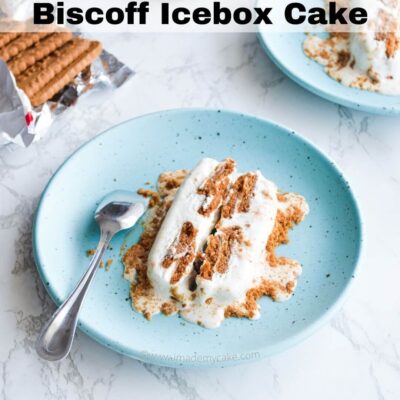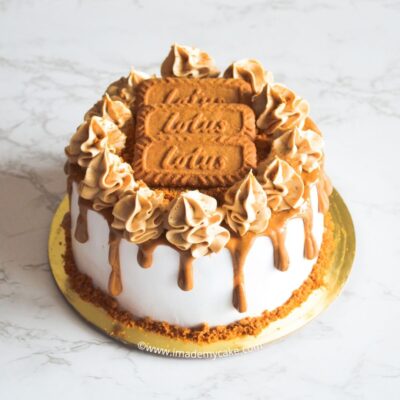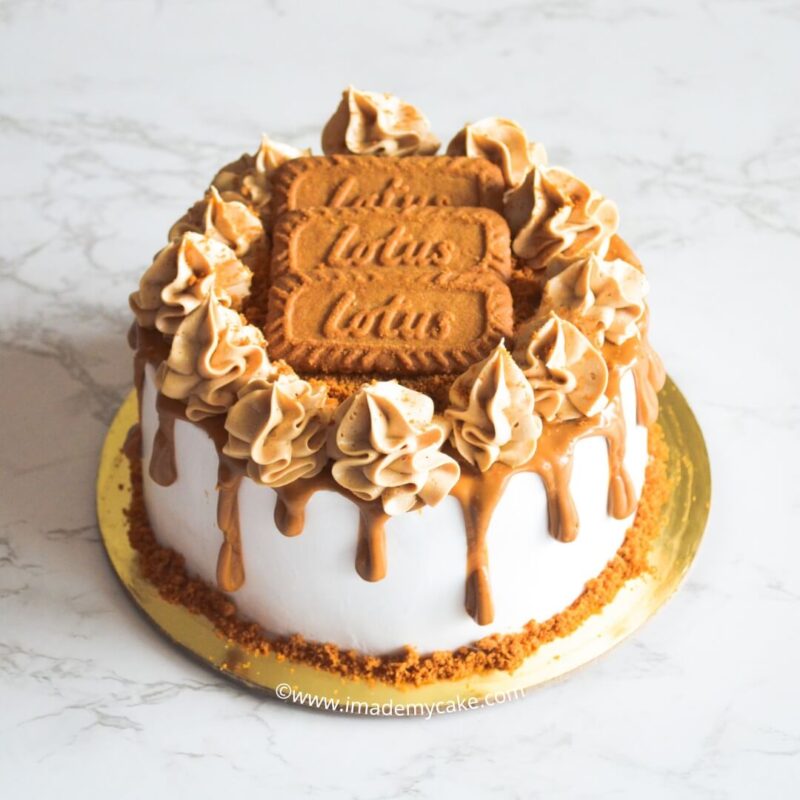 ---
Eggless Lotus Biscoff Brownies Recipe
Print Recipe
Eggless Lotus Biscoff Brownies
A delectable brownie recipe with Lotus Biscoff Cookies
Ingredients
65

grams

All-purpose Flour

12

grams

Cocoa Powder

¼

tsp

Baking Powder

(use less than ¼ teaspoon)

Pinch

Table Salt

125

ml

Condensed Milk

50

ml

Milk

50

grams

Unsalted Butter

3

tbsp

Lotus Speculoos spread

(if not using, increase butter to 70 grams)

100

grams

Dark Chocolate

(chopped)

1

teaspoon

Vanilla Extract

4-5

Lotus Biscoff Cookies
Instructions
Chop the dark chocolate and add in the butter. Melt both in microwave or stovetop using double boiler method.

To this, add the Speculoos butter, Vanilla extract, Condensed milk and Milk.

In a separate bowl, measure flour, cocoa powder, baking powder and salt. Sift them.

Add the dry ingredients to the wet ingredients gradually and combine to get a thick batter.

Transfer the batter to an 8x8 square baking dish and top it with few Biscoff Cookies. You may also drizzle some Speculoos over the top optionally.

Bake for 40 minutes at 180°C

Let cool for few hours before slicing. You can make this a day ahead and slice before serving.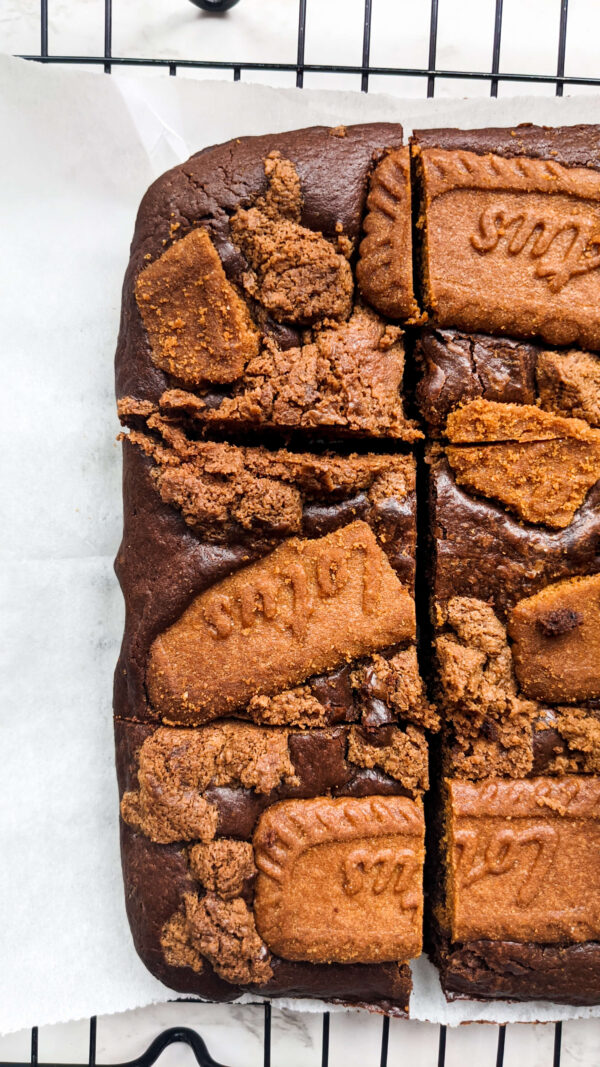 Tips
These are incredibly fudgy brownies and are unputdownable because of the Biscoff flavour in them. If you love Biscoff Cookies, you will gorge on these brownies for sure.
You may also add some Cinnamon Powder to the batter to give a little spice twist. And, drizzle some caramel or easy chocolate sauce (made at home while the brownies are baking) to up the flavour.
They keep well for 2-3 days in the refrigerator.
Try my other Lotus Biscoff Cookie Recipes: