18 Easy Cupcake Decorating Ideas
Ideas for you when you need some inspiration with cupcake decorating. This post contains affiliate links.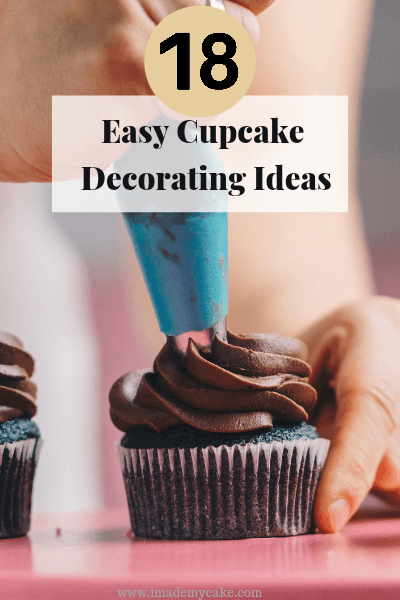 Thinking how to decorate your first cupcake? or simply not getting enough ideas?
Whether you are a home baker baking for your family or run your cake business, this post will be helpful for you nevertheless.
Fun Cupcake Decorating Ideas
Let me show you 18 amazing cupcake decorating ideas that you can draw inspiration from when low on creativity fuel:
Sprinkles

The #1 decorating idea you can accessorize your cupcake with. And, they come in so many different shapes and colors that once you start mixing and matching, the combinations and designs become endless.
Do not forget the chocolate sprinkles which taste yum and do not feel like just sugar!

Chocolate Shavings

A fun way to add more flavor to the cupcake is to put some chocolate shavings on to it. And you can make this at home. Grab your bar of chocolate and peel it using the humble fruit/vegetable peeler in your kitchen.
Gently place the peels over the cupcake to avoid breaking them.

Fresh Fruits and berries

An easy-peasy way to decorate cupcakes without getting all fancy. Place slices of fresh fruits and whole berries directly over the cupcake and you are done!
So simple that.
But Remember: Fresh fruits and berries will bleed water on the icing after some time even after refrigeration. So, you need to place the fruits on cupcakes just before serving. This idea works only when you can place the fruits just before serving.
If you cannot do that, coat them with chocolate so you can place the fruits in advance on the cupcakes.

Chocolates and Candies

If you are making cupcakes for kids, they are going to love your cupcakes if you decorate them with Chocolates and Candies.
Few ways to use chocolates and candies on cupcakes:

4.1 Use chocolate squares of the popular Dairy Milk Chocolate/Hershey's Chocolate/or even Kitkat bars on each cupcake to keep it simple and attractive.
4.2 If you can increase your decorating budget, use premium chocolates like Ferrero Rocher and Ferrero Raffaello. Place one on the center of each cupcake to make your cake look both delicious and premium.

4.3 Using Nutties or M&Ms is also an easy way to decorate cupcakes quickly. Just place them on the center of the cupcake and you are done. Look at the Caterpillar Cupcakes I made using Cadbury Gems who is the Indian friend of M&Ms.
4.4 You may also use Reese's Peanut Butter Cups on top of cupcakes if the cupcake flavor goes well with it.
4.5 If you have time on your hands, melt some chocolate, pipe it on a parchment in different patterns and use it on top of the cupcake. Or simply spread it evenly on a parchment and cut it into squares or triangles to place on each cupcake. That is what I have done in the second image on the top.


Chocolate Chips

Another easy way to spruce up a plain cupcake with light colored icing is to sprinkle few chocolate chips on it.

Easy Fondant Flowers/cutouts

This is an amazing way to make your cupcakes look pretty as making fondant flowers and cutouts using fondant cutters is doable for everyone. Just roll the fondant and cut out the flower shapes using the flower cutter. As easy as that.
You will need some fondant at hand to apply this decorating idea.


Cookies

This cupcake idea is perfect when making cupcakes for kids so you can make the famous Cookie Monster Cupcakes or Oreo Cupcakes.
You will need few cookies on hand like Chocolate Chip Cookies or Oreos so you need to prep for these beforehand.

Cherries

Yes, ideally this should be a part of number 3. But cherries are a decorating piece on their own. They turn around the look of cakes and cupcakes and make them beautiful. They deserve a separate mention.


Dusting

Dusting is the go-to approach to make a cupcake look "decorated". It is actually fun to sprinkle dust over cupcakes.
Sprinkle contrasting color of dust on the icing to make it look prominent. It will not be seen to the eye if you sprinkle powdered sugar on vanilla icing.
You can dust with Cocoa Powder, Instant Coffee, Cinnamon Powder for light colored icings. For darker shades of icing, dust with icing sugar or sifted and powdered white sugar to strike a contrasting color.

 Crumbled Cake

You will need to sacrifice one of your cupcakes for using this way of decorating. Used mostly in Red Velvet Cupcakes, it looks fabulous if done properly. Make sure you crumble the cake in to the finest possible crumb to avoid making it look like little pieces of cake on the icing.

Dried Coconut flakes/Desiccated Coconut

Once you pipe the icing, coat the icing part of the cupcake in a plate having desiccated coconut or dried coconut flakes to complete the look.
You will need to coat the icing part of the cupcake just like how you would coat a patty with bread crumbs before frying it. Or simply sprinkle some on the top.

---

Also Read:
Why do Cupcakes sink in the middle?
10 Essential Tools to start Cake Decorating
10 Basic Tools for Beginner Bakers

---

Drizzling Sauces/glaze-chocolate sauce, fruit sauce, caramel sauce

There are so many types of sauces to drizzle on cupcakes, the only thing you need to think is the sauce should match the flavor of the cupcake.
1. Chocolate Sauce/Chocolate Ganache – Whenever you make chocolate sauce or ganache for drizzling, it should have a runny consistency as compared to ganache that you would use for making truffles. I have a chocolate sauce recipe on the blog which you can use as well. Just make it fresh and after it has cooled down sufficiently.
2. Salted Caramel Sauce – Yum! Easy to make at home and goes well with many flavors.
3. Fruit Sauces/Coulis – An interesting way to add extra color and flavor to your cupcakes is to use fruit coulis. Trust me, the results would be amazing each time you use fruit coulis. Just add a little at a time so that it does not overflow


Chopped Dried Fruits

An easy beginner's hack to pretty looking cupcakes is to add chopped or whole dried fruits on top of cupcakes. Not only does it add to the flavor but it also looks premium.
Look at the way I have used almond flakes in these Almond Coffee cupcakes below and how they change the look of the simple cupcakes.


Mini Donuts/ Macarons

Want to notch up the level of your cupcakes many points up? This cupcake decorating idea will help you do that. Use a pretty mini donut or even mini macarons to decorate every cupcake.
Regular sized donuts will be too big, they may squish the icing due to their large size. So prefer using mini light weight donuts, probably made at home.
Comment "Yes for Donuts" below if you want me to add a Donut recipe to the blog.

Similarly you can use macarons for decorating your cupcakes too. They look really cute but you need to have macarons already made at hand.


Chocolate Truffles/Indian Sweets

I love this one! All you need are little bite-sized chocolate truffles for placing on the top of your cupcake in the center. And you are done. Maybe you could drizzle some chocolate sauce over the cupcake as an addon.

You can even use Indian sweets like mini Gulab Jamuns or Rasmalai pieces or even Rasgullas when making Indian Mithai Fusion Cakes like Rasmalai Cake, Gulab Jamun Cake, or Rabdi Cake.

Non-edible cupcake decorating ideas

 

Acrylic Toppers/Cartoon Toppers

Acrylic toppers bring a charm to your cupcake as they come in all colors and sizes. These are also suitable for kids' cupcakes especially when the toppers have cartoon characters made on them.
These toppers say Happy Birthday and can be used for birthday parties.
These cute toppers would make great cupcake toppers for an animal-themed or jungle theme kids party.


These toppers can be personalized as well.

Make sure you check the reviews before you go for any toppers on Amazon.

Candles/Sparklers

Place a candle on each cupcake to make someone's birthday special. There is nothing more special than birthday cupcakes each having a candle on them. Use any small sized candle to make it look proportional with the cupcake size.

Instead of candle, you can place a sparkler on each cupcake or even a mix of candles and sparklers. The only downside to using these is the wax falling on the cupcake icing from burning of the candle.

The chemicals coming out from the burning of sparklers may be unsafe though they are present in low amounts in sparklers used for cupcakes. This article says that it is completely safe to eat cupcakes that have sparklers on them(of course not safe to eat the actual sparklers!).

Paper Cutouts

The easiest way to spruce up your cupcakes without much effort on sauces or icing or anything listed above is to use home made paper cutouts. Just get your image printed in the size suitable for your cupcakes. Cut it precisely and stick a toothpick on the back with a tape.
Place this toothpick on each cupcake and you are done! Isn't it fun?

These were my 18 ideas for decorating cupcakes and I always choose one of them or even a combination of two or more types like Sprinkles + Ferrero Rocher when making Ferrero Rocher cupcakes or Chocolate sauce + Hershey squares when making Chocolate cupcakes.
Go ahead and explore different combinations to make your cupcakes.
This post will help you with cupcake decorating even if you do not have fancy decorating items. You can just sprinkle cocoa powder or icing sugar or even any chocolate squares or Cadbury Gems which are easily available in a household with kids.
Do you have more cupcake decorating ideas that are not in this list? I would love to know your ideas. Let me know in comments below.
Pin this post on Pinterest for inspiration. Just click the save button on the below image to pin it: